Where to buy the DJI Phantom 4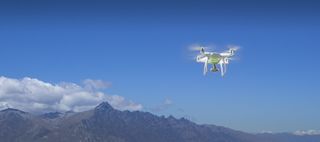 Drones have grown in popularity over the past few years, and each time a new one comes out they just continue to get better. DJI is one of the top drone brands, and its latest release, the Phantom 4 (opens in new tab), pushes the limits yet again. The Phantom 4 release date for most retailers is Friday, April 1st. With the Phantom 4, you gain auto takeoff and auto return home with GPS technology, touch to fly so you can simply tap a location on the controller and the drone will fly there, and more. DJI has put 4K cameras in other drones, like the Phantom 3 Pro, and the video results are stunning.
It's capable of capturing 30 fps with a 12MP sensor anad a f/2.8 lens. Coupling all of that technology with the built-in gimbal stabilization technology, you are able to get crisp and clear shots, and some simply breathtaking video. Below is a sample from the Phantom 3 Pro, which also offers 4K recording.
With all of this new technology built-in, and the additional features that DJI has included, the price tag has been bumped up a bit over the other ones. This time around, you are looking at around $1,400 to have a Phantom 4 for yourself. If that price doesn't bother you, let's take a look at some of the places you can buy one for yourself.
Amazon
Amazon is a trusted retailer for many, and its awesome Prime benefits make shopping there a no brainer. Priced at $1,399, Amazon includes free shipping, though the packages will require a signature due to the value of the product. Signing up for, or using, an Amazon Store (opens in new tab) Card will also give you the option to pay it off over 12 months interest free.
See at Amazon (opens in new tab)
Apple
Apple got the early sales exclusive on this drone, so the company has been selling it for a little bit already. If you are local to an Apple Store, or just happen to be partial to making as many purchases from them as possible, you can check local inventory or order one online now.
See at Apple (opens in new tab)
Best Buy
If you need that instant gratification, Best Buy may be the retailer for you, depending where you live. Some Best Buy locations will have limited availability of the Phantom 4 at launch. If you want to make sure one is for you, hit the link below and select the in store pickup option from the website.
See at Best Buy (opens in new tab)
B&H Photo
B&H Photo is known for shipping quickly, and with the Phantom 4 the company is including expedited shipping free of charge. That's right, you pay the $1,399, they pay the shipping. For those in New York, you can check the retail location as it will have limited availability of the drone at launch.
See at B&H (opens in new tab)
Drone World
Drone World is an online retailer that specializes in all things drone. From hardware to accessories, you can get just about anything you may need from them, and the Phantom 4 is no exception. The retailer is offering it for the base price of $1,399, and they are also offering a number of upgrades. From a wheeled carrying case to more storage for saving your video, you can grab it all at the time of purchase from Drone World.
DJI
Sometimes you just want to go to the official source to make your purchase, and DJI's store is the one for that. The company is offering it for the same price, but also has a nice bundle option that can be purchased if you are interest. For $2,100, the company is including two spare batteries and a Phantom backpack for traveling with it.
See at DJI (opens in new tab)
Heliguy (UK)
If you are in the UK and want to grab a Phantom 4, Heliguy may be a great option for you. You can put a £100 deposit on the drone now, or the pre-order is £1,299. With this, you don't have to wait for crazy shipping times from the U.S. or import taxes or anything extra. If you are interested, hit the link below.
So, does the Phantom 4 interest you at all, or is it priced out of your budget? Let us know your thoughts, and where you will be making your purchase in the comments!
Get the Android Central Newsletter
Instant access to breaking news, the hottest reviews, great deals and helpful tips.
Jared started off writing about mobile phones back when BlackBerry ruled the market, and Windows Mobile was kinda cool. Now, with a family, mortgage and other responsibilities he has no choice but to look for the best deals, and he's here to share them with you.
Lemme guess, the reason this is on an Android site is because it uses an Android app to control it? Lame Oh and I guess y'all don't get a cut if we buy through one of the links? Yeah right Dr. Satan is my physician

That's how you pay the writers and avoid flashing banners in the app at the same time. Posted via the Android Central App

I know, would still rather pay a subscription fee then have advertising in the form of a post. Dr. Satan is my physician

Yea but most won't when push comes to shove. Posted via the Android Central App

Geeze ... i hit reply to someone and it posts my comment as a new thread?!?

Haha Smith it's all good, I read what you said beforehand. Dr. Satan is my physician

Give it a rest. Posted via the Android Central App

I wish I could afford one. Posted via the Android Central App

Interesting but I really only care about DJI's Osmo camera, which is relatively affordable. Their drones aren't really interesting to me except for the Inspire and that's mostly due to the departure from the design of the more common Phantom series. Posted on an LG V10

Not worth the price over the phantom 3. It has all those features mentioned. Only thing with dji is everytime they update the software it gets worse. To the point i paid 20 bucks for the litchi flight software that works and is full of features. I can even use cardboard to view while flying with head tracking. Posted via the Android Central App

Look into how DJI app for Android sends the mapping data it records to "Homeland" China by default.. A bit nerve racking if you ask me lol.. Posted via the Android Central App

Um what? I own a P3, have been through all the settings many times, and have never come across one that sends map data to China... Might need to adjust that tinfoil hat of yours :p Posted via the Android Central App

It has 10 minutes of flight time... Posted via the Android Central App

That's incorrect. It has around 25 minutes of flight time.

They also limited the range Posted via the Android Central App

I have a creepy neighbor that bought a drone with camera.
They flew it to the edge of my property when I was out in the pasture. I put my hands on my hips and stared into it with a look of disgust on my face. I hope whoever creepy is got the message.
I saw them fly it above my neighbor's property at a level where they could look into his windows.
So I am going to wait for it with my pellet gun... A friend of mine said he'd give me $100 if I brought it down.
If I do, I am going to do some real nice things to the camera to give them something worthwhile to watch. Maybe like running it into a pile of horse ****... Just to let them know how I feel about creepy, nosey neighbors.
If you want to know what's going on at my place, just come over and knock on the door, creep. O-B-1
Posted via the Android Central App from my Verizon LG V10

Waiting for Gopro to release Karma

Not going to spend a lot of money on a fancy "drone" until the usage rules/regulations are sorted out in the US. Who knows, hobby flying may get outlawed completely. It is already almost more trouble than it is worth. DJI should be going to bat for hobbyist fliers against the US government if they want to keep their biggest market open.