Drone Gift Guide: What Gifts You Should Fly This Holiday Season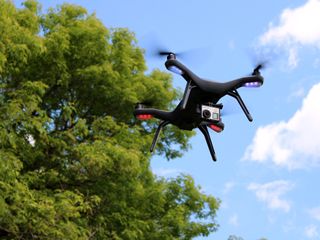 Over the past decade, drones have gone from uber expensive toys for movie makers and rich kids, to something you can buy at a convenience store for $50.
As we fly right through the 2017 holiday season, drones are one of those trendy gifts that you're going to see in a lot of stores. But before you buy a disappointing drone that may not hold up past the first flight or overspend on a drone for advanced pilots only, check out this guide and find the right drone to buy for your loved one this season.
Best Drone to Buy For Kids
There are two main considerations to make when buying a drone for a kid: should I buy something that's really cheap and easy to replace, or spend a bit more on something that'll hold up to abuse?
For better or worse, there are a staggering number of entry-level drones available that are great for kids! Here's our top pick that's both affordable, cool looking, and designed to survive some early crashes.
UFO 3000 LED Drone
When you're learning how to fly a drone, crashes will happen. The UFO 3000 LED Drone helps to mitigate that by keeping the blades fully protected. Any novice pilot can bump into walls and whatnot while they learn how to zip around on low and high-speed modes, as well as perform flips with the simple press of a button.
Oh, and then there's how cool this drone is, with its blue and green LEDs creating four brilliant rings of light — it'll really look out-of-this-world when you fly it at night. Two batteries ship with this drone, with flight time averaging around 7 minutes on a full charge.
See at Amazon (opens in new tab)
See more great options for kids
Best Drones for under $50
Maybe you're looking to buy a drone for the older kid in your family — dads like to play with toys, too. But if dad is a complete novice when it comes to piloting drones, you're still going to want to start him off with something that's easy and affordable to fix or replace.
Once he's earned his wings, maybe next year you can surprise him with something a bit more advanced. For now, this is our top pick for a drone that's really fun to learn on.
Holy Stone HS170 Predator Quadcopter
If you're looking for a cheap and reliable drone to practice with both indoors and outside, the Holy Stone Predator is a great option. It comes with its own controller that's simple enough for beginners to pick up and fly and is capable of pulling off stunts and withstanding light winds for outdoor flights.
The real bonus here is the size — it's small enough to allow for practice indoors if you've got the space, with blade guards built in for protection. A fully charged battery supplies 6 minutes of flight time; with replacement batteries (opens in new tab) really cheap and easy to swap in and out, this is a cheap drone with affordable accessories.
See at Amazon (opens in new tab)
See more great options under $50
Best Drones for under $300
If you're looking to gift a drone that's a bit more substantial than a stocking stuffer that's still more affordable than a $1,000 behemoth drone, there are a plethora of mid-range drones to choose from.
These are great options for intermediate skill level — this ain't their first time flying a drone, but they also aren't quite ready for a professional drone just yet.
Tokky MJX Bugs 3 Brushless Drone set
The Tokky MJX Bugs 3 offers great value to those who have practiced flying with cheaper drones and are ready to move onto something a bit more substantial but still affordable.
This drone has both beginner and advanced flight modes, but even the beginner mode is pretty fast. The base kit includes the drone, wireless transmitter, one 1800mAh LiPo battery, and eight spare blades. While this drone doesn't have a built-in camera, it does include a camera mount for a GoPro or other similar sized action cameras.
You'll get about 15-19 minutes of flight time on a fully-charged battery. You can get a two-pack of extra batteries for under $30 (opens in new tab) as well as extra sets of blades for under $15 (opens in new tab) — and you'll probably need those extra blades.
For $160, you can get a kit that includes a waterproof backpack for storing and transporting your drone, or just buy the drone itself and save $30.
See at Amazon (opens in new tab)
See more great options that are under $300
Best Drone for overall value
DJI Spark
It should be no surprise to see a DJI drone make an appearance as one of the best you can buy — they've been one of the leading innovators in the drone space for years and have consistently released some of the best drones on the market.
While it might seem odd to call the DJI Spark a budget pick at $539, but when you consider all the fantastic features packed into this drone and compare it against the other top-end drones out there you can't beat the value here. Weighing in at under one pound, this thing is compact and lightweight, but still packed with intelligent flight controls and an HD camera attached via a mechanical gimbal so you can keep flying and recording epic footage or take the best selfies ever!
With a max flight time of 16 minutes and motors capable of flying at up to 35 mph, the Spark is a ton of fun to fly. You can also test out some FPV flying with this drone, too, although you'll need the DJI Goggles (opens in new tab).
This is a substantial drone with a ton of cool features that you're going to want to push to the max right out of the box… but as our own Mr. Mobile found out in his review you need to be cautious when you're just starting out because, for all the power and features packed in here, these things can quite literally get away from you sometimes. Fly safe!
See at Amazon (opens in new tab)
Best Drone of 2017
DJI Mavic Pro
If money is no option and you want to get the best drone money can buy, that's going to be the DJI Mavic Pro.
The Mavic Pro is the latest high-quality camera drone released by DJI, and it's a very compelling option.
For starters, it's extremely portable with arms that fold in to pack it down to the size of a bigger water bottle. The Mavic Pro offers up to 4.3 miles of transmission range and flight speeds of up to 40mph with average flight times of around 27 minutes. It's also packed with the latest smart features including Activetrack which uses advanced image recognition algorithms to track a moving object with the camera without using GPS. TapFly lets you control your drone with simple taps on the touchscreen. And it's also loaded with advanced sensors for obstacle avoidance, flight safety, and reliability.
Considering all the smart design that went into this drone, along with its portability, the DJI Mavic Pro offers great value at under $2000 for a state of the art drone.
See at Amazon (opens in new tab)
Get the Android Central Newsletter
Instant access to breaking news, the hottest reviews, great deals and helpful tips.
Marc Lagace was an Apps and Games Editor at Android Central between 2016 and 2020. You can reach out to him on Twitter [@spacelagace.
DJI Spark is available many places for 399.00. If you don't get the flymore pack that is. This is what I did I got the drone separate from Kohl's. Then I got a controller from DJ $119.00. For extra batteries, I used the 120.00 in Kohl's Cash from the drone purchase to buy two extra batteries on the Kohl's website. And flight time is about 12-13 minutes. Not 16. Scads of fun though.