Android Central at the LG Marquee unveiling at New York City's Fashion Week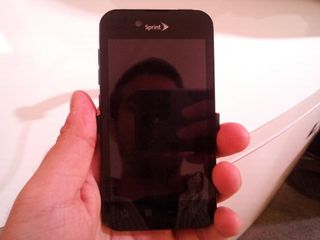 LG brought New York City's Fashion Week to a close tonight with a panel discussion on the intersection between technology and fashion, followed by a swanky soiree high above Manhattan's Meatpacking District to unveil its next major device, the Marquee. While we got a peek at the Marquee last night at Pepcom, tonight offered yet another opportunity to get our hands all over it. If you're holding out for the next device on Sprint and are a little intimidated by the Galaxy S II Epic 4G Touch's huge 4.5-inch display, the 4-inch NOVA screen on the Marquee might be your perfect fit. It's not as fast or beefed up as some of its competitors, but the Marquee is respectable device in a stunning package, and easily the best looking LG smartphone to date.
Hit the break for some photos and a video with the Marquee, which I managed to snag before diving head first into LG's signature cocktail, aptly named "The LG." The Marquee hits Sprint shelves on October 2 for $99 on a two year contract. (Yes, I realize I flubbed that info in the video but be nice, I was nervous. There were runway models in the crowd.)
Youtube link for mobile viewing
nice looking but I'll save my last upgrade!

Same here. I will have my last yearly upgrade in June and by then we should have 2.5ghz dual core phones since qualcomm just announced the 2.5 chips for early next year. Maybe an evo replacement or a galaxy s3. I'm really tempted to sell my evo3d and get the epic touch especially after the report that the battery life is the best of any android phone.

Looks like you can Pre-order it now on Sprint.com
Android Central Newsletter
Get the best of Android Central in in your inbox, every day!
Thank you for signing up to Android Central. You will receive a verification email shortly.
There was a problem. Please refresh the page and try again.