Vudu Chromecast support 'coming soon' along with updated Android app and website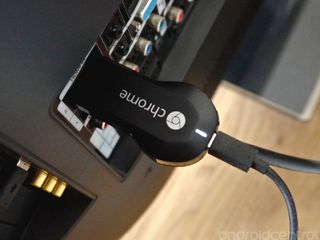 Streaming control will be available for Android, iOS, Windows and Mac
Although there hasn't exactly been a flood of new services supporting Chromecast after the official SDK was announced, Vudu is ready to throw its hat into the ring. Vudu, if you're not familiar, streams TV shows and videos just like its competitors such as Netflix and Amazon Prime Instant, and a whole grouping of others.
Unfortunately there actually isn't a whole lot to report in terms of features or availability right now — Vudu simply confirmed today that Chromecast support is coming, and that it will be multi-platform as well. Updated Android and iOS apps will let you cast content under the control of your phone or tablet, while Windows and Mac compatibility comes by way of an updated website interface.
If you're looking to be ahead of the curve and want to join Vudu's beta testing group, you can potentially have an early look — you can register at the source link below.
Source: Vudu Blog (opens in new tab)
Get the Android Central Newsletter
Instant access to breaking news, the hottest reviews, great deals and helpful tips.
Andrew was an Executive Editor, U.S. at Android Central between 2012 and 2020.
Good. I doesn't matter that I don't use the service, but it does matter that we are seeing a lot of support for the Cast. -------------------------------------------------------
Sent from inside a cave. Yes, T-Mobile covers caves. N5

This. Posted from my "Gift from God" Note 3, my "God-Given" iPad Mini 2, or my "Risen" Samsung Chromebook.

Don't tell me your app is coming, tell me it is out.

+10000 Posted via Android Central App

I disagree. If you don't tell me your app is coming, I'm more likely to leave your app for one of the other solutions. Looking your way spotify...

I still want MX Player Pro to get some Chromecast lovin

+1 Posted via Android Central App

That would be great considering it the best player in the play store. Posted via Android Central App

+1 Posted from my "Gift from God" Note 3, my "God-Given" iPad Mini 2, or my "Risen" Samsung Chromebook.

If WatchESPN makes it to Chromecast I will start packing away my Roku immediately. Posted via Android Central App

Seriously. That would be HUGE. I already use espn3.com and chromecast the tab full screen on my Chromebook, but native app support would be delicious.

Nice. I wish Play Movies would add Ultraviolet support as well. My Vudu collection would be awesome to be linked to the Play app. Hopefully one day. Posted via Android Central App

That.
Posted via Android Central App

It would be nice to see tunein radio on Chromecast... the big print giveth, the small print taketh

Becoming a little frustrated with the lack of movement around chromecast support. I don't use this app but at least it's one more company lending support. Still many more to come hopefully

Vudu is awesome. I have over 900 movies in my library :)

Too bad Amazon is such a bitch. I would love the Prime videos on my phone/tablet with Chromecast support.

I would be happy with an app that only sent to Chromecast or even a send to Chromecast from the website option. If amazon ups their price and offers no access other than tab casting I'm done with them. I happily rent movies from the play store or vudu. Posted via Android Central App

Solid Explorer just got chrome cast support. Download the plug in and you can play all your local movies

Have you tried it? Does it work well? I haven't been super impressed with Avia local streaming. Posted from one of an unnecessarily large collection of Nexus devices because I'm That Guy

This is awesome-- I've had lots of playback issues with Google Play content, to the point where I went back to Vudu on the wired player. It will be awesome to use the Chromecast instead, knowing I can fall back to the wired player if anything starts acting up.

Anyone know a replacement for AirVideo (Apple app...) Just want to play video files stored on PC on my TV using nexus 5 to control it?

Has anyone had any luck signing up for the beta? I have tried several times from different devices even, and it just keeps telling my that my user id/password is incorrect when not 30 seconds earlier I used the same credentials to sign in to watch a movie Posted via Android Central App