Talk Mobile 2013 Launch Party in NYC - The Video!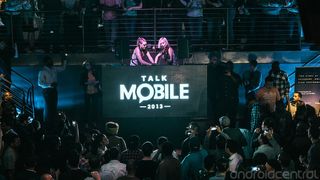 We're a week removed from the Talk Mobile 2013 launch party in New York City. For those who were able to make it -- well, you know it was a bit of a rager, as the kids like to say. (And if they're not saying that, give it time. It'll catch on.) Just us and 600 of our closest smartphone nerd friends, men and women from all walks of life, coming together to hang out, have a couple beverages and swap a few smartphone stories.
Thank you for coming.
For those who weren't able to make it out, we present this highlights video, and we've got a proper gallery of pics if you keep on readin'. And be sure to check out our Week 1 recap on mobile gaming!
Can you tell us who/what was playing (the music) for the majority of the video? Thanks.

I had a blast, thanks again for the party guys!

Looks awesome! Wish I could have been there! Posted via Android Central App

still not sure what this is for.. a party for a bunch of articles?

Why not, as good a reason as any for a party. ;) Posted from my HTC One via Android Central App

...And, I'm envious! I wish I could have been there! Looks like everyone had a great time! BTW, you guys looked really nice all dressed up! Posted via Android Central App

Had a really great time. Thanks again, guys!

party was great, def need to rent the venue out until 3am for next year's talkMobile haha

I know it is a phone event but i hate people at parties on their phone

Talk Mobile, where the lights are so distracting, and the music is so loud, you NEED to tweet/txt to communicate! J/k, looks like a crazy time! I'm curious if any phones got dropped and broke, considering the higher chance of it happening at an event like this that involves drinking lol. You might want to sell cases at the door...
Android Central Newsletter
Get the best of Android Central in in your inbox, every day!
Thank you for signing up to Android Central. You will receive a verification email shortly.
There was a problem. Please refresh the page and try again.