T-Mobile LG Optimus L9 Jelly Bean update rolling out now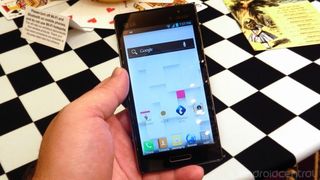 It's not the latest, greatest, biggest or fastest device out there, but the LG Optimus L9 on T-Mobile will benefit from an update to Jelly Bean just the same. Today the carrier announced via a support page document that the move to 4.1.2 will be coming OTA (Over The Air) to devices starting today. The European models of the L9 started receiving the update just last week, so it's nice to see a U.S. variant fall right in line.
There aren't too many specifics on the T-Mobile support page about the update, other than the fact that you'll need over 50-percent battery to accept the OTA and that you'll be downloading a sizeable 350MB file for it. Have an Optimus L9 on T-Mobile? Keep an eye out for this update, or drop a comment below if you've already received it.
Source: T-Mobile Support
Andrew was an Executive Editor, U.S. at Android Central between 2012 and 2020.
and still no jelly bean for T-mobile One S! HTC is a big joke

The L9 is a great phone for $250, and having Jelly Bean makes it all the sweeter

Dollar for dollar, probably the best phone out there. It's only $190 on Amazon.

and you think i am going to fall for it again htc one? i have the htc one s and not a clue of when if ever the one s will be updated.

What about if you have an L9 on Net10?

Should still get the update OTA or WiFi. If not I'm sure it will be downloadable off LG support tool on a computer.

Someone gave our family a fairly new Optiums L9 recently. We have yet to use it but this is good news for when the time comes that we'll need this phone.

My download is still not available. I've tried for the past one, and it tells me my device is up date.

I have tried to update my l9 a few Times
Nothing happening yet I will keep trying.

I have tried to update my l9 a few Times
Nothing happening yet I will keep trying.

Nice. Its a damn great phone for the price.

A week later and still nothing. Frustrated. Wondering if it has anything to do with being on Net10. I am using the T-Mobile SIM though.

Here's what i did to update my lg optimus l9 to jellybean. I went to my setting+apps+all+google framework+cleared+forcestop, make sure all numbers are 0. Went back to settings went to update and it said last update 12/31/1969 dont get alarmed press update and viola it updated. Done at 6:15am on 04/28/13. Had to try several times. Also If it doesn't update from there, try this use all the steps above except for the last one which was, pressing update. Power down your phone, power up again then go back to setting then press update and it should work. Hope this helps everyone because it worked for me!

The good ole internet. You find solutions for everything. This worked. Updating as I type this. Thanks!!

I've tried both ways and still no lucky.

What worked for me on 2 phones was to do everything except the last. Just go to the update page/screen and DO NOT tap on the check for update button. Just let it sit there (make sure wifi is enabled before doing this). You will see the screen showing the last check on 12/31/1969. Just let it sit on this page. It took about 20 minutes the 2nd time it worked for me. The first time was by accident. I tried and failed numerous times. I then tried again and got distracted, letting my phone sit on that page before I had a chance to tap the check for update button. After a few minutes I went back to my phone and it was automatically downloading the update.

Sweeeeeeeeeeeeeeeeeeeeet!!! Thanks!

If anyone runs into problems you can find me on facebook. Faye Gavin and hopefully i can walk you through it.

I just got my Jelly Bean Update today

I just got my update about 10 mins ago, and is installing as I type :)

Via XDA Developer's forum tip: I changed network settings to 2G networks only then I went to my setting > apps > all > google service framework > cleared data & force stop; make sure all numbers are 0. Went back to settings went to update and it said last update 12/31/1969. It finally informed me that the update was ready.

Still can't move apps to SD without root. Kind of p!ssed.

I got my jellybean update today! So far loving it!!

can you still take screenshots?

So i got the updat on April 29. Now I cant do screenshot any more. I called customer service but they couldnt help. Is anyone else having this problem? please help with this issue

Yes I got the update and after a day or two noticed that screen shot was taken out. Like Wtf?? I really liked that feature and now don't know whether it's ever coming back. I was real excited about being able to use app2sd after the update but nope, will probably root it

I bought this phone for the wife. It is the best budget Android phones hands down. I actually had to force OTA update for Jelly Bean 4.1.2, thanks to redmondpie.com

My boyfriend was forced by his phone to do the update, my phone doesn't say I have an update even when I do a manual check for updates. What could possibly be happening?

Just got my L9 phone updated yesterday. I did not have the option to decline the update and since then, my phone will not place any calls. It has made the entire phone sluggish and I have yet to be able to text or receive calls for that matter. Most all of my apps do not run correctly or freeze up. Additionally, the update drains my battery. I took it to the T-Mobile store last night to see if the issue could be resolved. I walked in and there was another man with the same phone and same problem. The sales associate had the same phone and was having a similar issue. Despite the handset coverage, T-Mobile has told me that there is nothing they can do to resolve the issue. So essentially, this update has forced me to spend another couple hundred dollars to buy a new phone. I do not know if this is an LG issue or T-Mobile but I am certainly far from happy. If you have the option to decline, please don't update!

i updated my phone to this yesterday, and now my screen shot no longer works. is it my phone or are other users having this problem ?

Jelly Bean natively supports the taking of screenshots, like so: http://androidfact.com/how-to-screenshot-on-android-4-1-jelly-bean/ Hold in Vol - and Power button for a second or two.

I updated yesterday and cant screenshot. Any other way too screenshot now?

So I finally received the update; attempts to force the update using the steps above failed, it just showed up on it's own over the weekend. So far I'm actually kinda disappointed. Fonts are looking kinda weird, I have all this extra junk in the notification menu I don't want, and there's still no Bluetooth headset voice commands available (although I think this has been an outstanding issue for Android lately). Performance and battery life seem to be suffering a bit as well, and we still don't have the ability to 'move apps to sd'. I am liking the inclusion of Google Now though, and the extended commands in the notification dropdown. A mixed bag, really, but I'd almost rather roll back to what I had.

Oh my God jelley bean rocks i love it and for those who don't know this awesome shortcut for screenshots just press both volume buttons together +&- together and there u go there will be ur magical screen shot I really need help with something else that u guys had posted how to force the update i did in on mine my wife's L9 did it by its self and i got one for my sister few days ago and god help me i spent 3 nights and few days now trying all the steps above and freaking everything and nothing helps it just won't catch this latest update please help if there is anything that could cause this maybe something else there in apps that blocking it i really need suggestions so please help

Anyone please any suggestions?

OK I like the screenshot, the hovering calculator, browser, and memo...the fact that u can browse or watch a video and make it semi transparent is great. BUT I HATE that my battery now over heats and takes over an hour to scan my sd card upon start up or taking a picture....this is ridiculous!!!! Please tell me there are fixes in the works

Just got the update i am looking for anything different cant find nothingvbesides itvniw saying 4.1.2. Someone email me see if u can help. montena68@gmai.com

Hi friends. i got the software update on my LG L9 P768. i tried a lot to do update but not successful yet. it downloaded till some percentages then suddenly stop and do it from the first percent or downloaded till some percentages and then can't download it. i have no Ram-booster or Antivirus on my L9 and i did Factory Reset to update my L9 but it was unsuccessful :-(
i"ll be glad if U help me.....
Android Central Newsletter
Get the best of Android Central in in your inbox, every day!
Thank you for signing up to Android Central. You will receive a verification email shortly.
There was a problem. Please refresh the page and try again.