Swappa now offers protection plans so you're never without a phone!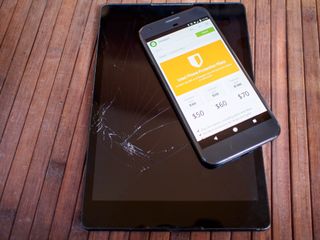 When you buy a phone new, there's usually an option to protect your investment should you accidentally leave it on the hood of your car and drive off holding a taco in your hand instead of listening for notifications. You pay a little extra for that peace of mind and hope you never need it, but accidents happen.
When you buy a phone secondhand, there are usually fewer options for protecting your investment. This isn't a huge deal for some, since the whole point of buying secondhand is to save some cash, but a broken phone sucks no matter what you paid for it. The folks at Swappa get that, and are now rolling out protection plans so you aren't trying to swipe around on broken glass until you can afford your next phone.
Swappa's protection plan is fairly simple. You pay an extra $50, $60, or $70 at checkout depending on the cost of your phone, and if your phone breaks they'll either repair or cover the full value of your phone for a year. Coverage includes:
Cracked glass and screen repair
Water damage from drops or spills
Power surge protection
Those prices are competitive with what you'd get when covering just about any new phone, and unlike Google's Pixel Protect plan there's an option to repair your existing phone instead of swapping out for a whole new one. If you're a regular Swappa customer, or just someone who regularly values tacos over the safe storage of their phone, this seems like a solid add-on.
Get the Android Central Newsletter
Instant access to breaking news, the hottest reviews, great deals and helpful tips.