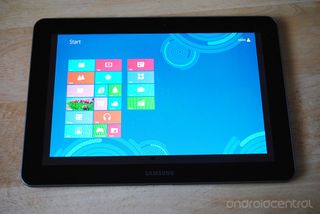 I'm not entirely sure the level of interest among Android users out there wishing to run Windows 8 on their tablets but according to Splashtop developer interest is high. As such, they've gone ahead and released Win8 Metro Testbed, which will allow you to simulate a Windows 8 environment on compatible Android tablets.
There is a few constraints with the app you'll need to be aware of though. First, you'll need a copy of Windows 8 installed on a PC or Mac to make use of but you can get that from Microsoft for free right now. Then, you'll need the Win8 streamer app installed available from Splashtop. Finally, you'll need to hand over $25 for the Win8 Metro Testbed app available on the Google Play Store.
Sounds all rather complicated but it's really not if you're already checking out Windows 8. Splashtop did do up a great video showing how to use the app so go ahead, have a look at Win8 Metro Testbed in action below.
Splashtop Launches Win8 Metro Testbed for Android Tablets
Splashtop's Win8 Metro Testbed turns an Android tablet into a Windows 8 device with native Metro UI touch gestures for app developers and technology enthusiasts
June 6, 2012 – San Jose, CA – Splashtop Inc., the worldwide leader in cross-device computing, today announced the release of "Win8 Metro Testbed – powered by Splashtop," for Android, a remote desktop app that allows software developers and technology enthusiasts to simulate a Windows 8 environment on a tablet.
Splashtop's Win 8 Metro Testbed for the iPad has been popular with developers and users alike. In the Apple App Store, Win8 Metro Testbed has been the #1 grossing iPad app overall in 4 countries, the #1 grossing iPad app in utilities in 72 countries, including the US, Japan and China and the #33 top-grossing iPad app overall in the US.
Now by popular demand, Splashtop is delivering a developers solution for Android tablets running Android 3.1 and up, with a target screen density of 600dpi (1280x800) and screen sizes of seven or ten inches. Using Splashtop's new Win8 Metro Testbed solution, developers can test native Metro UI touch gestures on an Android tablet to code and compile new apps on their Windows PC.
"In response to the high demand from Splashtop fans and the developer community, we have provided a Windows 8 development platform for Android tablet owners," noted Mark Lee, Splashtop CEO and co-founder. "With Windows 8 Metro both iPad and Android developers can now turn their tablets into a development testbed to evaluate touch gestures and functionality of their app in a Windows 8 environment."
With Splashtop's Win8 Metro Testbed for Android, Windows 8 app developers can use their existing Android tablets to test their apps and keep them current with new releases of Windows 8 Preview without having to purchase a costly Windows tablet.
Win8 Metro Testbed enables native Windows 8 Metro touch gestures, including the ability to:
Swipe from the right to view the Charms menu
Swipe from the left to switch apps
Swipe left/right in Internet Explorer to move between pages
Swipe down to bring up additional menus
Swipe down on an item to select it
Pull down from the top to close an app
Swipe slowly from the left to run two apps side-by-side ("snapping")
Swipe from left-and-back to show running apps
Pinch to navigate files, folders, apps and data with Semantic Zoom
And more
View a short video of Win8 Metro Testbed on an Android tablet at https://www.youtube.com/watch?v=C6DW7bIcMKw
Win8 Metro Testbed can be downloaded for a special launch promotion price of $24.99 USD (regular price of $49.99 USD) from Google Play at https://play.google.com/store/apps/details?id=com.splashtop.remote.pad.win8.
About Splashtop Inc.
Splashtop aspires to touch people's lives by delivering the best-in-class remote desktop experience – bridging tablets, phones, computers and TVs. Splashtop technology empowers consumer and business users with high-performance, secure, interactive access to their favorite applications, media content and files anytime, anywhere.
Splashtop's products are top-selling apps on Apple App Store, Google Play, Amazon Appstore for Android, Nook Apps, BlackBerry App World, HP App Catalog, Lenovo App Shop and others. More than 7 million people have downloaded Splashtop products from app stores, and more than 100 million devices from HP, Lenovo, Dell, Acer, Sony, Asus, Toshiba, Intel and other partners have shipped with Splashtop.
The consumerization of IT and proliferation of mobile devices is leading to adoption of Splashtop by businesses. The Splashtop Bridging Cloud ensures reliable, secure and high performance connectivity across multiple devices, while offering IT, system integrators and service providers policy-driven control.
Splashtop has won the prestigious "Most Innovative Product" award from PC World, the "Best of What's New" award from Popular Science and the "Best of 2012 CES" award from LAPTOP Magazine. The company is headquartered in San Jose with offices in Beijing, Hangzhou, Shanghai, Taipei and Tokyo. For more information, visit https://www.splashtop.com/.
Sign up for Black Friday email alerts!
Get the hottest deals available in your inbox plus news, reviews, opinion, analysis and more from the Android Central team.