Sony Xperia Tablet S now shipping in the United States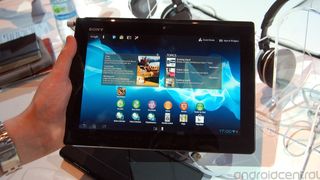 The world first saw -- officially at least -- the new Sony Xperia Tablet S just last week at IFA 2012 in Berlin. Since then, the tablet has gone on sale in the UK, and now it's time for the United States. Sony has added the Xperia Tablet S to their online U.S. store with prices starting at $399.99.
That price gets you the 16GB variant, but for $499.99/$599.99 you can pick up a 32GB or 64GB version of Sony's Tegra 3 tablet. With such features as guest mode and a universal TV remote built in, the Xperia Tablet S is potentially a good choice for family buyers. Additionally, if you buy from Sony online, you're treated to three digital movies from Google Play with a value upto $45. Pretty sweet deal then.
Accessories are also available now as well, including the pretty sweet looking cover with an integrated keyboard. That will set you back a cent under $100, but as we found out at IFA, it's not half bad.
Head on over to Sony online for the run down, and be sure to check out our hands-on with the device and the mammoth hands-on from the Sony Booth in Berlin.
Source: Sony
I wish. :-( Love my Sony Tablet S. Almost as comfortable fit reading as my girl's Kindle.

It really is awesome. The build makes it feel like it is worth the money. Sony really knows what to add to stock android and what to leave. Also the $45 in movie credit is in every box as a coupon. The deal expires on 7/15/2014.
Android Central Newsletter
Thank you for signing up to Android Central. You will receive a verification email shortly.
There was a problem. Please refresh the page and try again.