Hopefully you already did some shopping for yourself during the Black Friday and Cyber Monday weekend. Now it's time to do some shopping for others. Namely, pick up a few toys for the children in your life. Amazon has a Cyber Monday deal featuring a collection of dolls, Play-Doh sets, Playskool toys and more all up to 50% off. Considering most of these toys are already pretty inexpensive (it all sells for somewhere between $5 and $30), you have a big chance to save here while making the kids in your life happy.
Great gifts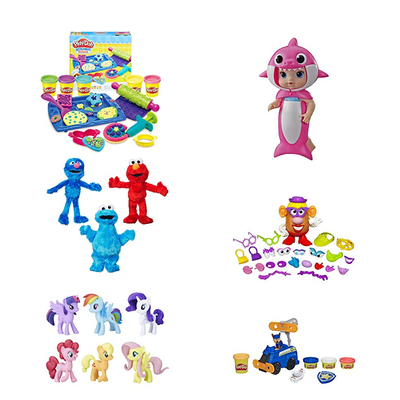 There are a bunch of different toys and dolls included in this sale that you'll want to check out. With up to 50% off, prices are starting at $7 or less.
Up to 50% off
Grab an Amazon Exclusive 24-pack of Play-Doh modeling compound featuring non-toxic, multi-color, 3-ounce cans. The case is down to $10.99 from a street price of $21. This deal matches last year's Black Friday weekend sale, and this case hasn't been discounted since. With all the different cans and colors, the whole family can press, smoosh, shape, and squish, and generally have fun playing together.
You could also get a Mr. Potato Head from PlaySkool on sale for $12.99 in this sale. This is $7 off its regular price and the best deal we've seen since last year. The Mr. Potato Head is great for preschoolers and toddlers. It comes in a "Silly Suitcase" for carrying and includes 35 pieces you can mix and match on the body in every which way. The great thing about Mr. Potato Head is there is no wrong way to play.
Got a Sesame Street fan in your life? The Elmo Let's Dance 12-inch toy for kids 18 months and up has dropped to $19.99. This is $8 off the street price and almost half off what the toy was selling for at the beginning of the year. The last time it dropped this low was around Cyber Monday last year.
We may earn a commission for purchases using our links. Learn more.