New HTC One includes 'powered by Android' branding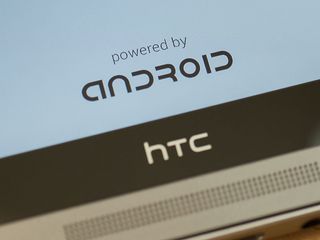 If you're buying a new HTC One today, you'll know you're getting an Android phone
Well how about that. Just like Samsung's Galaxy S5, the new HTC One (M8) includes a "powered by Android" message when you first switch it on. The actual "Android" logo appears a little smaller than on the GS5, but nevertheless it's prominent and very noticeable each time you power the device on. Chances are if you're buying a new HTC One today, you'll know you're getting an Android phone.
With the two biggest Android handsets of the year now displaying Google's Android branding at startup — likely at the company's behest — this appears to be something of a trend for new high-end Androids. And we'll be watching with interest to see whether future flagships from the likes of Sony, LG and Motorola also tell buyers they're "powered by Android."
Alex is global Executive Editor for Android Central, and is usually found in the UK. He has been blogging since before it was called that, and currently most of his time is spent leading video for AC, which involves pointing a camera at phones and speaking words at a microphone. He would just love to hear your thoughts at alex@androidcentral.com, or on the social things at @alexdobie.
Cool. I hope Google did not forced it down to their throats?

NAW. They told them it would run20% faster if they included it.

Lol Posted via Android Central App

I'm glad that Google is doing this because there are a ton of people who aren't into this stuff as much as we are who have no idea what android is. They're like: Android?? Well I know it's Galaxy phone! They're going for mind shares now that they have the market shares. Posted via Android Central App

I agree. Yesterday at work I had a guy ask me if the phone I had was a Note. I told him it was, it's my favorite Android phone. He said " But it's a Galaxy". That's why they need that on the screen. If Samsung does try to switch to Tizen, a lot of consumers wouldn't know the difference.
Posted via Android Central App

Samsung will soon include powered by Tizen cause they want to be unique and make their own ecosystem. Posted via Android Central App

Yea. They might. They wanna be like apple.
Exynos
Tizen
And anything at home

Lol.. Silly man -------------------------------------------
You really should see the crap I don't post. Sorry if honesty offends you

Seems like that's a little better than when the phones would say "with Google." Posted via Android Central App

Just like what Microsoft and intel did

Great comparison "How'd you get the beans above the frank?"

That's Good news for Google. Lots of people I know think Google's only purpose is for search and Gmail. At least people will finally know what Android really is and not just the manufacturer branding on their phone.
Posted via Android Central App

essential move. i'm behind it.

Nothing wrong with it tbh. iirc the north american version of the galaxy s5 has this as well
posted from my VZW g2

I have a feeling this move is mainly for ignorant consumers to be less confused about what their phone runs. I can imagine somebody looking at my M7 and asking, "Oh, is that a new phone? Did you get the Galaxy or the Droid?"

Presumably this was part of Google's big agreement with Samsung to reduce their overload of Android with Samsunginess, and therefore the move has to apply to their competitors as well. A bit more focus on the fact that this phone is, indeed, the result of Android and not merely Samsung or HTC's own work.

Wonder if this is mandatory, cant be a coincidence that both htc and Samsung are doing it. Posted via Android Central App on nexus 7 (2nd gen)

Funny, samsung has this and everyone complains about it, HTC has everyone praises it.

I think it should be on every phone. "How'd you get the beans above the frank?"

That's true. Hating on Samsung truly is the next big thing. Posted via Android Central App

Lmaooooo indeed Posted via Android Central App

New? -------------------------------------------
You really should see the crap I don't post. Sorry if honesty offends you

On every Android phone, new or old. People need to understand what makes their phone work. "How'd you get the beans above the frank?"
Android Central Newsletter
Get the best of Android Central in in your inbox, every day!
Thank you for signing up to Android Central. You will receive a verification email shortly.
There was a problem. Please refresh the page and try again.