Microsoft revamps Bing.com design for Android users with new sections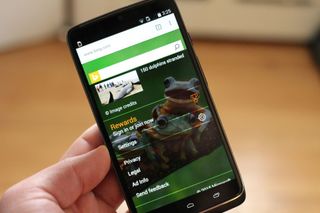 Chrome browser users can now swipe up to see the sections on the Bing.com home page. They will also notice a new translucent color scheme. Users can tap on the Image of the Day's caption to bring up a card revealing more information on that photo. The "Popular Now" section that was visible on the Bing.com desktop homepage is now available on the mobile homepage. Microsoft says:
There's also a new Bing Rewards card on the page for members of that program to keep track of their points, along with a Settings card and one for users to send feedback about their Bing.com experience back to Microsoft.
Source: Microsoft
Seems like cold comfort for all those Android users with new sections.

Using Bing on an Android phone just seems wrong, lol. I'm a fan of both Microsoft and Bing, but I use them on my PC, not my Android devices. Posted via the Note 4 or Tab S 10.5

Use what you like. Competition is good. Posted via the Android Central App

I heard MS makes 49ers loose against Seattle, how are you feeling about MS now?

lol Posted via HTC One on Sprint

BING But.Its.Not.Google Posted via the Android Central App

That's nice. I love XBox, and I am a Windows guy, but you can take Google away from me, Microsoft, when you pry it from my cold, dead hands. Posted via the Android Central App

Who's watching who? MS? Google?

Still don't care... Posted via the Android Central App

Nope Posted via the ACA on NEXUS 6
Android Central Newsletter
Thank you for signing up to Android Central. You will receive a verification email shortly.
There was a problem. Please refresh the page and try again.