Microsoft Mechanics dives deep into Surface Duo (video)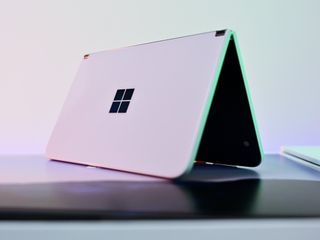 (Image credit: Daniel Rubino / Android Central)
What you need to know
A new video from Microsoft Mechanics runs through the design process of the Surface Duo.
The video goes over the creation of the device's software and hardware.
Microsoft had to overcome several challenges caused by the Surface Duo's unique form factor.
Microsoft shares a deeper look into its Surface Duo in a recent video by Microsoft Mechanics. Vineet Thuvara, Senior Director of Program Management for the Surface team, runs through the Surface Duo's hardware and software alongside host Jeremy Chapman.
Thuvara explains how people from around the world worked together to deliver the device's software and hardware. The dual-screen form factor is quite unique, and Thuvara explains how Microsoft utilized that form factor with the Android operating system.
The video has timestamps from Microsoft, so you can easily jump to a specific segment:
Making the Surface Duo required Microsoft to re-engineer its manufacturing process, optimize its apps, and design an experience that would work across the device's form factor. Around the 5 minute mark, the video goes through some of the engineering challenges required to make the Surface Duo, including making its asymmetric batteries work together.
The unique form factor also challenges case makers; even the best Surface Duo cases require more engineering than standard device cases. Several of them have to flip, fold, and rotate to match the unique form factor of the Surface Duo.
Order today
(opens in new tab)
Two screens are better than one
Microsoft delves into the future of foldables with an ambitious dual-screen device, featuring two ultra-thin 5.6-inch AMOLED displays bound by a 360-degree hinge. This pocketable inking-enabled Android smartphone marks the latest in the Surface lineup, geared for mobile productivity.
"Your scientists were so preoccupied with whether or not they could, they didn't stop to think if they should."
You can polish a t*rd all you want - but it still smells like a tu*d.
Android Central Newsletter
Get the best of Android Central in in your inbox, every day!
Thank you for signing up to Android Central. You will receive a verification email shortly.
There was a problem. Please refresh the page and try again.