How to resync a PS4 controller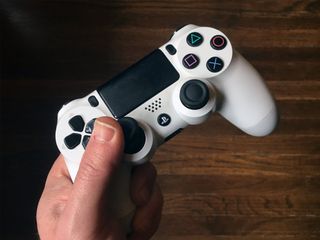 (Image credit: Android Central)
Controller giving you problems by not syncing up to your PlayStation correctly? Luckily, DualShock 4 controllers are made so that players can resync their controllers with extreme ease, thanks to a tiny hole on the back of the controller. So if your controller isn't connecting, this is the best way to try and fix it, barring the use of a USB cable all of the time because no one wants to be tethered to their console when they don't need to be.
How to resync your PS4 controller
On the back of your controller, find the tiny hole next to the L2 button.
Use a pin or paperclip to poke in the hole.
Push the button on the inside for a couple of seconds and then release.
Connect your DualShock 4 controller to a USB cable that is connected to your PlayStation 4.
Press and hold the PlayStation button on the center of your controller. This will prompt another attempt to resync.
This method only works if you're using a DualShock 4 controller. If you have a third-party controller like the Razer Raiju or Scuf Vantage, they may not have the same reset button but should have their own methods for resetting. It's also important to note that sometimes the DualShock 4 doesn't sync up correctly because it uses a Bluetooth connection, so it could be attempting to connect to multiple devices, like your phone if you've ever used PS4 Remote Play.
If you're experiencing other common problems with your controller, like not holding a charge, there are easy fixes to these issues. If none of those work, you may need to spring for a new controller entirely.
Old reliable
Get a new one or just grab a spare
DualShock 4s aren't too expensive, so it isn't usually a huge deal if you need to spring for a new one. Even if you don't, it might be wise to pick up an extra just in case yours breaks or if you ever have a friend over and want to play some couch co-op.
Get the Android Central Newsletter
Instant access to breaking news, the hottest reviews, great deals and helpful tips.
Matt has been gaming since he was young, and enjoys exploring obscure indie games in between the latest AAA releases. The train sequence from Uncharted 2 still blows his mind. Find him on twitter @mshore94.