How to insert and replace the SD card on the Galaxy S5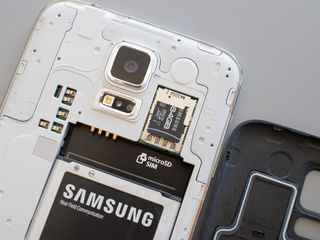 One of the go-to reasons for buying a Samsung phone has been its support of using external SD card storage, and the Galaxy S5 is no exception. When you pop a fresh MicroSD card into your Galaxy S5 you can instantly expand its storage by up to 128GB, and it's an economical way to up the storage without having to pay for the extra internal storage right off the bat, costing you $100 to just add 16GB.
It only takes a few minutes and a couple easy steps to insert your SD card properly — let us show you how.
Remove the back cover
In order to get at all of the goodies inside of your Galaxy S5, including the SD card, you'll need to remove the back cover of the phone first. Find the notch on the top-left corner of the back, and pry the back off slowly as to not break any of the clips. The back is quite flexible, so don't worry too much about breaking it. It will come off completely.
Remove the battery
Unlike some phones, the Galaxy S5 requires you to remove the battery from the phone before removing the SD card. Lift up on the battery from the bottom where there's a small notch to place your finger, and it'll come out with ease. The battery doesn't have to be removed completely to get the SD card in, but there's no harm in taking it out — you'll put it back in place in short order.
Place the SD card on the slot
Next, place the SD card on the metal slot to the right of the camera pod, with the smooth edge of the card on the left side and the notched edge on the right. You'll notice that the metal contacts for the SD card are facing down away from you. The slot holds both your SIM card and the SD card, so make sure you put the SD card in the top slot.
Push the SD card up into the slot
With a small amount of pressure on the card, push it upward into the slot. Only about 20 percent of the card will go into the slot, so don't be alarmed if it doesn't go all the way in. You'll be able to see a portion of your SIM card sticking out underneath the SD card.
Pop your battery back in to your Galaxy S5 and power it up — you're done!
For more help with your Galaxy S5, be sure to see our Help, tips and tricks page, as well as the Galaxy S5 Forums!
Get the Android Central Newsletter
Instant access to breaking news, the hottest reviews, great deals and helpful tips.
Andrew was an Executive Editor, U.S. at Android Central between 2012 and 2020.