'With great power, comes great responsibility' - The Amazing Spider-Man launching June 28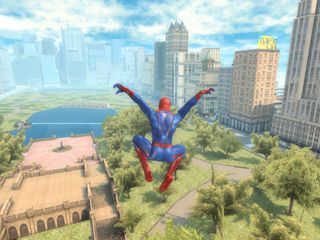 This summer is shaping up to be a feast for comic book geeks and general action film lovers alike, with titles like The Dark Knight Rises and The Amazing Spider-Man. Both are set to get official mobile games from Gameloft, and both will be coming to Android around the time of the movie launches.
Today on their official YouTube channel, Gameloft has posted the "prologue" to the Amazing Spider-Man. It gives us the background -- although we all know that already, right? -- and some more gameplay action. The gameplay looks pretty good, a large, open, 3D world to web-sling through to your hearts content. There's also some bad guys to fight should you feel the urge.
Also from the video, we get the release date for the title. The Amazing Spider-Man will be launching on Android on June 28. In the meantime, enjoy the trailer.
Source: Gameloft (YouTube)
Another great download this time to my Galaxy S3.

The game play looks like the old spider-man games from the original Playstation...which I loved. Can't wait!

The game might be better than the movie it's based on.
Android Central Newsletter
Get the best of Android Central in in your inbox, every day!
Thank you for signing up to Android Central. You will receive a verification email shortly.
There was a problem. Please refresh the page and try again.