Best Accessories for DJI Osmo Pocket in 2019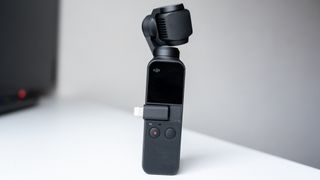 The DJI Osmo Pocket is a game-changing product for on-the-go photographers and videographers by putting a 3-axis gimbal quite literally in your pocket. However, to get the most from the Osmo Pocket, you're going to want some great accessories.
Attach everything
DJI Accessory Mount
The Accessory Mount is essential to attach your Osmo Pocket to a tripod or a host of other accessories. It clips around the body and has a standard GoPro-style mount on the rear so you can connect all your favorite accessories.
Better looking video
(opens in new tab)
Freewell ND Filters
These magnetic filters clip over the lens on the Osmo Pocket and will give your footage a whole new look. This all-day pack has eight filters, some with polarizers, to ensure great video in all daylight conditions.
Better support
(opens in new tab)
PGYTECH phone bracket
This neat little bracket allows you to use the Osmo Pocket with your smartphone attached without putting any strain on your phone's charging port. It's also a great way to add a tripod and an external microphone.
Max protection
(opens in new tab)
Anbee portable hard case
For a little added protection, this affordable case has a foam insert with precise cutouts for the Osmo Pocket, your cables, and the DJI case, as well as a large zipped pocket. It's water resistant and tough enough to absorb the knocks so your Osmo Pocket doesn't have to.
Gimbal locked
(opens in new tab)
PGYTECH gimbal protector
The 3-axis gimbal is what makes the Osmo Pocket so special, and it's not something you want to damage. This simple plastic hood locks it in place when you're not using it, preventing any accidental contact as well as protecting the lens.
Scratch proof
(opens in new tab)
SunnyLIFE screen protector
To keep the display on the Osmo Pocket looking its best, you'll want to invest in a screen protector. This pack contains glass protectors for the camera lens and the screen and will keep it scratch free without impeding its touch sensitivity.
Wire free
DJI Wireless Module
There's no wireless connectivity built into the Osmo Pocket, so to operate it remotely from your phone or tablet you need the Wireless Module from DJI. It adds Bluetooth and Wi-Fi, allows you to charge the Osmo Pocket, and acts as a sturdy base.
One handed
DJI Controller Wheel
Making fine adjustments on the small touchscreen on the Osmo Pocket is pretty tough. The additional controller wheel provides precise pan and tilt control for the gimbal as well as one-handed quick changing between modes.
Fast storage
(opens in new tab)
Sandisk Extreme 64GB micro SD card
A good micro SD card is essential for the Osmo Pocket if you're going to be shooting 4K video. This one from Sandisk has a fast write speed and plenty of storage at an affordable price. It also comes with an SD adapter to use with your PC or Mac.
The Osmo Pocket already has a wealth of great accessories available. Some, like a great micro SD card (opens in new tab) are staples of using any camera, but to really take your experience up a notch you'll want to be able to add all kinds of accessories, and the DJI Accessory Mount (opens in new tab) gives you that freedom.
Android Central Newsletter
Get the best of Android Central in in your inbox, every day!
Thank you for signing up to Android Central. You will receive a verification email shortly.
There was a problem. Please refresh the page and try again.