BBM will be preinstalled on some Android smartphones, BlackBerry says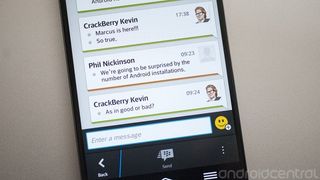 BlackBerry this morning announced that BBM will be preloaded on some Android smartphones starting in December. The specific models weren't named — BlackBerry said "from leading [original equipment manufacturers]" — but you'll be able to find them in Africa, India, Indonesia, Latin America and the MIddle East.
Parties involved include Be, Brightstar, Celkon, EVERCORSS, IMO, Micromax, Mito, Snexian, Spice, TECNO, TiPhone and ZEN.
Via CrackBerry
WATERLOO, ONTARIO--(Marketwired - Nov. 26, 2013) - BBM™ will soon come preinstalled on a variety of Android™-based smartphones from leading OEMs across Africa, India, Indonesia, Latin America and the Middle East. Beginning next month, Android smartphones from Be, Brightstar, Celkon, EVERCOSS, IMO, Micromax, Mito, Snexian, Spice, TECNO, TiPhone and Zen will include BBM preinstalled. In addition, BlackBerry® (NASDAQ:BBRY)(TSX:BB) confirmed that BBM will also continue to be available as a free download from Android app stores, including Google Play.
"It is clear that smartphone customers see BBM as a must have app for active conversations. The uptake we have seen for BBM since the launch on Android and iPhone is amazing," said Andrew Bocking, Executive Vice President for BBM at BlackBerry. "We're thrilled to be working with leading Android smartphone manufacturers from across the globe to help bring their customers the best out-of-the-box experience with BBM preinstalled."
"Mobile messaging is a top priority for Indonesian mobile users and BBM has long been the premium messaging brand. Mobile users want their conversations to be immediate, private and reliable, which makes BBM a great fit for our devices," said Janto Djojo, Chief Marketing Officer at EVERCOSS. "BBM is incredibly popular in Indonesia and since it's availability on Android, it's become the must have messaging app for our customers. We are therefore thrilled to be working with the BBM team at BlackBerry to preinstall BBM on our devices, making it easier than ever for our customers to get connected to BBM contacts and start chatting."
"BBM is extremely popular in Africa and we know our customers will appreciate the ability to quickly access BBM on their TECNO devices and start connecting with friends and family. BBM is now a central component of our Android-based smartphone platform offering," said Jason Liu, Marketing Director of TECNO GROUP. "We are pleased to announce that we're working with the BBM team at BlackBerry to install BBM on the Android smartphones we bring to market."
"At Micromax, we have built a strong mobile ecosystem for our users, which builds a strong connection with the brand by democratizing technology for masses in India. Offering BBM, one of the most popular mobile messaging services, preloaded on our smartphones is another great example of how Micromax has built a bouquet of services for our customers to connect and communicate seamlessly," said Rahul Sharma Co-Founder Micromax. "We have now preloaded BBM on the new Canvas Turbo and the initial response from our consumers has been overwhelmingly positive. BBM will now be preloaded in the entire future range of Canvas phones."
BBM gives customers privacy, control and immediacy as they chat with their contacts - either one-to-one, in multiple chats or as part of a BBM Group. BBM's Delivered and Read statuses, as well as message-in-progress notices, keep people engaged and active in their conversations.
BBM lets users share files such as photos and voice notes, as well as update their profile and status with ease. Up to 30 people can connect as a BBM Group to chat and share photos, calendars and other files or documents.
Every BBM user has a unique PIN tied to their BlackBerry ID that helps maintains their privacy. Users never have to give out their phone number or email address to begin chatting with a new or casual contact.
The BBM experience will continue to evolve for Android and iPhone® users in the coming months, with updates that will include support for BBM Channels, a new service that will connect BBM users to communities of shared interests in a very engaging and intimate manner, as well as support for BBM Voice calling and BBM Video calling.
Get the Android Central Newsletter
Instant access to breaking news, the hottest reviews, great deals and helpful tips.