Advertisement Feature
You got your Galaxy Note 9, now shield it with the very best edge-to-edge protection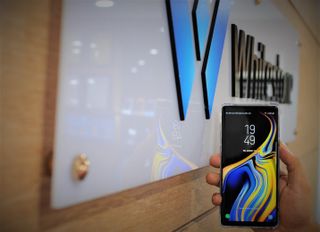 For most of us, our phone is an extension of ourselves, and losing or damaging it can almost feel like breaking a finger.
But fear not, the protection your new Note 9 deserves is here. With your Galaxy Note 9 either already in your hands or on its way to you, it's up to you to make sure it stays looking fresh. Whitestone provides the first true "Full-screen adhesive" tempered glass screen protector for curved bezel-less phones and they are the premier specialized brand for the high-end market of cellular devices. Thankfully, they have just released one of the most important accessories to keep your device looking just like it did when it first came out of the box.
For a long time, plastic or urethane protector have been the main option as screen protectors, but the truth is they don't really give your phone true protection. They are vulnerable to scratches and even can reduce transparency, not to mention the greasy smudges or air bubbles that can happen when just putting them on. Then tempered glass protectors came about and allowed your screen to stay crystal clear.
But most other well-known brands try to be sneaky by falsely advertising themselves as full-cover tempered glass screen protector. Most only cover the flat side of your device and use a black cover adhesive along the side to hide lifts, or they have a poorly implemented visible Dot-Matrix which makes the device prone to touchscreen errors and can give off a rainbow/blurry effect. But that's not the case with Dome Glass. The Whitestone Dome Glass uses several patented technologies to fill in those shortcomings and provide the Note 9 with the ultimate security like no other screen protector you've ever seen before.
It is precisely because of Whitestone's patented technologies that put them in a tier of their own. One such technique used is their patented LOCA technology which stands for 'Liquid Optical Clear Adhesive'. LOCA is a revolutionary liquid glass adhesive that evenly disperses over the entire curved screen, forming a single, solid layer of anti-shatter glass. This is the only pure complete screen coverage out there for the Note 9, and as a bonus, the liquid can repair existing scratches and scuffs as well.
By filling in any cracks and then firmly setting, the Dome Glass creates a watertight, edge to edge protection. This can provide a new lease on life for your Note 9 if you are unfortunate enough to damage it before getting any protection in place. Now, there is no need to go out and spend the money on a whole new replacement screen due to a scratch or two, let the Whitestone Dome Glass come to the rescue.
With their LOCA technology, Whitestone also utilizes a unique curing process that harnesses the power of UV light to securely attach the glass to your phone giving you flawless protection. This is not a quick process by any means, but it is by far the best way to get the ultimate protection. Make sure you give yourself ample time to follow the step by step guide included (It's also recommended to watch their installation video) and don't just try to slap it on in a few minutes.
To prevent installation errors from happening, each Dome Glass two-pack includes three adhesive bottles, a UV curing light, an install frame, and all the other necessary components. Also, it is possible to use the extra glass to re-install if you do happen to make a mistake. The only thing not included in the package is the power adaptor for the UV light. But since it is micro USB compatible, you can use any USB wall adapter to power it. For help with the installation, you can follow this link to see some of the Whitestone Dome Glass reviews and installation tutorial videos.
Available in a single or as part of a two-pack (perfect for those on a family plan), the Whitestone Dome Glass is already a top seller on Amazon Worldwide and AT&T, and it is touted as one of the best-tempered glass protectors by NTT Docomo (the largest cellular provider in Japan). Moreover, every Whitestone Dome Glass product comes with a Limited Lifetime Warranty which means that if your Dome Glass is damaged or worn, you could request a replacement through Whitestone's webpage.
These are only a few of the reasons why as a brand Whitestone is the only tempered glass screen protector recognized by SMAPP (Samsung Mobile Accessory Partnership Program). Samsung as a brand recognizes the quality of protection that the Dome Glass provides, you should too. Also, for a limited time, our very own Android Central readers can use the code AC4NOTE9 to save 30% off the Whitestone Dome Glass for the Note 9.
At $999.99 the Samsung Galaxy Note 9 is no small investment, it's the top of the line. If you're not going to settle for a second-rate phone, why would you settle for a second-rate screen protector? Well, the short answer: You shouldn't! Get your own Dome Glass today!
Get the Android Central Newsletter
Instant access to breaking news, the hottest reviews, great deals and helpful tips.