We take a closer look at the Sony Xperia Tablet Z ahead of its UK launch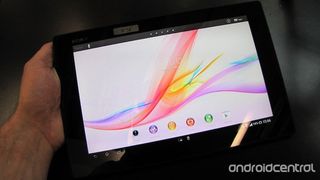 We first went hands on with Sony's latest tablet offering, the Xperia Tablet Z, back in February at Mobile World Congress. With the device set to launch in May, Sony reached out to us again to go and have a closer look at the new device and see what we think.
The Tablet Z is very much a big brother to the Xperia Z. It contains a 10.1 inch 1920x1200p WUXGA display sporting the Mobile Bravia Engine 2, and this thing is lightweight -- at only 495g and 6.9mm in thickness the tablet is currently the thinnest on the market.
Like the Xperia Z, the tablet is both water and dust resistant, hence why all the ports are covered with plastic covers. I'm not sure I would want to take a £500 device for a swim though!
Under the hood is a Snapdragon S4 Pro processor with 1.5GHz asynchronous quad CPU's and 2GB of RAM so specs wise the Xperia Tablet Z isn't lacking. Combined with an 8MP rear facing camera with the 'Exmor R for mobile' and a 2MP front facing HD shooter you can be sure to get some decent photos from this tablet.
So what did I think? It's pretty gorgeous to be honest. It feels great in the hand due to its dimensions and weight and the software certainly is snappy. Running Android 4.1.2 and with Sony's Walkman features on board it will appeal to many but the big question I have is how will it compete with the dozens of other tablets on the market.
Priced at £499.99 here in the UK it isn't cheap. Sure, its a big tablet but when you look at the price of the Google Nexus 7, I know which I would choose. But that's just me and I know many folks prefer a 10 inch tablet over a 7 inch. Then there's the other question of how it will fare against the iPad. I doubt if it will make much of a dent but I'm not being negative, just realistic.
The Xperia Tablet Z is a real beauty and offers some features that many of its competitors don't, so it does have plenty going for it. Only time will tell how this one sells but it gets the thumbs up from me. It's without doubt the best offering they have brought to the tablet market. Good work Sony.
My god the iconography is dated and ugly. Stock Android please!

Lucky for you, there should be roms for that when it gets launched. Everything else about it seems okay to me.

A favor PLEASE. A couple of dry runs before you post the video would be helpful. Perhaps you were limited on time, but this review was slightly painful to listen to and watch. Regarding the tablet, I think MultiScreen should be a standard on a 10.1 screen since Samsung showed that it can be done with a Quad core processor. I really don't see what gives this tablet the edge over the rest of them? If it was lighter, but did more.. I could see it, but it doesn't seem like it does.
Android Central Newsletter
Get the best of Android Central in in your inbox, every day!
Thank you for signing up to Android Central. You will receive a verification email shortly.
There was a problem. Please refresh the page and try again.