Verizon posts Motorola Xoom LTE HLK75D update changelog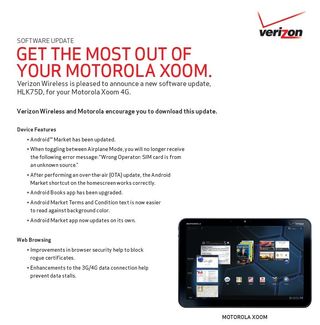 If you sent your Motorola Xoom off to get its 4G upgrade, you no doubt noticed the OTA update that was waiting for you when you got it back. You did get it back, right? What that update contained was never really mentioned but Verizon has now posted the changelog:
Device Features
Android™ Market has been updated.
When toggling between Airplane Mode, you will no longer receive the following error message: "Wrong Operator: SIM card is from an unknown source."
After performing an over-the-air (OTA) update, the Android Market shortcut on the homescreen works correctly.
Android Books app has been upgraded.
Android Market Terms and Condition text is now easier to read against background color.
Android Market app now updates on its own.
Web Browsing
Improvements in browser security help to block rogue certificates.
Enhancements to the 3G/4G data connection help prevent data stalls.
Nice update overall. I can't speak for how well the web browser is working now but plenty of folks in the forums have been discussing the update so feel free to jump on in there and discuss it further.
Motorola Xoom Forums; Thanks, bigguy_132!
Sounds like the 4G version just finally gets the updates the Xoom WiFi has had for several weeks.
Android Central Newsletter
Get the best of Android Central in in your inbox, every day!
Thank you for signing up to Android Central. You will receive a verification email shortly.
There was a problem. Please refresh the page and try again.