Tales from the Borderlands hits the Google Play Store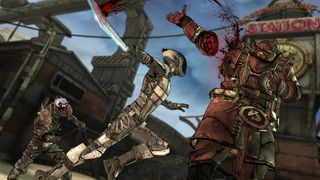 Hold onto your Butt Stallion, Tales from the Borderlands is now available on Android. It offers the familiar dialog-heavy adventure style as Telltale's other games, while lathering on the distinctive cel-shaded art and over-the-top antics of the Borderlands series of shooter games.
Players hop into the storyline after Borderlands 2 as Rhys, a Hyperion company man, and Fiona, a con artist local to the unforgiving world of Pandora. Zer0 Sum is the first episode of five we'll be seeing from the series, and as you might expect, it features one of the heroes from the hugely popular first-person shooter. Each episode is $4.99, or you can prepurchase episodes 2 - 5 for $14.99.
The release of Tales from the Borderlands is hot on the heels of a new Game of Thrones title. Telltale is best known to date for their work on a series of Walking Dead games, and more recently, the adaptation of a graphic novel called The Wolf Among Us. They're even making a Minecraft game now, apparently. All of these games have done a fantastic job with original voice acting, strong plotlines, and faithfulness to their respective original franchises. It's safe to expect Tales from the Borderlands will be no different, but you can always check out the glowing reviews of the PC version that launched last month.
Simon has been covering mobile since before the first iPhone came out. After producing news articles, podcasts, review videos, and everything in between, he's now helping industry partners get the word about their latest products. Get in touch with him at simon@futurenet.com.
Was playing it late Posted via that lil arrow at the top right.

Was playing it late last night. Awesome game! Glad to see the right type of game announcement. I was concerned a few days ago when Lyndsey Lohan's ridiculous fashion game was announced here...on.... Android... Central...(let that sink in) and the epic Game of Thrones, released at the same time, was not. Thought I was on Bizzaro world or some alternative DC world from the New 52. Posted via that lil arrow at the top right.

TellTales games is on a roll
Android Central Newsletter
Get the best of Android Central in in your inbox, every day!
Thank you for signing up to Android Central. You will receive a verification email shortly.
There was a problem. Please refresh the page and try again.