Sony Ericsson ST25i 'Kumquat' pic leaks, is Mini-Me to Xperia S's Dr. Evil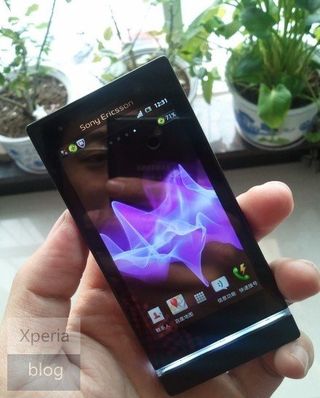 We saw plenty of the Xperia S before it officially surfaced at CES, and we've already seen leaked photos of the MT27i "Pepper", along with a purported leaked roadmap for other Sony phones. Today, though, XperiaBlog has the first image of at what is reportedly the Sony (Ericsson) ST25i "Kumquat", a mid to high-end Android phone with a 3.5-inch display and a familiar industrial design.
The "Kumquat", which according to the leaked roadmap is due this April at a ~€260 price point, is apparently powered by a 1GHz dual-core processor, with a 5MP camera and a qHD (960x540) display. If the rumored specs and price are correct -- and admittedly that's still a pretty big "if" -- this device could be very tempting for those looking for a smaller, more portable smartphone with high-end specs.
Hopefully we'll see more of the "Kumquat" at Sony's Mobile World Congress presentation in just a few weeks, where the manufacturer looks set to reveal more of its 2012 line-up.
Source: XperiaBlog
Alex is global Executive Editor for Android Central, and is usually found in the UK. He has been blogging since before it was called that, and currently most of his time is spent leading video for AC, which involves pointing a camera at phones and speaking words at a microphone. He would just love to hear your thoughts at alex@androidcentral.com, or on the social things at @alexdobie.
Hey look, a low end, low def, small screen. Verizon needs about a thousand more low-end phones like that.

That's a slick looking phone. I love android.

How much will be the ram??? I hate that they put only 512 ram in other phones. 512 is getting slower now. Even after heavy app installation my nexus s just got lil bit slower

i wonder if apple has a patent on 3.5 inch displays yet...
Android Central Newsletter
Get the best of Android Central in in your inbox, every day!
Thank you for signing up to Android Central. You will receive a verification email shortly.
There was a problem. Please refresh the page and try again.