Samsung reportedly in talks to purchase BlackBerry [update: BlackBerry denies discussions]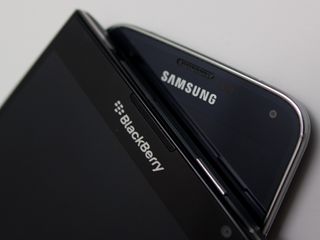 According to a new report, Samsung has approached BlackBerry for a potential takeover worth as much as $7.5 billion.
The news from Reuters, citing unnamed sources:
Reuters also reports that Samsung proposed a price range of $13.35 to $15.49 per share. Shares of BBRY opened the day at $9.32 and were trading below $10 before the news broke, but since then have shot up to over $13/share on the back of this rumor.
We'll have more as this develops.
Update: BlackBerry has issued the following response denying reported discussions with Samsung:
Source: Reuters
Blackberry will then release 7 variants a year Posted via...The One

They were already doing that before they hit hard times so...

They've released a lot of models each year, 4 or 5. But they've never entered Samsung territory Posted via...The One

Good!! I hope they do. Put some life into blackberry. Congrats on the Packers moving on btw. I hope they shock the Seahawks in front of all of their sorry ass fans!! go pack go!!! Lol Posted Via the Unrivaled Note 4

Congrats on the new coach. Thank you. I shut my friend up. My l me and ask my best friends each like teams outside of Ohio. I'm packers (4LYFE), I got a buddy who's cowboys, niners (the biggest shit talker), a buddy who's a eagles fan and one who likes buffalo. If any team in the NFC can beat those jerkoffs, it's the Packers. We're already familiar with them and they're becoming bullies, someone needs to knock them on their ass and remind them they're human... Those loud ass fans too. Posted via...The One

I think dallas would've had a chance, seeing as how they already knocked them off in seattle earlier this year. The key as always is containing lynch. He just goes off in the 2nd half too often and it opens up everything else. A. Rogers has to have an excellent game as well, but containing lynch is key. Which is almost impossible to do in that stadium. Posted via the Unrivaled Note 4

I thought the same thing. Gotta stop the beast. Dude just pounds through. I forgot Dallas beat them, I think we can do it though. Funny thing is he's been bitching about getting paid, they win the bowl again, they should (but won't) pay him. He'll probably leave though, I hear the front office doesn't like his attitude. And I know Allen got SERIOUS $, but they won't keep that team together if they win it all. Coordinators are gonna get coaching offers, players are gonna want raises (which Allen can afford) Posted via...The One

Go Blue, In all seriousness how do you feel about losing Harbaugh? Posted via the Android Central App

I'm a lifetime 49ers fan and a U of M grad. I never realized something could simultaneously be the best thing ever and the worst thing ever.

I glad he went back to Michigan too. Goodell's NFL is a joke. Bad gaming changing calls happen way too much especially with instant replay. Im a 49ers fan too but stopped watching what used to be called football now its basically flag football Posted Via AT&T Note 3

I don't mind losing him at all. He wasn't well liked throughout the ORG. this last year. He's clearly a great coach, but i think he's gotten more credit for the teams success then he deserves. He's made some bone headed draft pics that baalke took the blame for, and he essentially failed to develop Kaep. He's an offensive minded coach that led one of the worst passing offenses 3 out of 4 yrs. As head coach. I love the Tomsula hire though. Excellent move for a new HC that's about to have a ton of success I'm also a diehard SF Giants fan. Sorry it had to be a WS sweep 2 years ago, lol Posted via the Unrivaled Note 4

I liked Harbaugh as a coach probably because of the family and the record (the same way I like Rex Ryan though I think he's better as a D coordinator) It's possible he's overrated though. Andrew Luck is clearly a special talent and Harbaugh's name blew up during Lucks time at Stanford. Posted via...The One

There's been a lot of negativity surrounding the 9ers this year, and for good reason to an extent. I'm looking forward to baseball Posted via the Unrivaled Note 4

You're looking fwd to Madison Bumgarner you mean lol. Definitely the most important part of the Giants. It's a pleasure to watch him go. I'm looking to see what Corey Kluber and my Indians do this yr Posted via...The One

Welcome to NFL Central. Posted via the Android Central App

Kluber is a beast. I like the Indians. They've always been a top 15 team getting close to that 90+ win season these last few years. Francona is a good coach though. Let's see how they do this year. As for the giants, Bumgarner is a 1 man wrecking crew. But the entire team and Organiz. Doesn't feel they can be beaten in october. And 3 rings in 5 years later they remain untouchable when it's all on the line. They've entered dynasty territory imho Posted via the Unrivaled Note 4

I think their division has been the most productive in terms of acquiring players this off-season. Hopefully it isn't weak thiss year again. Of course I really think they still have to watch out for the Royals. Don't think they are a one and done. Dayton Moore certainly has them in the right track. Posted via my Samsung Galaxy Note 4.

I can't wait until baseball season either. It has always been my favorite sport Posted Via AT&T Note 3

New alternative to obKNOXious?

Qknox Posted via the Android Central App

You mean Lollipop? Posted via the Android Central App

NO! Samsung will ruing blackberry. I know they aren't great but Samsung sucks. Posted via the Android Central App

Samsung will ruin BlackBerry oh that made me laugh. BlackBerry is ruined already. Samsung will only help BlackBerry. BlackBerry security on a Samsung phone is bad news for the rest of the manufacturers. I hope this happens as im a fan of both products Posted Via AT&T Note 3

I'm a fan of neither, they deserve each other... :p I do own Samsung TV tho, RIP plasmas, you will be missed. Make no mistake tho, this is just a big IP grab for Samsung with a side of software developers.

Of course it's a big IP grab. They wouldn't do it just for fun. :)
It'd naturally be to get exclusive access to the enterprise infrastructure

BB is clinging to life. I can't believe BB is even worth 7 Billion, maybe 1 billion for the patents.

Look around. Blackberry pretty much is ruined as it stands.

Just another Samsung hater. Obviously he is clueless that he doesn't know that BlackBerry was ruined years ago Posted Via AT&T Note 3

As I said in the comment that I know blackberry isn't great. Samsung software is horrible blackberry has the better OS and security. Not a Samsung hater I hate crappy, laggy, bloated software with almost no software updates. That's why I have a nexus 5 and not Samsung. Posted via the Android Central App

Really? Are you saying that BB10 is superior to Android? How would Samsung hurt BlackBerry exactly? Posted via the Android Central App

Just look at the road Samsung is going down. Not selling as well as they used to they have a need to spam the market with sub par products with even worse software. All blackberry needs is apps and good marketing and Samsung could do that but Samsung would only change the company and in my opinion probably not for the better. Posted via the Android Central App

Yeah not selling well with a 50 million dollar profit last year. Thats more profit combined then all the other Android manufacturers put together. Posted Via AT&T Note 3

I think that he's saying that BB10 might be better than Touchwiz. (He might be right too, IDK about BB10, but I know Touchwiz is horribad)

That's exactly what I am saying. Samsung only knows how to make people want gimmicks and flood the market with sub par products. Posted via the Android Central App

Try a Note 4 and then comment on how shitty TouchWiz is. It is vastly improved from the Note 3 and the Note 3's TouchWiz wasn't bad at all Posted Via AT&T Note 3

I've used the note 4 for an entire week and it's too bloated and it still lags. A quad core device should not lag! Posted via the Android Central App

Bs Posted by my soon to be retired Note 3

Yeah think lol. Yeah I hate Samsung and their software but I spent 800 to try it out for a week SMH Posted Via AT&T Note 3

Why would you even buy a Note 4 if Samsung software sucks and lags? Now your just a lieing Samsung hater. I know tons of people with a Note 3 and 4 and never experienced any lag. If you dont care for Samsung why even comment? Time for a hobby Posted Via AT&T Note 3

You're an idiot Posted Via the Unrivaled Note 4

The note 4 doesn't lag, your just speaking out the side of your neck, go back to your iphone Posted via the Android Central App

You can't compare the BBOS to a skin over android. I used to LOVE BlackBerry phones! I thought BB10 was going to be the shit, but I was wrong and disappointed as I always was with BlackBerry. More competition is better and Chen is definitely better at running Posted via the Android Central App

I dont know what shitty software your talking about obviously you never owned a Note 3 or 4. Posted Via AT&T Note 3

Its bloated, ugly and laggy. It's a fact the note 4 and note 3 lag at some points still. It's improved but nowhere near stock android or HTC. Posted via the Android Central App

Either phone has never lagged for me or any of my friends who owned them. Im done wasting my time with someone who is clueless Posted Via AT&T Note 3

Your clueless look it up man Touchwiz lags no matter what phone it is. It may not be as bad but it lags and filled with gimmicks marketed at people who have no clue what amazing software is. Samsung makes stock android look bad because they see Samsung as android and not what on a nexus. Posted via the Android Central App

My dear, sweet boy, we don't have to "look it up". We use these devices on a daily basis. At this point, one of two things is clear: Either A) You're lying about your experience to maintain your righteousness or B) You have a very different definition of lag from us. Either way, it's pointless to continue this discussion.

Exactly I dont have to look anything up. I have used the Note 3 since it was released and im getting my Note 4 in 2 weeks. But I had plenty of time using my friends Note 4 and the software and speed of the phone is vastly improved from the 3. Look it up yeah great come back to someone who uses their products. Posted Via AT&T Note 3

You don't know WTF you're talking about ,son. TW is very decent these days. Other than the launcher anyway Posted Via the Unrivaled Note 4

got news for you. Android lags. Period. No matter what kind of hardware you throw at it.
Samsung Note 4 lags less than the new moto X and thats 99% pure android. I own both.
iOS 8 lags worse than the Note 4 as well.

I'll do you one better: all software lags. Period. The objective flawless user experience is a unicorn. Posted with the sexy GN4.

Aaaaand....you're an idiot Posted Via the Unrivaled Note 4

+1 Posted via the Android Central App

My main problem isn't with lag, but the lack of unified design philosophy in Touchwiz. It appears that different teams get tasked to do different parts of the software, but there's no overarching design to bring it together, so everything looks like a mess. If you're used to that, then it isn't a real issue I guess. Between bloat, messy UX and UI, capacitive keys, and that home button, there's very little for me to like in a Samsung device.

It's about the carriers releasing the software updates , not samsung. If samsung releases an update and your carrier doesn't release it to you, that's the carriers doing it to you. Your an idiot Posted via the Android Central App

Gimme an S5 over a N5 any day. Especially considering Nexus is so boring and plain as shit and bare bones. I'll take the "laggy" (hahaha you probly never even owned a Sammy device) over your nothingness any day! Can't wait for the S6 to come out and shut you haters the hell up. Nexus fanboys are the worst!!

+1 Posted via the Android Central App

Actually he's right. Blackberry is not ruin. They turned around very nicely. Samsung is a good company but they are losing market everyday. They release x amount of product hoping one sticks. The only hope at the point is that they remain separate entities and Samsung milks the cow for whatever is left. On another point, I'm forced to use blackberry as a work device by my employer and I would use my Z30, for work, above any other phone on the market. The key is, for work. Posted via the Android Central App

Dude, you do realize BlackBerry is doing better than 2 years ago right? BlackBerry isn't focused on the consumer side anymore. They are focused on the enterprise and people who want true security. Your Note 3 isn't even as secure as my BlackBerry Q10. Each OS has it's benefits and downsides. Simple as that

I was a BB user for a long time and switched because enterprise has nothing to do with me. I don't care what BB says they are in talks with Samsung and would be a good thing for both companies. CEO's lie all the time and Chen is no different. Posted Via AT&T Note 3

I realize they are focused on enterprise as they should be because thats their strength. They are dead on the consumer side as they continue to lose customers. Posted Via AT&T Note 3

I'd say they're not doing so hot on the enterprise side, either, with the whole BYOD culture becoming more and more prevelant. Posted with the sexy GN4.

Doing better isn't doing well, otherwise selling the company wouldn't be on the table. There is no argument here. Like science, the fact that BB will never be a strong player in a BYOD world is irrefutable. Posted with the sexy GN4.

I take it you didn't read the new post on CrackBerry recently. They denied the rumor of a sale.

The general policy on rumors is to deny them until you can officially announce a sale. Posted with the sexy GN4.

Your absolutely right and we didn't hear a denial from Samsung. BB denied they were selling the company before Chen took over. Only after they basically had a for sale sign on the front lawn did they admit it. Geez BB users are way too sensitive its just a phone not a member of your family. Posted Via AT&T Note 3

Samsung is going down hill, they aren't selling as well and never will again probably. I had Samsung devices and they are horrible. If blackberry can get apps they will do better Samsung is good at gimmicks and gimmicks only. Posted via the Android Central App

Their sales may be lagging but the quality is up, especially in the software. Take it from someone who hated the GS3 and loves the Note 4.

I have used the note 4 and it has gotten better to an extent, it's still bloated and filled with gimmicks to a lot of people. Maybe people want that and that's their choice but it isn't for everyone and blackberry is on a total different path as Samsung. Posted via the Android Central App

I don't use any of the "gimmicks" and it's still the best phone I've ever used. Sound hardware coupled with a stable UI. You may not like how Touchwiz looks, but it runs as smooth as anything else these days.

I can't agree my experiences have been different and you may not use the gimmicks and neither do I but its still there taking up ram and space. I've never had a good experience with Samsung after the s3. Posted via the Android Central App

Actually, they don't take up RAM when you don't use them. That's what happens when you disable software in a system. it goes dormant. It takes up space, sure, but it doesn't use resources.

Unused ram is wasted ram Posted by my soon to be retired Note 3

No. It isn't. Any system that's using all of it's resources all the time slows down. You want ram usage to wax and wane optimally. Posted with the sexy GN4.

^^^^^^^^nonexus......That comment proves you have zero knowledge of how a computer operates Posted via the Android Central App

Lol that is funny. Yes you want ram to wax and wane, but you still want it to be around 90% full. Or would you prefer virtual memory? Posted by my soon to be retired Note 3

Depends on the machine, but I'll bite. In a resting state, a modern computer with, say, 8 GB of ram, should use about 40% in a resting state, should wax and wane between 75-85% in a standard working state, and should only ever break 90% or higher if you're doing really intense computing. If you've got a machine thats pushing 90% all the time, you need to more ram or to shut some stuff down. The scenario applies to a smartphone in the proper scale. Posted with the sexy GN4.

All of the hate that samsung gets really comes from the s 3-note 3, and mostly comes from teenagers and younger people because at that age, hating on things is cool. Many people that hate on it don't even know what the UI on the note 4 looks like, and assume it's the same ROM thats on the S4/-note 3, which is ridiculious. Other than the launcher, which remains mostly the same, TW is night and day compared to what it was even a year ago, and it looks decent !!! Take 1 look at the settings menu, quick settings /notif. panel, and most native apps on the note 4 and if someone doesnt think that looks decent compared to what it was on the note 3 then I don't know WTF they're deal is. And this "patbJackson" dude is an idiot. There are NO performance issues with the latest version of touchwiz Posted Via the Unrivaled Note 4

Yes must be a idiot that would spend money on a product he hates. Geez at least put some thought into a lie Posted Via AT&T Note 3

I'm sure he's lying about buying it in the first place Posted via the Unrivaled Note 4

BB is able to install apps directly from the play store since BB10

No its not, you have to side load them. Posted via the Android Central App

You're an idiot. Stop making yourself look dumber than u are already. Yes you can install apk's directly, ota.. call it what u want. Sideloading is so 2012

LoL roflmao Posted via the Android Central App

NO Samsung will ruin Blackberry! Where have you been? Posted via Android Central App

^^^ samsung sucks, but owns the market share on android. ..lol idiot Posted via the Android Central App

All those great keyboard patents will flounder under Samsung; such a shame. LG would've made more sense. Posted via the Android Central App

HTC would've made more Sense. Posted via OnePlus One

10/10 Posted via the Android Central App

I don't think HTC has the resources to either integrate or to operate separately. Posted via the Android Central App

HTC doesn't have the resources for much of anything, they are way too shackled to too many parts suppliers. Nearly every other phone OEM at this point is part of a larger entity (often one that makes many mobile components) and even a few of those are struggling (Nokia) or being shopped around (Sony). Used to love HTC myself, had 3 HTC phones, but I don't have a ton of hope for them. N9 could've been a springboard but instead turned into another typical shoddy nexus launch (I own a 5/7 and bought a 9 as a gift btw).

You do realize the HTC thing was a joke right.. Posted via the Android Central App

The Butthurt is strong with this topic, good for both because they both suck. Posted by my n5 twerking.

Well played Samsung....well played. If that deal goes through, not only will Samsung have the rights to a proprietary OS, but also a larger customer base along with loyal users to the Blackberry ecosystem. That would actually be a smart buy for both sides. Posted from the Nexus 5 or Xperia Z3

I agree and I hope it happens Posted Via AT&T Note 3

Maybe they could help with Tizen? I'm the kind of guy that stops a microwave at 1 second to feel like a bomb defuser.

There's a lot of potential with this buy. Samsung could use this as a springboard to make Blackberry a relevant brand in today's market. This would specifically tickle the ears of those who have jumped ship from them in the past. Not to mention that Samsung could get their foot in the door with government contracts because of the security of Blackberry. They will get plenty of revenue from that alone to continue to improve across all platforms and also make up for their losses. Posted from the Nexus 5 or Xperia Z3

I'm assuming the security alone would help combat Apple for government and private business contracts. I'm the kind of guy that stops a microwave at 1 second to feel like a bomb defuser.

BlackBerry has so much potential now with as a software and services company with its launch of BES12, QNX for IoT (50% + with car manufacturers for infotainment), BBM, it's investment in Nanthealth and etc. Thanks to John Chen and his team BlackBerry is in the right direction to become successful again!‎ Samsung is struggling now and they see the potential with BlackBerry's assets in key markets to gain new revenue. Posted via Android Central App

Hows is a 50 million dollar profit in 1 year struggling lol. Thats more money that BB has in total times 5 Posted Via AT&T Note 3

Samsung averages a hell of alot more than $50 million in profits each year, lol. They made 40-50 BILLION in profits in 2013 alone Posted via the Unrivaled Note 4

Wasn't that just last quarter? Posted via the Android Central App

Yes I believe it was so im wrong. But to say a company is falling apart with those type of profits is idiotic. Ok their sales on phones went down big deal. They make a ton of different products not just phones Posted Via AT&T Note 3

I like Blackberry. If my Moto 360 would work with a Z10 or Classic I wouldn't mind having one. I love their nonphysical keyboard too. Wish they sold that to put on my xperia. Posted via the Android Central App on my Xperia Z3 Compact

This is good news! BlackBerry and Samsung both could only benefit, if this is true. Posted via the Android Central App

You want to elaborate on why it's bad news? Or do you expect people to just take your word for it? Posted from the Nexus 5 or Xperia Z3

Less competition, less innovation, another iconic brand trashed. It's clear Samsung just wants the patents. We'll see low grade TW phones with the BlackBerry logo on now.

Less competition and innovation? How do you figure? The competition and innovation stays. Look at Motorola. They were bought by Lenovo, and yet they are still releasing some of the best products on the market. There is no such thing as trashing an iconic brand in this case because BlackBerry is no longer an iconic brand today. It was 8 years ago, but there glory days are long gone. They need a purchase like this to happen. Blackberry can't go on there own. And Samsung isn't doing that bad. Even if Samsung buys them for the patents, you get the best of both companies in one flavor. Posted from the Nexus 5 or Xperia Z3

BlackBerry may not be the iconic brand it once was in its glory days being cool or you were considered very important to have one as it is still an iconic brand. Posted via Android Central App

Lol like blackberry has done anything innovative in the Las 5-10 years except find a way to run android apps on their phones Posted by my soon to be retired Note 3

Capacitive Keyboard? First time I've heard of it was on the Passport. "I'm da Blur boys!" - Me with 1200 ping. Yes. My Internet got worse.

And, here we go. All of Crackberry will be over here to detest Lagdroid and proclaim that Samsung is the devil, all Blackbery users are smart, and all Android users are dumb fandroids. Or, my personal favorite: "Now that we can run Android apps, we have a better Android than Android!" Nevermind the fact that these talks have been ongoing for awhile. And, when I say awhile, well over a year when Thorsten Heins was the then CEO of Blackberry. As soon as Lenovo got denied, Samsung upped the pressure. The writing has been on the wall, ever since Thorsten Heins proposed selling Blackberry as a means of bringing profitability back to the company. Hell, John Chen even said, not too long ago, that selling the company was still on the table. I'm struggling to find links to all of this: should've bookmarked those websites.

They can't run all of Android apps and they shouldn't hate the hand that feeds them. They have access to only the Amazon app store which is horrendous IMO Posted Via AT&T Note 3

Ever heard of Snap? it's a backdoor to Google Play Store, the only apps that don't work properly or at all are with Google Services. For me, work productivity and security are key when I chose a phone. For entertainment I have a Android Tablet.

Yes I heard of Snap SMH. The best Google apps require Google services. Andriod apps still dont work that well on BB. I love BB users that hate on Android but use their apps. Posted Via AT&T Note 3

Actually, the most recent BB10 version runs android apps rather well. And not all BB users hate on Android apps. And the ones that do refuse to touch those apps, they beg for native ones. A quick trip over to CrackBerry could have told you that. "I'm da Blur boys!" - Me with 1200 ping. Yes. My Internet got worse.

I have no reason to go on CB as I am not a BlackBerry user anymore. I only use CB to invite people to my BBM groups. But I am sure if I search thru the forums I will find tons of threads of people having issue running Android apps.

I'd assume they aren't using the newest version of the Runtime. Also, the Z30 and Passport run the Android apps the best. The rest of the phones seems be hit or miss. "I'm da Blur boys!" - Me with 1200 ping. Yes. My Internet got worse.

@Dominik ... I'm definitely not hating on Android, like I said my wife and I both have Android tablets and I do help her with her Samsung phone a lot. But I am not really missing any Android apps on my Phone, they have way too many rights to my information which I find unacceptable that is why I use a Tab that has little to no personal information.

Dadadogg.. android is too secure. ...in fact the military is using Android. ....going away from apple Posted via the Android Central App

That's because it can be modified to fit their needs, and the s-pen works in hostile environments (rain, dust, etc) "I'm da Blur boys!" - Me with 1200 ping. Yes. My Internet got worse.

The thing is, I just like the quality of BB10. It's one of the few operating systems I see getting markedly better with every release. They have yet to have any breaking bugs, or shoddy rollouts. Carriers aren't an issue with updates. And, the older phones have yet to get worse with an update. Nearly every one improves battery life, and slightly improves performance. This is because of Blackberry's dedication to having their phones just work. They may not be the prettiest phones. But in my not so humble opinion, they get the job done of being a phone better than anything else out today. And as media devices they aren't terrible either. I'm aware some phone play that balance better (the Note 4 comes to mind, the damn thing is a beast and it's productive) the thing is that with Android, iOS, and WP 8.1.... How many of phones can you think of that are great PHONES (call quality, messaging, battery life, reliability) and also good media devices(pictures, music, movies games.... Apps) . Not many. I don't like Samsung's track record. I don't want them to abuse the Blackberry name. And I don't want Blackberry to be folded into that current mess. I feel like this deal would pull down BB and barely lift up Samsung's fall. Also, I really am waiting for BB to release a high-end all touch device. Because, once they do I'm done with Android for some time. It's been fun, but I don't like the way it's been going. Tried a z30 for nearly two months and loved it. I would still have it today, but it wasn't mine to keep. "I'm da Blur boys!" - Me with 1200 ping. Yes. My Internet got worse.

I just set my dad up with a Q10 and I have to say, it's a nice phone. I was having fun with it. Posted via the Android Central App

Blackberry has always made quality products, no doubt. And Ive liked BB10 as well in my limited experience. But seriously, after releasing the Passport and pushing it as a company saver, they almost deserve to be sold. That is the goofiest goddamn handset I've ever seen!!! Almost anyway.... Posted Via the Unrivaled Note 4

They didn't push it as a company saver. The media did. They pushed it as a next level enterprise device, and it pretty much is. For all things work related it will bomb through them. The keyboard is (apparently) amazing, and the screen works for docs and whatnot. Amazing battery life, super clear calls both on earpiece and speakerphone. Strong signal, lots of power in th specs, okay camera, blah blah blah. I'm sure you get the point. The only thing I think one could bash that phone on is it's size and shape. But then, I'd say the exact same thing about the Note 4 (and I'd actually leave out Touchwiz, fun fact, it's android change it if you hate it, problem solved.) "I'm da Blur boys!" - Me with 1200 ping. Yes. My Internet got worse.

Idk man, it's awfully awkward shaped for a phone rocking only a 4.5 inch display. I don't doubt it's quality or functionality. BlackBerry's high end has always been excellent. It's just such an odd looking device imo, and far too wide. Posted via the Unrivaled Note 4

Work wide. They knew people would call them out on the shape and size, you when they finally started marketing the thing they tried to spin it into any plus they could. I'd personally holster it because of the shape, but I've fit one in my pant pockets before. Ironically, the inner jacket pocket fits it perfectly. Almost like.... It was made.... For the inner jacket pocket of a suit :l "I'm da Blur boys!" - Me with 1200 ping. Yes. My Internet got worse.

Lol, I remember you saying awhile back that you were a broke college kid. You sound like someone older than that, lol Posted via the Unrivaled Note 4

Cue all the Blackberry haters who before this news would never touch a Blackberry, but are now singing their praises.

I'd buy a BB with touchwiz.

Seriously? In what world is TouchWiz a selling point?

In a world that doesn't include teenage android nerds Posted Via the Unrivaled Note 4

Or, you know people that don't nit pick a damn name to death. Touchwiz isn't perfect, but it's far from the crock of shit people act like it is. I was totally on the bash train, but the Note 4 happened, and the Galaxy Alpha happened. Now Touchwiz is manageable with minimum effort, and that's all it needs to be. *Disables what you don't use, slips in SD card, shuts up and enjoys phone.*

I agree. I think 2014 has easily been samsungs best year in terms of both hardware and software, which ironically has been far worse for them financially than 2012-13 was. Though they definately improved the aesthetics TW on the S5 (not the launcher), I think the design they went with was a significant mistake, and a big wake up call. To me the alpha, note 4, and A3-7, though similar, look so much better than the S5 it's ridiculious. Aluminum magnesium combined with sleek design really did make that much of a difference. Far better. Posted via the Unrivaled Note 4

So, everyone that has said anything along the lines of "this will ruin Blackberry", you all have Blackberry devices right now, right? You haven't already jumped ship have you?

That was my thought, exactly. I guess it's disappointing for you if you actually are invested in BB products...all 5 of you.

I admit I have jumped the ship to Android, but kept an eye on BBR and its development. Considering that BYOD. in my case means running Good for Enterprise and access to email only, I don't see any advantage of using Android device for work over eg Z30. Posted via AC App

Samsung would basically secure themselves as the phone of choice for business and government. (Well, the entities who choose not to go with Apple anyway). Won't be long until they start pushing their own OS I bet to compete with Google and Apple. And with how big they are they may succeed which I would love to see.

Not sure I'd "love" to see it, their track record with software isn't great and BB has always moved at a glacial pace... But it'd definitely brr interesting. If someone is dreading this it's MS, as long as they kept throwing money at WP it'd stay relevant as the third option and they have enough money to sustain that for half a decade. I'm sure that had hopes of eventually luring the business sector too... But with Samsung in the mix and possibly a fourth dark horse OS, this change big time.

I don't know about that. Microsoft is easily as big if not bigger than Samsung and they're not doing so well trying to get a piece of the pie. Tizen or any OS they used would have to see years more of development on the side before Samsung used it to challenge Google and Apple.

Get ready for it! Posted via the Android Central App

Samsung sux thats it, very cheap materials, bad software. HTC is a step ahead of all. HTC Desire S»HTC Desire HD»HTC One S»HTC M8 (Naked)

HTC has set new boundaries in the quality and everything, and people have recognized this. From the M8 Samsung has poor results. HTC Desire S»HTC Desire HD»HTC One S»HTC M8 (Naked)

Your stupidity is terminally unforgivable Posted Via the Unrivaled Note 4

Ur mom is unforgivable fuck HTC Desire S»HTC Desire HD»HTC One S»HTC M8 (Naked)

Don't change the fact that you are an idiot of epic proportions Posted by my soon to be retired Note 3

U want suck my balls?? Asshole HTC Desire S»HTC Desire HD»HTC One S»HTC M8 (Naked)

Son, you are dumber than a box of shit Posted via the Unrivaled Note 4

You are insulting... The box of shit Posted by my soon to be retired Note 3

You accomplished so much there. I love how you backed up your earlier stamens with the use of "mom" and the depth of your "Fuck" was sublime (just tossing in some words I don't know like the guy I'm responding too) really good sir, I rate your comment 8/8 it was definitely hype out of Skype. "I'm da Blur boys!" - Me with 1200 ping. Yes. My Internet got worse.

BlackWiz incoming? TouchBerry? (if you just gagged a little as you read that you're not alone!) RIMTizen maybe? Wait wait, Galaxy B... Now with BBM built in instead of Hangout.

RimTizen sounds like an act you'd pay a sex worker for.

......... Um...... Yea. Posted via AC app by way of my right thumb.

I'll take Stock TouchWiz over vanilla material design any day Posted via the Android Central App

Touchwiz flavored Android, Tizen and now BlackBerry OS? Seems a lil unfocussed Posted via Android Central App

Not really. Tizen is a side project--everyone has them. If they were smart they would cannibalize BB OS for those sweet patent secrets.

Is it? Tw for consumers
Tizen for wearables and