Yes, the Samsung Galaxy Tab 10.1 has Gorilla Glass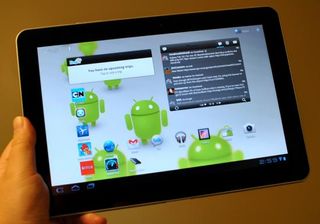 It's a question we get all the time, so let's answer it. The Samsung Galaxy Tab 10.1 has Gorilla Glass. And given the history Samsung has with using Corning, the latest press release confirming that the Samsung Galaxy Tab 10.1 is making use of Gorilla Glass shouldn't really come as much of a surprise but it's certainly comforting.
Now that we know for certain -- that doesn't mean we're suggesting you run off testing it out as soon as possible. Just know, the screen can handle a few bumps here and there and be quite alright.
Source: Businesswire
CORNING, N.Y.--(BUSINESS WIRE)--Samsung Electronics Co. Ltd., a leading mobile device provider, and Corning Incorporated (NYSE: GLW), a world leader in specialty glass and ceramics, announced today that Corning® Gorilla® Glass has been designed into the GALAXY Tab 10.1, Samsung Electronics' most powerful new tablet PC.
The GALAXY Tab 10.1, which launched in the United States on June 8, is equipped with 1GHz Dual-Core CPU, the latest Android™ Honeycomb platform, and a 10.1 inch WXGA TFT LCD display. The GALAXY Tab 10.1 measures only 8.6 mm thick and weighs a mere 560 grams. Thin, lightweight Corning Gorilla Glass, used as a damage-resistant cover, helps enable this durable, ultra-slim, and lightweight design.
Continuing a tradition of 160-year innovation in materials science and technology, Corning Gorilla Glass is an environmentally friendly glass designed specifically to function as a cover glass for high-end display devices such as smartphones, tablets, laptop computers, and televisions.
Hankil Yoon, vice president of Smartphone Product Planning, Samsung Electronics, said "GALAXY Tab 10.1 is recognized for its high-end technology and amazing design, even among industry experts. For the GALAXY Tab 10.1, Samsung Electronics searched for the most durable, scratch-resistant glass, and again found the perfect solution with Corning Gorilla Glass."
Haeng-Hee (HH) Lee, president and general manager, Corning Korea Company, Ltd., said "Corning Gorilla Glass has become the cover glass of choice for the fast-growing tablet display market. We will continue to provide Gorilla Glass for high-end and innovative devices."
Used by more than 30 major brands, Corning Gorilla Glass has been designed into more than 425 electronic devices.
Gorilla Glass is a thin and lightweight material which supports the seamless full-glass fronts of the most sophisticated consumer electronic device designs. Because it is strengthened at the molecular level, its ability to resist damage creates a performance advantage over other cover materials. For further information about Corning Gorilla Glass, please visit www.corninggorillaglass.com.
About Samsung Electronics Co., Ltd.
Samsung Electronics Co., Ltd. is a global leader in semiconductor, telecommunication, digital media and digital convergence technologies with 2010 consolidated sales of US$135.8 billion. Employing approximately 190,500 people in 206 offices across 68 countries, the company consists of eight independently operated business units: Visual Display, Mobile Communications, Telecommunication Systems, Digital Appliances, IT Solutions, Digital Imaging, Semiconductor and LCD. Recognized as one of the fastest growing global brands, Samsung Electronics is a leading producer of digital TVs, semiconductor chips, mobile phones and TFT-LCDs. For more information, please visit www.samsung.com.
Forward-Looking and Cautionary Statements
This press release contains "forward-looking statements" (within the meaning of the Private Securities Litigation Reform Act of 1995), which are based on current expectations and assumptions about Corning's financial results and business operations, that involve substantial risks and uncertainties that could cause actual results to differ materially. These risks and uncertainties include: the effect of global political, economic and business conditions; conditions in the financial and credit markets; currency fluctuations; tax rates; product demand and industry capacity; competition; reliance on a concentrated customer base; manufacturing efficiencies; cost reductions; availability of critical components and materials; new product commercialization; pricing fluctuations and changes in the mix of sales between premium and non-premium products; new plant start-up or restructuring costs; possible disruption in commercial activities due to terrorist activity, armed conflict, political or financial instability, natural disasters, adverse weather conditions, or major health concerns; adequacy of insurance; equity company activities; acquisition and divestiture activities; the level of excess or obsolete inventory; the rate of technology change; the ability to enforce patents; product and components performance issues; retention of key personnel; stock price fluctuations; and adverse litigation or regulatory developments. These and other risk factors are detailed in Corning's filings with the Securities and Exchange Commission. Forward-looking statements speak only as of the day that they are made, and Corning undertakes no obligation to update them in light of new information or future events.
About Corning Incorporated
Corning Incorporated (www.corning.com) is the world leader in specialty glass and ceramics. Drawing on 160 years of materials science and process engineering knowledge, Corning creates and makes keystone components that enable high-technology systems for consumer electronics, mobile emissions control, telecommunications and life sciences. Our products include glass substrates for LCD televisions, computer monitors and laptops; ceramic substrates and filters for mobile emission control systems; optical fiber, cable, hardware & equipment for telecommunications networks; optical biosensors for drug discovery; and other advanced optics and specialty glass solutions for a number of industries including semiconductor, aerospace, defense, astronomy and metrology.
Android Central Newsletter
Get instant access to breaking news, the hottest reviews, great deals and helpful tips
Commence Galaxy Tab 10.1 Pen Stabbing!

I really wish I waited with the Xoom, I should of held out and got the tab

Why? The Xoom also has gorilla glass. There is very little the Tab has that the Xoom does not already have.

GT 10.1 is also listed on the corning site as well.
http://www.corninggorillaglass.com/news/press-releases/samsung80%99s...

Confirmed through testing on my Galaxy Tab 10.1 ... By complete accident of course.. :D .. Also just want to say.. We have 2 of these, got rid of the only ipad in the house.. LOVE THESE. Turn off the power save feature of the screen (in settings/display), and set brightness to max to see how awesome the screen is!

I'd still get a screen protector. One of mines scratched in two places just by being in the same bag with an HTC Fyler.

Okay side question... Do you see the wallpaper in the pic of the GT10.1 above? HOW DO I GET THAT?! I have searched high and low and cannot find it anywhere. I figure it only came installed on the Google IO version but does that mean there is no place I can get it for my retail 32GB Grey GT10.1?

http://downloadsquad.switched.com/2011/02/23/download-android-3-0-honeyc...

Thank You! Edit: these are extremely low Res. Thanks but no thanks.

Go to the market and look for Honeycomb Wallpaper Pack

I'm so glad we can finally put this to rest! m

I put my Galaxy Tab 10.1 in my backpack in a hurry with the cover still open and ehen I took it out, there were scratches in a few spots from a key and a keychain. I understand scratch-resistant is not scratch-proof but there was only one key and it couldn't have moved around all that much. Either way, I then just assumed that it was not gorilla glass. Now I'm just really confused.

Hrmmm... I asked both the Samsung and Corning support reps on twitter this a few months ago, right after it came out. They confirmed that it was on the OLD 10.1v (or w/e it was called), but then got a no comment on the new one from Corning. Samsung, however, said that it was NOT gorilla glass, and that the reason behind it was that a 10 inch tablet would be too heavy using it. Look through their timeline, they confirmed that it was NOT gorilla glass. Who to believe?? :(

Too heavy for a 10 inch? The Xoom is a 10 inch and it has Gorilla Glass....

And that's exactly why the xoom feels like a brick next to the svelte Tab 10.1! Half the reason I went with the Tab and not the Xoom in the first place.

When they released this announcement a few weeks ago, I assumed that the Tab 10.1 wasn't originally released with Gorilla Glass and that only recently was Corning and Samsung able to work out a deal to get it into future Tab 10.1's. Otherwise, it makes no sense to release this press release 1.5 months after the product is released. And the fact that it's been so difficult to get an answer out of Samsung suggests that it wasn't GG at release.

Glad to know the GG is there but hope I never have to find out how well it works....

I've got the Galaxy 10.1 (GT-P7500) Does this one also with Gorilla Glass? If it is. . . they should get my daughter to test their products. . . and she is 4yrs old. she broke my screen with one hit. Now I can't find a glass screen. They say I have to replace the LCD as well. . It's just the glass that's cracked (or shattered) it still works perfectly. .
Android Central Newsletter
Get instant access to breaking news, the hottest reviews, great deals and helpful tips
Thank you for signing up to Android Central. You will receive a verification email shortly.
There was a problem. Please refresh the page and try again.