Richard's favorite Android apps of 2014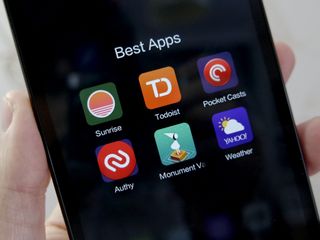 What I've been using the most this past year
We're coming to the end of another fantastic 12 months in the Android world, and as is often the case the end of the year brings about a retrospective look at what has been before. That's true of each of the Android Central staffers, and we're taking it in turns to talk about what we've been using this year to help us make it through the day.
In 2014 I had a real productivity kick, trying to get my Android devices working for me to make me get more done. As such the apps I've used the most are the ones that helped me to achieve that goal. But play time hasn't been totally forgotten.
These are my most used apps from the past 12 months. And they're not going anywhere soon. Let's get into it!
Todoist
We have editorial planning tools in place here at Mobile Nations, such as Trello, but Todoist is what gets me through my day. Everything I need to do throughout the day goes in there – as well as some other things – and so work deadlines, meeting appointments, notes, personal tasks and projects, everything. Todoist Premium is the best investment I made, because not only does Todoist keep my life in order, it does it everywhere. Android, iOS, Mac, Windows, Chrome, even through Gmail plugins, all my tasks are everywhere I could ever need to get at them.
It's a service that keeps getting better, too. Karma is a way of gamifying your productivity, giving you a score on how well you're doing. It sounds gimmicky, but it works. It's a visual way to see if you're slacking or not. It also just got Android Wear support, and while I don't use one of those devices right now, it's great to know it's there as and when the time comes.
Authy
If you use 2-factor authentication on any of your accounts – and you absolutely should – then Authy is the app you need. It gets around Google Authenticators limitation of working on just a solitary device, putting your codes everywhere you need them. And since it's got an iOS app as well, that means people who flit between the two platforms are at a certain advantage already using this app.
It's nicer to look at than Google Authenticator, handles just the same amount of services, and won't require any hoop jumping when you get a new device. Just sign in, restore from backup, off you go.
Sunrise Calendar
Sunrise Calendar ultimately became my number one choice this year in no small part due to its support for plugins. Two services I use daily are Trello and Todoist, and both can be hooked into Sunrise Calendar. That means that my self imposed tasks are on my calendar from Todoist, and my Mobile Nations deadlines are pulled in from Trello. This alone made such a difference to how I organize, and with the decent looking widget on my homescreen I'm never far away from knowing the what and the where for my working day.
Sunrise is also a cross-platform supported app, so my Android device and Mac are always showing me what I need to know, all of the time. And it's completely free.
Pocket Casts
Like many of my colleagues I spend a lot of time listening to podcasts. And I spend all of that time using Pocket Casts. I've been using it for a long time now and it would take something pretty spectacular from another podcatcher to lure me away. The cross-device, cross-platform – now including the web – sync support is enough in itself. Sure, it's not a situation everyone finds themselves in, but when you're bouncing across devices as much as we do in pursuit of a pay check, it's a feature that's impossible to leave behind.
And the developers, Shifty Jelly, know how to have fun. Seriously, read their changelogs. An app worth every penny and more besides.
Yahoo Weather
I'm not one of these people who tries every weather app out there before maybe settling, as soon as Yahoo Weather launched on Android, there was no need. I'd used it on iOS as my go to weather app and so I knew that it'd be a no-brainer on Android, too.
Ultimately it comes down to how visually appealing it is. Something like a weather app I just want to see information quickly, I need it to be visual. Not lists of numbers and stacks of data. That's just me, though. Yahoo Weather is the best looking out there with its Flickr integration and it's a joy to look at every single day.
Monument Valley
I'm not alone in my praise of Monument Valley and its praise well deserved. Yes, the original game was a little too short, but if you're the sort of person that just focused on that then it wasn't a game for you anyway. The game is a masterpiece and with the recently launched add-on pack giving new life, it's delighting all over again.
Puzzle games can become dull and repetitive, but Monument Valley is so beautiful, so elegant, that you want to play it just to keep looking at it. And hearing it.
So, those are the half-dozen apps that have really made a difference this year on my Android devices. The sharing doesn't end here, so be sure to keep an eye out for the rest of the "best of 2014" picks from the Android Central team. If you've got some favorites of your own, feel free to share them with us in the comments below!
Why the repeat posts...we know what apps you loved from 2014. Is it just me or does it seem the posts since Monday have been very little Posted via the Android Central App

Helloooooo....slow news weeks during Christmas and New Years. Got to fill that time with something. Companies don't hold press conferences during a time when everyone is off doing other things and not paying attention! Nothing much happens until CES in January. Posted via Android Central App

They're from each writer at Android Central, I think. And I have a feeling there's a reason for the low amount of news the last few days... :D

Yup, one from each of us. Or have they not noticed the changing names?

Lol Posted via the Android Central App

Someone needs to put down the eggnog for a bit... Posted via some candy

I've enjoyed this series.

Richard, why Todoist over Wunderlist? Posted via the Android Central App

Good question Posted via the Android Central App

I'm interested in answer to this too. Maybe Android Central should do a Wunderlist v ToDoist feature.

So am I. I tried todoist but thought it was not as robust as Wunderlist. However, I am interested as to why you chose todoist instead. Is it the integration with Sunrise? I have to check to see if Wunderlist integrates with Sunrise but it will allow to add your todos to google calendar with allows for pretty much the same thing, right?

I never tried Wunderlist in truth. Just clicked with Todoist from day 1

Wish Authy would add a landscape mode for tablet. I use it on both my Phone and Tablet. However since my Tablet is in landscape 100% of the time I had to to install a app to force it to auto rotate.

I'm starting to realize how closely I read AC each day. None of these lists are a surprise to me as I've been paying attention to recommendations all year. I still like the lists though! Posted via the AC App on my LG G3

Same here. I picked up PocketCast based on this site and I love it. Then I see it in a post and I am like, "hey I use that" then I realize this where I found it. Posted via the Android Central App

What phone is in the yahoo weather pic? Looks nice Posted via the Android Central App

Is that picture in the header an iPhone? Posted via the Android Central App

Richard is known for I stuff. . Doesn't mean he doesn't play with other platforms.

Nope. It's a phone running MIUI.

I've just read the description for Sunrise Calendar three times and I've still no idea what it does. Maybe if you're introducing apps... Tell us what they're for please? Posted via the Android Central App

It's a freakin' calendar. A better question would've been: Does Sunrise Calendar actually show Google Tasks?

And the answer would be no, it does not. :(

Thanks, then I shall stick with SolCalendar which does show tasks.

For those who already own Monument Valley from Amazon, you can earn Earn 199 Amazon Coins when you Buy Forgotten Shores. For a limited time only. In-app purchase. When you attempt to purchase Forgotten Shores, it should state: Earn 199 Amazon Coins with this purchase. I purchased with existing (199) Amazon coins and got the promotion immediately. Since it costs $1.99 or 199 coins, it is essentially free.

I agree with this list and I use each app listed, they are best of breed in MHO, for the way I need to work.

I played Monument Valley and I don't like it that much. It is not that interesting as everyone proclaims. Posted via the Android Central App

I used to use Yahoo Weather until I noticed it was a heavy battery chugger. Since I wasn't using widgets and it only needed to update every half-hour, there was no excuse for all the time it held my phone awake, so buh-bye.

i use some of these apps, i love yahoo weather too.
www.kiandroid.com
Android Central Newsletter
Get the best of Android Central in in your inbox, every day!
Thank you for signing up to Android Central. You will receive a verification email shortly.
There was a problem. Please refresh the page and try again.