OfficeMax releases first full-service mobile print center application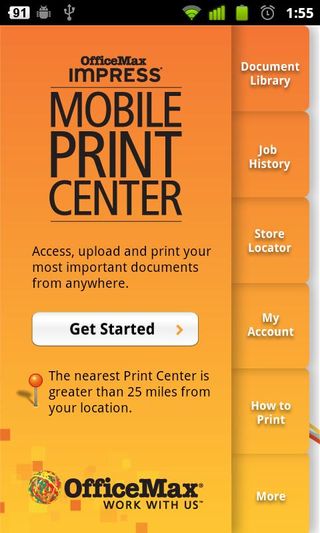 OfficeMax has announced a new Android application that ties directly into all of their printing solutions direct from your device. The app allows you to print documents, images, emails and anything you may have in Google Docs. In addition to all of that, if you've placed previous past Print Center orders you can also access those on the go.
Mobile print center will also allow you to customize your print orders however you like including paper size, color, binding and more. Plus, if you wish -- you can opt in for text message alerts so that you know when your order has been completed and what the total cost will be. If you're looking for more info, the press release and download link can be found after the break.
OfficeMax® Lets You Print From The Road With First Full-Service Mobile Print Center Application
Ever wish you had a printer on the road? New mobile application brings convenient access to OfficeMax ImPress® Print Centers nationwide for reliable printing and document services
Naperville, Ill., Date /PRNewswire/ — OfficeMax® Incorporated (NYSE:OMX), a leader in office supplies and services, today announced the launch of the first full-service Mobile Print Center Application from OfficeMax. Providing access to more than 900 ImPress® Print Centers at OfficeMax retail stores nationwide, the free mobile application enables reliable, efficient printing for mobile users on-the-go. Designed for iPhone® and Android™ devices, Mobile Print Center by OfficeMax makes it easy for users to access, upload and print documents and images from their mobile devices and schedule items for pick-up at any OfficeMax ImPress print center nationwide.
"OfficeMax listened to our 'road warrior' customers who need to print on-the-go and often feel their documents are trapped on their phones," said Jeff Haddon, Mobile Marketing Manager for OfficeMax. "With hundreds of in-store print centers across the country, we designed the Mobile Print Center by OfficeMax app to bring our print services to a mobile audience."
Mobile Print Center by OfficeMax enables users to access documents and images for printing from their mobile devices, on-device email, Google Docs™ program or from past Print Center orders. Users can customize print orders including paper size and type, color, binding and more. The mobile application provides a store locator with directions for order pickup. Upon placing orders, customers receive a confirmation call from the OfficeMax ImPress center with order total and pick-up time. Users can also opt-in to receive mobile text messaging alerts on order status. Standard text messaging fees may apply.
The Mobile Print Center app by OfficeMax is currently available for download free-of-charge on the iTunes® App StoreSM at http://itunes.apple.com/us/app/print-center/id440746146?at=10l3Vy and Android Market at https://market.android.com/details?id=com.officemax.impress. In addition to Mobile Print Center, OfficeMax features mobile applications for browsing, shopping and staying updated on special offers available at no charge to users at www.officemax.com/mobile.
About OfficeMax
OfficeMax Incorporated (NYSE: OMX) is a leader in both business-to-business office products solutions and retail office products. The OfficeMax mission is simple. We help our customers do their best work. The company provides office supplies and paper, in-store print and document services through OfficeMax ImPress®, technology products and solutions, and furniture to businesses and individual consumers. OfficeMax customers are served by approximately 30,000 associates through direct sales, catalogs, e-commerce and approximately 1,000 stores. To find the nearest OfficeMax, call 1-877-OFFICEMAX. For more information, visit www.officemax.com.
All trademarks, service marks and trade names of OfficeMax Incorporated used herein are trademarks or registered trademarks of OfficeMax Incorporated and its affiliates. iPhone and iTunes App Store are registered trademarks of Apple, Inc., registered in the U.S. and other countries. Android and Google Docs are trademarks of Google Inc. Any other product or company names mentioned herein are the trademarks of their respective owners.
Get the Android Central Newsletter
Instant access to breaking news, the hottest reviews, great deals and helpful tips.