New leak compares Pixel 4 camera to Note 10+ — and Samsung wins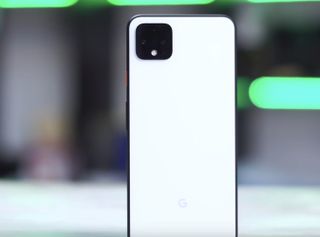 What you need to know
Someone recently compared the Pixel 4 XL's camera against the Galaxy Note 10+.
Not all of the camera modes were available to test.
There is no time of flight camera on this device.
I want to say that this newest leak for the Pixel 4 XL can be blamed on the dreaded Friday the 13th, but we know that isn't true. Today we get a video from YouTube from ReLab, the same ones that posted the video yesterday about the unreleased phone's gaming capabilities.
This new video shows us how photos from the Pixel 4 XL — albeit demo software — stack up against the Galaxy Note 10+. Thankfully in this video, ReLab has done a better job optimizing the upload to support closed captioning for non-Vietnamese speaking folks like myself.
Galaxy Note 10 (left) Pixel 4 (right)
The YouTuber prefaces the viewers that he is dealing with demo software and that that he can't get all of the shooting modes to work or even turn on. In the first test, we catch a shot from the Note 10+ of an outdoor shot with lots of colors for Samsung to punch up. Samsung, in true fashion, does a great job of showing a wide dynamic range and bold colors. Unfortunately, we don't see the same photo from Pixel 4 XL. The Pixel's picture is more real to life and does come with a slightly warm hue.
Up next comes the front-facing camera for a selfie. The Note 10+ does do a better job overall with the photo, although both have a few issues with the cutout and blur separation on the background. Even so, the Note 10+ seems to have a clearer overall photo. The Pixel portrait also seems to have some ghosting around the edges of the photo, most noticeable on the shoulder.
For portrait mode on the rear camera, our intrepid reviewer tells us the sensor on the back flanking the dual camera modules is not a TOF (time of flight) sensor. Instead, we get a laser sensor to aid in getting a fast focus in more lighting conditions. The reviewer shows us a photo taken indoors and mentioned the lighting isn't the best. Here, it seems that the Pixel takes the crown maintaining more detail in the person and a great job finding edges while distinguishing items near the person. Samsung's picture is a bit softer and subdued, especially considering how bright and bold the outdoor picture of the buildings was.
The last photo we see compared is out an outdoor shot of a tree against the sky that has the sun peering through it. In a problematic shot, both pictures have their merit, with Samsung's showing a bit more vibrancy in regards to the colors. Google's shot is more muted, but seems to have more dynamic range overall.
As the YouTuber takes into the video test, he reiterates that not all modes are available, then letting us in on a few specs. The front camera of the Pixel 4 will record in Full HD and 4K with 30fps on the back. He can turn on the stabilization on both for the tests and gives audio output samples as well. Each phone does a good job with stabilization, with the Note 10+ producing a more saturated front video, with the Pixel washing it out a bit. Audio from each seems to be fairly decent for the average person's use case. The back camera seems to have a similar output as the front as far as the quality of both colors and stabilization.
While the pictures from the Pixel 4 aren't terrible, it's not what we have come to expect from Google. As for the rest of the phone, we're expecting the display to have a 90Hz refresh rate, a Snapdragon 855 processor, 6GB of RAM, and two rear-facing cameras. Also expected is Google's Soli chip, which will give the Pixel 4 an accurate face unlock system and air gestures to allow you to control the phone by waving your hand over it.
Google Pixel 4: News, Leaks, Release Date, Specs, and Rumors!
Samsung Galaxy Note 10: Everything you need to know!
Get the Android Central Newsletter
Instant access to breaking news, the hottest reviews, great deals and helpful tips.
Chris Wedel is a fan of all things tech and gadgets. Living in rural Kansas with his wife and two young boys makes finding ways to get and stay online tricky. By utilizing his years of experience with the tech and mobile communications industries — success is assured. When not conquering connectivity challenges and testing new gadgets, he enjoys cruising a gravel road in his UTV with some good tunes.
LOL! Okay. Can we do this again with the unlocked software, the options enabled, and a tripod?

Do you always carry a tripod with you? Of course not.
Real-world usage is a better comparison.

Right. I agree with waiting until the final software/hardware but with a tripod? How about adding a comparison to a full-frame mirrorless too? It's just not realistic as the vast majority of people aren't going to carry tripods with them.

How do you test something objectively and declare a winner, when you add subjective factors? I mean, one can move their hand to make a picture blurry in one case to skew the results one way or the other. There is a reason that these are tested with repeatable conditions, in order to remove bias......

I've bought successive Samsungs and I expect my next phone will be a Samsung. However, I fail to see how the Note 10+ is better than the Pixel's shots here. They might be more flattering, but the only shot I see where the Note is ahead in real photo quality terms is that the sky is correctly reported in blue, but that's a picture with heavy occlusion. I'm not likely to be taking or wanting to keep a shot taken in such a location. In all other examples, the Pixel looks more truthful and better quality.

The Pixel chronically underexposes everything, and the colors tend to be more saturated. While Samsung is moving towards more true to life photos, Apple and Google are moving towards more aggressive photo development in-camera. Do think a more comprehensive co.parison is in store. The note 10+ doesn't strike me as a big improvement over the Note 9, from my testing. Maybe Google's processing simply isn't growing out of taste to reviewers - especially with everything having a night mode, now.

Interesting, my initial thoughts were that the Note over-exposes.

That's like saying we're going to have a cooking contest.
I'm going to use all the seasonings, you're going to use salt only. This is no real test.
I roll with Sammy heavy, but this test is inconclusive.
Waiting on the NFL replay booth ruling.🤓

I hard passed on your comment after cooking contest.

What's wrong with a cooking contest?

Samsung camera hasn't changed much for like 4 years. If Pixel 4 camera is about the same as Pixel 3 (which would be pretty disappointing), I think Note 10 camera is better during day light but Pixel 3 wins in all other situations, with one but....Samsung has pro mode with can take better pictures then auto and there is Gcam port. I think all this is irrelevant when Samsung has wide angle cam which is far more useful then any night sight, and I agree is amazing on Pixel

Samsung has Night mode. Get a cheap desktop tripod (or be still) and the photos are excellent when you use that. They back ported it to the Note 9, as well. I think other OEMs are just starting to assimilate the features that helped Googke stand out (mostly computational photography stuff). Even Samsung's gallery app had many of Google Photos' features, now. The free Original Quality Photo backup is still a selling point for Pixel - until Samsung rolls out the Gallery Update with OneDrive Sync to other phones (Note 9, etc.) At which point it becomes honorable since most Note users likely have Office 365 with 1TB of storage, anyways. I can see other OEMs integrating Microsoft services in this way, since Google sort of botched how Drive syncs/functions on PCs.

Subjective... Dot dot dot

Remember when this site had actual informative Android news and not just blog-style clickbait junk??

Nope. AC has been making garbage click-bait articles for years now. I had to get rid of them from my news reader as every single thing was either a click-bait article or advertising some crappy product they're getting kickbacks for. And don't forget all the gaming articles they post. "Android" Central, right? Site has been trash for years now.

But what if I need to know the best charging pads for the Galaxy Note 9 in 2019??? Where will I go!? /s

Yeah it's hard to believe for me because I have the note 10 and my gf pixel 3a takes better pictures. Especially in low light.

The Pixel's advantage is in the software. With that not being used, this is just a hardware test. We have the Note 10+, and it takes great photos, but I suspect the final Pixel 4 results will tell a different story.

Saunsung has gotten better with computational photography stuff. Also, with better camera hardware you depend less on software to bridge the gaps. Apple is a good example of this, even though they heavily use software. Conoaribg RAW DNGs from different phones is a pretty good way to see the RAW image quality off of the sensor. The iPhone 8 Plus was terrible, and you'd struggle to get as good results in Lightroom from its DNGs, compared to the JPEGs the phone spots out. Samsung had better DNGs, but the software was clearly inferior to Apple's. They are getting better, though, and the camera ISPs are getting better - so less software magic is needed as time passes and hardware chips get upgraded.

Good info, thanks. I wish the stock iPhone camera app had the option for RAW. There are times when friends and I are out and taking pictures, and it would be good to get a RAW image of some of the nicer shots. There was a shot of a 5 story high indoor water fountain made of marble, and I regret only having a jpeg of it. I have VSCO now, but not everyone (including myself) likes monthly subscription fees.

Tired of this Fake News ****...

Am I the only one who doesn't care that much about the best camera on a phone. I take pictures and they all look great for what I need.

I suspect you're in the minority here honestly.

You're not alone. Phone cameras have gotten so good, that differences between them are pretty much irrelevant. Just look at what comparisons tend to hone in on: how blue the blue sky is, or how crisp the leaves on the trees in the background look. Seriously?! Never mind the Ferrari that's the actual subject of the picture! 🤣

Ah yes, when the camera is more important than the subject! I think that a lot of cameras being so good is why we tend to split hairs now. It does not help when media sources exaggerate a 1-point difference when you take a picture of the left wing of a fly. I do care about detail, and things like chromatic aberrations bother me, but as long as it does not stand out, I'm ok.

Wow. Seriously @androidcentral ? That pixel 4 is pre production. Doesn't have final software. A bunch of features that are not even working on those Vietnam devices. Wait for the final version.

Really!? They test a fully functioning Samsung device against a locked and unfinished device with incomplete, unreleased software and hardware, then declare Pixel "dethroned!"!? First, most of the Pixel images looked better to me, so in that respect Samsung loses to an incomplete phone.. Second, if this is the only way Samsung can attempt to beat Pixel, they should get out of the smart phone market and stick to kitchen appliances and televisions.

Lmao at all the butthurt Pixel fanboys here. I've had Pixels and I've had Samsungs. Each have their strengths and weaknesses. And with each new generation, some phones get better than the competition in certain areas, and fall behind in others. That is the nature of the industry. Yes, the Pixel 4 is on unfinished software and might not have all enhancements tweaked. But some of you need to come to grips with the possibility that Pixel may no longer be the camera king. Maybe it will, maybe it won't.

Some of us are Samsung fans who don't buy the premise either. It's not about Team This or Team That.

1) I can't wait for this test to be done with a real pixel release, and not some beta test phone with locked software. 2) Samsung camera are good, but every picture looks completely over-saturated and unrealistic.

Well that's settles it guys! Pre-production beta software pixel 4 just can't compete with a finished and released Note 10+. Time to burn the money you saved up for the Pixel 4 everybody! This site continues to be a gd joke.

Photo is subjective, I actually prefer the natural color of Pixel 4. Samsung seems to have a instagram filter right off the bat, you can't really work or edit base on that anymore. This site, this journalist is a joke.

Oh man the pixel diehards are going to throw a fit over this one.