Kobo Arc now available in Canada and the UK, France from Monday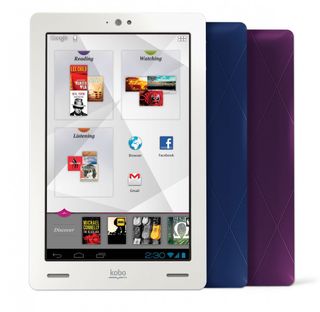 Perhaps a little late to the party, but arriving nevertheless, eReader maker Kobo has brought their latest creation to market today. The Kobo Arc, based on Android 4.0 Ice Cream Sandwich -- with a Jelly Bean update already in the works -- is on sale today in Canada and the UK, and will arrive in France starting Monday. In the UK the Arc is exclusive to high street retailer WHSmiths -- available online only until November 21 -- and will cost £160 or £190 for the 16GB or 32GB versions respectively. In Canada these two run for $200 and $250 Canadian.
Differentiating from the competition somewhat though, there is a 64GB version of the Arc too. This one doesn't seem to be up for sale in the UK just yet, but in Canada costs just $300 Canadian.
We first saw the Kobo Arc back at IFA 2012 in Berlin, and while running in direct competition with the Amazon Kindle Fire and even Google's own Nexus 7, there is a lot of potential appeal for a casual tablet user. The custom Kobo UI, known as Tapestries, aims to provide a content focused experience. And, unlike the Amazon offerings, the Arc runs 'regular' Android, and as such has full access to the Google suite of applications and the Google Play Store. Full press release can be found after the break.
Kobo Arc Hits Shelves in Canada, United Kingdom and France
In Canada at Indigo-Chapters, Best Buy, and Future Shop THE UK at WHSmith and France at Fnac Booksellers; The Kobo Arc - 7" Android Tablet with Amazing Features Now Available at the Affordable Low Price - Starting at just $199.99 for 16GB; Discover the Kobo Arc, the best tablet for your holiday gift giving
November 16, 2012 Sharon Fernandes
Categories: Corporate, Kobo Arc
UPDATE - November 16 at 4:32 p.m. EST: WHSmith will now be selling the Kobo Arc in store on November 21. But, if you are just as excited as we are to get the Kobo Arc tablet, head to www.whsmith.co.uk to pre-order online.
TORONTO – November 16, 2012 – Kobo, a global leader in eReading with more than 10-million users, today announced that its much-anticipated 7" Android tablet, the Kobo Arc, has hit shelves across Canada and the United Kingdom today and will be heading to France on Monday. The Google-certified, Kobo Arc gives consumers access to more than 600,000 apps and comes in three storage configurations: 16GB, 32GB and 64GB. With the fastest 1.5GHz processor available in a 7" tablet, the Kobo Arc provides superior browsing and multi-media features to enhance the user experience including front-facing speakers, a durable high-resolution display, and Kobo's unique interface Tapestries to easily organize and display content. Starting at just $199.99, the Kobo Arc is the best option for customers looking for a fully-loaded 7" tablet this holiday season.
Kobo Tapestries interface allows users to easily "pin" their favorite content in dynamic displays helping to keep much-loved content at the surface of the user experience. To further extend the user experience, the Kobo Arc Discovery Ribbon intelligently recommends both free and paid content – including webpages, articles, eBooks, music and movies – based on the content pinned to a Tapestry. The Kobo Arc is the only tablet that learns what its user likes, to recommend more of the content they love. Fully customizable, with colourful, interchangeable Snapbacks in Blue and Purple, the Kobo Arc is the only tablet available on the market today that is a true reflection of its user.
"Finding new videos, websites and articles is something we can all admit to spending hours searching for," said Wayne White, EVP and GM of Devices Kobo. "With Kobo Arc, we have developed new ways for users to easily and more importantly, quickly, discover new information, resources and entertainment based on their interests rather than their purchase history. We want people to be surprised and delighted by Kobo Arc each time a recommendation is made based on their personal interests and tastes."
Kobo Arc Fast Facts:
The highly responsive Kobo Arc is driven by a 1.5GHz OMAP 4470 dual-core processor to deliver more processing power
It retains more than 10 hours of battery life in a single charge, giving consumers a highly responsive and long-lasting multimedia experience.
Its 7" high-definition display with 178 degree viewing angles, 215 pixels/inch and 1280x800 resolution with 16-million colours bring video and pictures to life.
In Kobo's laboratory drop-tests, the Kobo Arc's ultra-durable glass proved more resistant to damage than any other tablet currently available in the market.
Only 364 grams, the Kobo Arc is also one of the lightest 7" tablets available and with the new storage configurations, consumers will relish in their ability to store as many songs, movies, eBooks, and pictures as they desire.
Front-facing stereo speakers with SRS TruMedia® sound to bring music to life as well as a 1.3 MegaPixel front-facing camera, built-in microphone, and 802.11 WiFi to easily connect to the web without an expensive data plan.
The fully customizable Android 4.0 (Ice Cream Sandwich) operating system allows consumers to configure and modify the Kobo Arc and Kobo is already working toward an Android 4.1 (Jelly Bean) upgrade.
The Kobo Arc comes with Google Play to provide hours of entertainment through the Google Play Store's 600,000 apps including Gmail and YouTube in addition to pre-loaded apps like Facebook®, Twitter®, Rdio®, Zinio® and PressReader®.
The tablet comes in black and white and interchangeable SnapBacks in blue and purple.
With the Kobo Arc, Kobo continues to build on its open philosophy which encourages more people to read anytime, anyplace and on the device they choose. The company's eReading platform automatically syncs people's libraries across devices from the Kobo Arc, to its E Ink eReaders, to the free apps for virtually any desktop, tablet, eReader or smartphone. With more than 10-million users across 190 countries, Kobo offers more choice than ever before with its new Family of eReaders, growing catalogue of more than 3-million eBooks, and content in 60 languages.
The Kobo Arc will be available for $199.99 (16GB), $249.99 (32GB) and $299.99 (64GB). Check out Chapters-Indigo, Bestbuy.ca, Futureshop.com, WHSmith, and Fnac for more information or to order online.
Get the Android Central Newsletter
Instant access to breaking news, the hottest reviews, great deals and helpful tips.