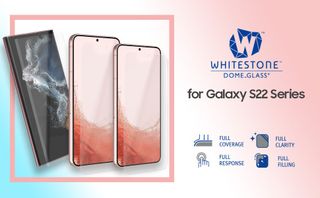 (Image credit: Whitestone)
The new Samsung Galaxy S22 Ultra is here, and before you go taking the phone on all sorts of adventures to see just how much its camera system is capable of, you should make sure you've got it properly protected. For that purpose, you should turn to Whitestone.
Whitestone's Dome Glass screen protector offers a robust defense for the Galaxy S22 Ultra display without sacrifices. The Galaxy S22 Ultra has a massive, colorful, bright display that curves around at the sides. Whitestone makes sure you get to continue enjoying all of those aspects of the phone with its Dome Glass protector. Even the phone's under-display, ultrasonic fingerprint sensor can continue to work through the glass.
The Dome Glass screen protector is fully transparent, letting you continue to view your screen as if it weren't there. You won't miss out on the sizzlingly bright display or poppy HDR color by using it. There's also no dot matrix on the protector to impact your view as some screen protectors rely on to support touch inputs.
This isn't a screen protector that's going to scuff up easily either. Whitestone is using 9H tempered glass, giving you not only impressively durable protection for your phone's built-in display but also a protector that's not going to easily scratch, crack, or dent. After all, having a cracked and scratched screen protector on your phone isn't much better than having a cracked and scratched screen when it comes to everyday use.
That durability is especially handy when it comes to the Galaxy S22 Ultra. Using the phone's S-Pen to take notes, mark up documents, or doodle is going to apply considerable pressure where the S-Pen contacts the screen. With a plastic screen protector, that's likely to leave small grooves behind, warping the protector and affecting visibility over time. The Dome Glass is hard enough to resist tearing off or denting when you use the S-Pen.
Whitestone goes even further in ensuring you get a clear experience from the protector by including an AF coating that resists blemishes from fingerprints, makeup, and grease. Since most of us are using our phones throughout the entire day, after workouts and meals alike, we can naturally get a good deal of sweat and grease on the screen. Having a coating on the screen protector makes it harder for such things to stick onto the screen and keeps your view clearer.
Now, if you've ever put a screen protector on before, you've probably run into the issue of getting air bubbles trapped under the protector. It's unsightly and problematic. And it would be all the more difficult to avoid with a curved display like that on the S22 Ultra. But Whitestone makes the process easy. The Dome Glass screen protector attaches using LOCA liquid adhesive technology that's completely transparent and fills all the gaps between the screen and the protector. Those liquids solidify under UV light, and Whitestone includes a special UV lamp for this purpose. Whitestone also employs a special installation jig that helps you precisely line up the phone and protector — no bubbles, no misalignment, no fuss. Whitestone's kit includes two protectors, so you can replace your first one if you manage to damage it.
With its 3D curved glass, the Dome Glass protector has your phone's screen covered from edge to edge, but Whitestone can also help out if you want to take the protection of your phone even further. Whitestone offers two cases designed for the Galaxy S22 Ultra and built for compatibility with the Dome Glass screen protector. There's the Clear case for a slim defense option that won't hide your phone's style or the robust Scope case with thicker bumpers around the edge of your phone and a transparent, hard back cover.
Whitestone provides plenty of other options for protecting your phone as well. You can find other glass screen protectors in the EZ line or get affordable protection with its premium Film options. There's also a broad range of camera protectors to defend your lens against damage.
You can find the Dome Glass screen protector and all other accessories for the Galaxy S22 Ultra from Whitestone here. You can also find Whitestone's products on Amazon in the US here or in the UK here.
Be an expert in 5 minutes
Get the latest news from Android Central, your trusted companion in the world of Android