Gameloft's The Dark Knight Rises released in Google Play today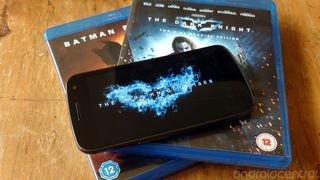 Ed. note: We're all painfully aware of what happened in Aurora, Colo. Our thoughts and prayers are with everyone involved. And we're turning off the comments on this post. - Phil
Today is a pretty huge day for Batman fans around the world. Finally, the long awaited third Christopher Nolan adaptation, The Dark Knight Rises, hits movie theaters around the world. And, as promised, Gameloft's official companion game also sees release today into the Google Play Store.
We're talking a premium title here, and as such, it carries a premium price. In the UK it'll set you back £4.99, and in the U.S. that equates to $6.99. But one look at the visuals alone, and it pretty much justifies the asking price. If you're still carrying some of that free Google Play credit around, what better device to play it on than your new Nexus 7?
Be prepared though, the download is big. Actually, it's huge -- 1.7GB. But the visuals, and the huge Gotham City maps taken into account, you can see why it's so big. We're just getting started with this one, and we'll no doubt be back with more when we've spent some real game time with it. To grab it for yourselves, head on over to the Play Store, hit download, and go make a coffee while you wait.
​Update: ​Seems we were a bit keen in wanting to play this on our Nexus 7. Doesn't look like it's compatible at the moment. Darn shame.
Download: The Dark Knight Rises (opens in new tab)
does it support bluetooth controllers? wii controller?

No love for my Nexus 7. Fail.

Xbox 360 controller with the micro usb to usb adaptor?

Does this work for many games? Very interested...

And what about Asphalt 7?

Would be great if it was compatible with my nexus 7..

I skipped their Spiderman game so I'll definitely be getting this one

I was waiting for this for my nexus7 but WTH it's not supported!?!?! Also 1.7GB!?!?!

Hope no ones on the Verizon 2b shared plan....
Android Central Newsletter
Thank you for signing up to Android Central. You will receive a verification email shortly.
There was a problem. Please refresh the page and try again.