Developer Interview: Doodle Jump and Doodle Jump Race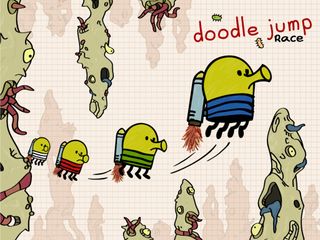 Doodle Jump is one of the most successful mobile games of all time, with well more than 10 million installs on Android alone. The original game continues to do big business on Android, and developer Lima Sky has recently released Doodle Jump SpongeBob SquarePants as a paid Android app as well. 2014 marks the fifth anniversary of Doodle Jump.
We recently met up with Igor Pusenjak, co-founder of Lima Sky and co-creator of Doodle Jump to discuss the past and present of Lima Sky, the creation of Doodle Jump, and future Doodle Jump titles. Read on for exclusive news about the next Doodle Jump game for Android, Doodle Jump Race!
Hi, Igor. Please tell us a little about yourself outside of the world of videogames.
Hey Paul! I love to travel and visit new countries. My dream is to visit every country in the world, but I'm still quite far from fulfilling that dream. The great thing is that the nature of my works allows me to work pretty much anywhere, which makes travelling easier. I have also travelled to gaming conferences in various parts of the world and I always try to schedule a few extra days to experience the city [hosting] the conference.
What inspired you to become a game developer?
Growing up, my brother and I spent countless hours playing games on our ZX Spectrum 48k. Eventually we started dreaming up our own games – but there was no easy way for us to bring those games to the market.
Fast-forward some 20 years to Apple introducing the App Store for iPhone and in the process revolutionizing self-publishing of games. We jumped on the opportunity and reignited our childhood passion.
Lima Sky's website is really bare bones compared to other game developers' websites. Have you ever considered fleshing it out with more content like a development blog or something?
Ha ha! Well, we see the Lima Sky website as the equivalent of an online business card. It provides only the most crucial information in a clean, easy-to-read manner. Furthermore, we feel our games speak better about us and our vision than a web site ever could. And we use social media to communicate with our fans.
Kanji (left) and KanjiPop for iOS
I had always wondered! Maybe you can answer another mystery for me. In addition to the games many of us know and love, Lima Sky has also published a Kanji learning app for iOS. How did that particular app come about?
My brother Marko, Lima Sky's co-founder, was learning Japanese and needed a tool to help him study for the Japanese Language Proficiency Test. So we decided to make an app. We also made another app, KanjiPop, which helps you practice Japanese in a bit more playful way.
Wow, I wish I had time to learn any measure of Kanji. And now for the gaming discussion! Doodle Jump took some of the basic concepts of platforming and adopted them to casual mobile play. What are some of your favorite platformers on consoles?
Doodle Jump never arose from a deep interest in console platformers. I've spent some time playing the classics like everyone else, but it's hard to pinpoint the inspiration. The game arose from early experimentation with the iPhone – we found a gameplay mechanic and art style that just worked and that hadn't been overused.
The player can never truly win an endless runner or endless jumping game. No matter what happens, the Doodler and similar protagonists will inevitably die. Does that make these games pessimistic at heart?
Doodler doesn't die in that final fall during a play session. He can't die. It's more of a setback; he gets to try again. The game never ends because you're always challenging your latest score and your friends, too.
A glass half full then! Players must agree, because Doodle Jump has become a huge hit on mobile and reached a wide variety of platforms. How much has Lima Sky grown since releasing the original iOS game in 2009?
We've resisted the urge to grow quickly and have instead decided to keep it small and nimble. I feel we can jump into (and out of) projects easier [this way]. Also, we can always expand our team as needed. In addition to my brother and I, our team right now consists of four people working on Doodle Jump games and three more working on platform expansions.
We also have one person working on licensing deals – this is a big deal to us in 2014, as we have board games, apparel, toys, and more hitting the market. We already have a Doodle Jump arcade machine in Dave & Buster's restaurants across the country, and it has done insanely well.
Doodle Jump Kinect
How much involvement did Lima Sky have with the DS and Xbox 360 versions of Doodle Jump? Did both games turn out as well as you hoped, and would you consider releasing Doodle Jump on Xbox One and Playstation 4 as well?
We worked closely with the publishers and developers of both versions and think that both are great adaptations. Our timing wasn't particularly great for the Kinect version of Doodle Jump. It came out when that market had notably cooled off, but I really love that version.
Yes, we are looking into Xbox One and Playstation as well. We don't have anything to share yet on Doodle heading to new platforms, but I have both systems. They're powerful and I'm excited to see where we can take the game.
You've released Doodle Jump as both a paid and free game on mobile platforms. How do the two versions do in comparison to each other? Do you have any thoughts on the free to play business model in general?
There are audiences that prefer to pay for the game in exchange for an ad-free experience and then there are people who don't mind seeing a few ads in return for not spending any money. Different strokes for different folks, you know?
We recognize the different preferences and try to have the best experience for each. A certain kind of free-to-play experience is certainly dominating the Top Grossing charts, but that doesn't mean you can't have success with other models.
Speaking of free versions, can you go into detail about Doodle Jump's sales performance on Android?
Overall Doodle Jump has had a quarter of a billion downloads across all devices, and Android has been a sizable part of that. We've been very happy with Doodle Jump's performance on Android and will continue to fully support it.
How much extra work is required to bring your games like Doodle Jump over to Android, anyway?
Currently the Android and iOS versions [each utilize a] different code-base fully optimized for respective platforms, so all the work [required to update the games] needs to be done separately. Android's many different device resolutions and performance levels have been especially challenging as we strive to provide the best possible experience on every device.
We've been lucky in that we've been able to work closely with Intel on Android versions for many of the best tablets and handsets. We don't just port our games using emulators; we optimize the game. Intel's help with some of the newest tablets powered with their chips has been huge for us – Doodle Jump looks and plays absolutely beautifully on those devices.
Your next release for Android is Doodle Jump Race. What can fans of the series expect from this entry?
It's a horizontal multiplayer racer set in the Doodle Jump universe – each Doodler rocks a jetpack and flies through a course. We made it for fun. It's sort of tip of the hat to a couple other games we appreciate. It will continue to grow and evolve over time just like the original Doodle Jump.
When will Doodle Jump Race arrive on Android? Will it be free like the iOS game?
It's coming soon, now that we've gotten the iOS version to where we're happy with it. It took a few updates to get the player matching just right. We have no interest in a quick port of Doodle Jump Race, we want it to be polished and optimized for the leading devices. The Android version will be free.
Doodle Jump Race is a slight departure from the gameplay of the original game. Would you like to continue branching Doodle Jump out into new genres?
We always have ideas, and we love to experiment conceptually with different genres that make sense within the Doodle Jump world. But above all, it's about making fun games. So if we think there is a fun Doodle Jump game to be made in a different genre, we'll explore it. We are not constrained in any way.
Finally, do you plan to release an official Doodle Jump 2 someday?
We'll see. :) But right now we continue to look at the original Doodle Jump as a TV series. We keep adding new episodes to it, and people continue to play it. We're celebrating our fifth anniversary (we call it Season 5) this year. It's amazing how many people still love the game after all this time and want fresh content. I'm not sure there is any other title quite like it; we're deeply proud and humbled by it.
Stay tuned for Doodle Jump Race, Android gamers! In the meantime, you can grab the other Doodle Jump games from Google Play:https://play.google.com/store/apps/details?id=com.lima.doodlejump - Doodle Jump – Free – Download now - Doodle Jump Spongebob SquarePants – $1.99 – Download now
Sign up for Black Friday email alerts!
Get the hottest deals available in your inbox plus news, reviews, opinion, analysis and more from the Android Central team.