Archos 101 Titanium hands-on (updated with official announcement)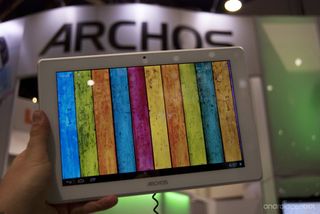 Archos brought a slew of tablets to its CES booth this year, and we managed to get our hands on the lot of them. Here's the 101 Titanium, a distant cousin of the 101XS that we reviewed earlier this year. This iteration is part of Archos' Elements line, and therefore receives some of the goodies associated with the brand, such as a much-improved build quality and finish. This thing is solid, much more so than the 101XS, though fails to match the ultra-premium look and feel of the 97 Titanium with its Retina-quality display.
Archos was tight lipped on details about these tablets, but based on what else we've seen from Archos here at CES, we should go ahead and count on a minor boost in terms of both processing power and internal storage, just like what happened on the 97 Platinum and the FamilyPad2. Jelly Bean is onboard here, an improvement from the 101XS, and I was pretty pleased with the responsiveness and speed of the tablet.
To my naked eye, the 10.1-inch display isn't any better than the 101XS, so we can go ahead and guess that this, too, packs a 1280 x 800 resolution. However, I didn't notice that blue, washed-out hue that bugged me so much about the 101XS, so that's more than welcome news.
Archos isn't spilling the beans on pricing or availability, but I'd gladly pay a bit more for this device than the 101XS based on how solid and well-built it appears. This is a premium tablet, and proves once again that the French manufacturer is playing for keeps.
A hands-on gallery and video follow the break.
UPDATE: This morning, Archos formally introduced the new additions to its Titanium line, including the 101 Titanium. Our suspicions were confirmed, as the 101 will feature a 1.6 GHz dual-core CPU, quad-core graphics, and an impoved IPS display. The full press release has been added after the break.
ARCHOS Introduces the New TITANIUM Line at CES
CES, Las Vegas – January 10, 2013 - ARCHOS, an award-winning innovator in consumer electronics introduces the Titanium line in its Elements range of tablets.
This range offers high-end specifications at an aggressive price and all tablets will feature:
High Definition IPS display capacitive multi-touch screen
Dual core CPU at 1.6 GHz with Quad core GPU, with 1080p video decoding
Sleek aluminum design
Android 4.1 'Jelly Bean' with the 700,000 applications on Google Play and the Archos Media Center applications
The ARCHOS 70 titanium (7 inches), priced at 119€, $119, £99 offers similar features to competitors such as Amazon, at a better price point.
The ARCHOS 80 titanium (8 inches), priced at 169€, $169, £149 has been designed to offer similar user experience as the iPad mini, for a fraction of the price.
The ARCHOS 101 titanium (10.1 inches), priced at 199€, $199, £169, is around 30 per cent cheaper than competition with comparable features.
The ARCHOS 97 titanium HD (9.7 inches), with a resolution up to 2048 x 1536 pixels is priced at 249€, $249 and £199, and aims to be an alternative to the new iPad for half the price.
Swipe to scroll horizontally
Be an expert in 5 minutes
Get the latest news from Android Central, your trusted companion in the world of Android