The Verizon LG G3 has problems with ART — think twice before switching runtimes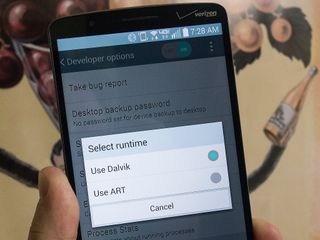 A quick heads up for those of you who have just bought or are about to get an LG G3, particularly on Verizon. If you're the tinkering type who immediately runs to the developer options and enables the experiment ART runtime, you might want to hold off for a bit. I'd run ART without issue on the AT&T LG G3 for the better part of a week. But the Verizon LG G3 has some obvious issues — mainly that it shuts down randomly. A lot.
I haven't done any further debugging than that — it's pretty obvious something ain't right, and I went back to Dalvik ASAP — so it'll be interesting to see what smarter folks come up with, and if the T-Mobile and Sprint models also run into issues. But read through our LG G3 forums and you'll find I'm not alone with the Verizon version. That said, I wouldn't let this dissuade me from buying the Verizon LG G3. The included ART runtime is experimental still, is hidden behind the developer settings — and is different than what will ship in the L release of Android later this year. We'd expect Verizon and LG to get things straightened out by then.
In the meantime, if your G3 has shut off and doesn't seem to want to turn on, try holding volume down and the power button for a few seconds. That should clear things up. Boot up like normal and switch back to Dalvik, and all should be good.
Good luck. And remember that experimental things are experimental, and not always better.
Thanks, Ben, for the heads up.
Get the Android Central Newsletter
Instant access to breaking news, the hottest reviews, great deals and helpful tips.