Rdio and Shazam expand partnership to 29 new countries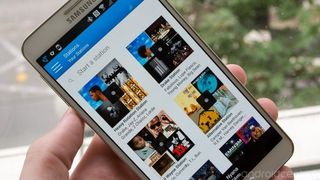 Search for music and listen with your Rdio subscription instantly in more places
Building on a partnership that started in late 2012 to let users find and instantly stream music they hear, Rdio and Shazam have expanded their music partnership to 29 new countries around the world. This means that Shazam users in a total of 35 countries can now identify music — in either the free or paid version of the app — and instantly listen to the tracks streaming via their Rdio music subscription.
And now with the latest version of Rdio, you can sync up and keep a history of all your Shazam-found tracks in your Rdio library. It's a big deal for music junkies out there who are always looking to discover new music, and this is a partnership that really pays off for all parties. You can grab the latest version of the Shazam app at the Play Store link above.
Rdio and Shazam Announce International Expansion of Music Discovery Partnership
Streamlined Music Discovery Experience Now Available in 29 additional countries including France, Spain, Germany, Ireland, New Zealand and South Africa
JANUARY 28, 2014 – SAN FRANCISCO – Rdio, the groundbreaking digital music service, and Shazam®, the world's leading media engagement company, today announced an international expansion of their music discovery partnership. Users of the Free and Encore version of the Shazam App for iOS and Android are now able to instantly listen to entire songs after tagging them by clicking the "Listen Free on Rdio" link within the app. By connecting Shazam to Rdio in a few simple steps, listeners around the world can also create a playlist on Rdio called "My Shazam Tracks." This playlist automatically updates with every new song tagged in Shazam, making it easy to relive an amazing night out, track for track, through the Rdio app. The exclusive partnership, which started Fall 2012 in the United States, is now live in 29 additional countries around the world including France, Spain and Germany.
"Working together in major countries across the globe, we are now providing more than 270 million Shazam users the ability to instantly listen to an entire song they just identified exclusively on Rdio and seamlessly build playlists on Rdio," said Daniel Danker, chief product officer of Shazam.
Users of the Free and Encore versions of the Shazam App for iOS and Android simply identify a song and then click the "Listen Free on Rdio" link on the identified song's page. Rdio Unlimited subscribers can listen to the full song in the app on their mobile device and also listen to all of their tagged songs on Rdio in the "My Shazam Tracks" playlist. Those new to Rdio can sign up for a free 14-day mobile trial to hear the complete track. After the mobile trial expires, they can choose to upgrade to one of Rdio's flexible subscription plans for unlimited streams and access to Rdio's acclaimed mobile apps or simply listen for free on the web.
"Music lovers around the globe can now connect Shazam's tagging feature with Rdio's digital music service. All the songs tagged in Shazam are automatically added to a 'My Shazam Tracks' playlist in Rdio, making it easy to identify, save, and organize their music discoveries," said Anthony Bay, chief executive officer of Rdio. "Rdio and Shazam are at the forefront of how people are discovering new music."
The complete list of countries where the Shazam and Rdio integration is available is: US, UK, Argentina, Australia, Austria, Belgium, Brazil, Canada, Chile, Colombia, Costa Rica, Czech Republic, Denmark, Ecuador, Finland, France, Germany, Guatemala, Hungary, Ireland, Israel, Malaysia, Mexico, Netherlands, New Zealand, Norway, Paraguay, Poland, Portugal, Peru, Spain, South Africa, Sweden, Switzerland, and Venezuela.
Powered by Rdio's API
The Shazam-Rdio integration is the latest example of one of our developer partners extending the Rdio experience through Rdio's powerful, best-in-class API. Over a thousand developers are actively creating a huge variety of apps using the Rdio API, making it easier for Rdio users to discover new music, attend concerts, create playlists, listen collaboratively, learn about their favorite artist, and more. Check out our API Gallery for more innovative examples of the Rdio API at work.
Plan Options Include:
· Free: Play any song, album or playlist on the web for free with limited ads
· Rdio Web: $4.99 a month. Unlimited Web streaming
· Rdio Unlimited: $9.99 a month. Unlimited Web and mobile streaming, as well as wireless syncing to listen offline
Useful Links:
· Screenshots – https://sparkpr.app.box.com/v/shazamrdio
· API Gallery - https://www.pandora.com/
· Rdio for iOS - https://itunes.apple.com/us/app/rdio/id335060889?mt=8
· Rdio for Android - https://play.google.com/store/apps/details?id=com.rdio.android.ui&hl=en
· Shazam for iOS - https://itunes.apple.com/us/app/shazam/id284993459?mt=8&ign-mpt=uo%3D2
· Shazam for Android - https://play.google.com/store/apps/details?id=com.shazam.android&hl=en
· Rdio press page - https://www.pandora.com/
· Shazam press page - https://www.shazam.com/
ABOUT RDIO
Rdio is the groundbreaking digital music service that is reinventing the way people discover, play, and share music. Play what you want, when you want, or turn on a station for a perfect mix of songs. Listen anywhere — the web, your phone, even offline — and follow friends and artists to see what they're playing.
Launched in August 2010, Rdio is headquartered in San Francisco and was founded by Janus Friis, the co-creator of Skype, and is currently available in 51 countries. For more information and to sign up, visit www.rdio.com.
About Shazam
Shazam is the world's leading media engagement company with more than 420 million people in 200 countries and adding another 15 million new users each month. With the industry's unlimited fastest tagging in the Free and premium Encore Apps on iOS and Android devices, Shazam is the best way for people to discover, explore, buy, and share more music, TV shows and branded content they love. Shazam makes it easy for people to share their discoveries with their friends on Facebook using the Shazam Friends feature, as well as on Twitter and Google+. For people who don't yet have the Shazam application on their smartphone, it is available for FREE on every major platform and can be found on iTunes App Store, Google play, Amazon App Store, AT&T's AppCenter, Verizon VCast app store, Nokia Store, Windows Phone Marketplace, BlackBerry App World, and GetJar.
For further information about Shazam Entertainment visit www.shazam.com and @ShazamNews. You can also follow us on Facebook or Google+. For daily music updates follow the Shazam Blog and @Shazam.
Get the Android Central Newsletter
Instant access to breaking news, the hottest reviews, great deals and helpful tips.
Andrew was an Executive Editor, U.S. at Android Central between 2012 and 2020.