The Nova Material Watch Face keeps it simple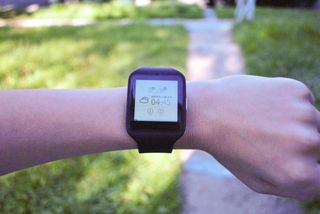 Finding a Watch Face that gives you the info that you need to know, while keeping it simple aren't always easy to find. Many get you that info, but wind up looking cluttered, others have a clean and simple look, but you don't get the details you need at a glance. If that's the case then the Nova Material Watch face for Android Wear might have you covered.
The Nova Material Watch Face has a clean, understated look to it. It's got a fresh, minimalistic appeal while still getting you the information that you want out of your watch. Lets take a look.
The top of your screen has two indicators for notifications. On the top left is a small speech bubble, accompanied to the right by an envelope. Otherwise known as messages, and emails. If your inboxes are full of nothing but read messages, then you'll just see the icons themselves. On the other hand if you have unread messages, then a small colored bubble will appear with a number within it; the number of unread messages you have waiting.
The middle of your screen is where most of your information is waiting. In the middle of the screen is a 12 hour digital readout of the time. Just above it, is the current date, along with which day of the week it is. To the left of these you'll see a weather indicator to give you a clue about what to expect if you venture outside.
At the bottom of the screen you'll find your last two indicators. One is a wristwatch, and the other a smartphone, and both are surrounded by a small colored ring. The ring fills dependent upon the battery life of your Smartwatch, and Smartphone, along with a digital readout just below the icons.
Most of this watch face is black on white, with a few splashes of color. Unfortunately, if green isn't your color of choice you'll need to purchase the premium version of this watch face for $1.04. It isn't just minimalist in it's look either, there are no settings or options to fool with if you're rocking the free version. The paid version of Nova Material Watch Face only unlocks the ability to change the accent color — and there are a ton of colors to choose from.
If you're looking for clean, simple, and informative, Nova Material Watch Face could be the right fit. While it doesn't concern itself with giving you options to customize, it does give you the information you need most to plan your day. At the great price of free, it's certainly worth taking a look.
Get the Android Central Newsletter
Instant access to breaking news, the hottest reviews, great deals and helpful tips.
Jen is a staff writer who spends her time researching the products you didn't know you needed. She's also a fantasy novelist and has a serious Civ VI addiction. You can follow her on Twitter.