LG's latest devices caught on video ahead of Mobile World Congress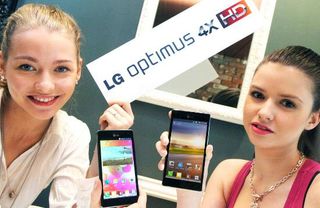 LG seemingly didn't want to until Mobile World Congress to show the world what they've been working on. They've already gone ahead and announced eight new devices and while we're stuck waiting until we hit Barcelona to go hands-on with them ourselves, that doesn't mean they're not getting plenty of video love already. The Optimus 4X HD, Optimus 3D MAX, Optimus Vu and the Optimus L3 all got sneak peek videos taken, so if you're looking to get a look at what LG is bring to Mobile World Congress head on past the break and enjoy!
Source: Telefonino
Youtube link for mobile viewing
Youtube link for mobile viewing
Youtube link for mobile viewing
what the hell is that antenna thing he pulled out of the Optimus LTE?! LOL - Is he going to call for an air strike?

probably an antenna for mobile TV in Korea...
they have that for GS2 for Korea also.

I think you're right. From the little Italian I can understand, that's what I heard when he was talking about it.

Mother of God lucidly is right.... You could call in an air strike with that thing!!!

Nice grammatical error in the first sentence. You forgot to add the word "wait".

4X seems pretty snappy... better than i thought. but it's a STRAIGHT UP copy of Touchwiz, even the touch sound. wtf... jeez LG.

Wow how many customers are going to accidentally break that freaking antenna!! Lol

LG's new Optimus UI is WORLD'S better than the last version. Sure, it owes a lot to TouchWiz, but at the same time its pretty unique. That lockscreen especially is a very clever way of getting around slide to unlock. (and, honestly, that's the point of things like that being patented) The best part? Even though many things are obviously skinned, it still LOOKS like ICS.

Love the 4X HD. It's great that if you install a launcher like Nova it will look A LOT like vanilla ICS. I hope it's possible to remove the touch sound, though.

Rumor on tmonews is that the 4xhd is going to Tmobile to be the follow up to the g2x. Hopefully this is true...looks like a beast!
Android Central Newsletter
Thank you for signing up to Android Central. You will receive a verification email shortly.
There was a problem. Please refresh the page and try again.