Go back to Pandora in the third episode from Tales of the Borderlands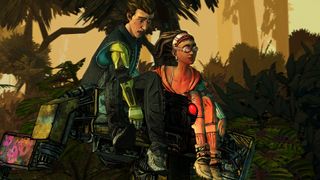 The third episode of Telltale Games' Tales from the Borderlands has started rolling out. Episode 3, "Catch a Ride", features our protagonists Rhys and Fiona as they continue their quest to open one of the mythical Vaults of Pandora in hope of uncovering new treasures. The episode features new locations, new characters, and of course, new choices to make.
Tales from the Borderlands is the latest series from Telltale Games, the developers behind games like The Walking Dead and Game of Thrones. Based on Gearbox's Borderlands franchise, Tales takes place after the second game in the series, and tells its story from two different, often conflicting perspectives.
While you can grab Episode 3 today for Mac and PC from Steam, the Android version will be available on Thursday, June 25 as an in-app purchase.
Finally! Walking Dead seasons, The Wolf Among Us, and Game of Thrones have/had all been great at keeping the stories coming fairly consistent. While Borderlands has been dragging. Was hoping they'd have released Jurassic Park for Android by now also.
Android Central Newsletter
Get the best of Android Central in in your inbox, every day!
Thank you for signing up to Android Central. You will receive a verification email shortly.
There was a problem. Please refresh the page and try again.