Evernote developer competition kicks off with $100,000 in prizes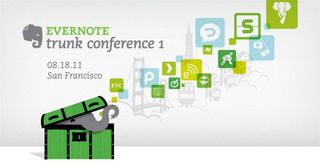 With what has now grown to more than 9 million users, the folks behind Evernote have just announced the first Evernote trunk conference and developer competition with $100,000 in prizes. The one-day conference will be held on Aug. 18 in San Francisco and will be used to share innovative applications, integrations, and success stories for Evernote.
Developer, user and product sessions are planned for the event. But, that's not all -- the developer competition is open until July 15 with winners announced on July 22 and the prizes lined up for building an application, service, or device that works with Evernote are looking pretty good:
Grand Prize: $50,000
6 Finalists: $5,000 each
Wildcard Prize: $10,000
Student Prize: $10,000
If you're interested in attending the Evernote trunk conference and participating in the developer competition you can hit the source link below for further details.
Source: Evernote Blog (opens in new tab)
Android Central Newsletter
Get the best of Android Central in in your inbox, every day!
Thank you for signing up to Android Central. You will receive a verification email shortly.
There was a problem. Please refresh the page and try again.