Win a Samsung Galaxy Tab 10.1 From SmrtGuard!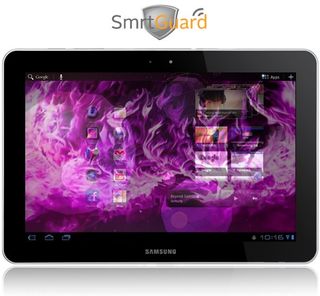 Looking to win one of the hottest Android tablets out there? Of course you are -- and the folks from SmrtGuard are looking to give one away to one lucky Android Central reader. So how exactly can you win this Samsung Galaxy Tab 10.1?
Download SmrtGuard Mobile Security on to your Android Smartphone, it's free.
Register and Activate to be automatically enter into the contest.

Wait, what is SmrtGuard Mobile Security? You might be thinking you don't need another app that scans your phone or backup your phone. SmrtGuard does a lot more that. Here goes, it Blocks Calls, SMS, Wireless backup/restore, remote ping, remote call forwarding, inform upon download of new app what risky permissions the downloaded app uses (aka SmrtAdvisor), SmrtGuard uninstall notification and lots more.

Already a user of SmrtGuard, well, you are then automatically entered into the contest.

Do it now, this is a limited time contest that ends on 07/22/11 midnight! Winner will be announced July 31st right here on AndroidCentral!
That's it.. easy right? We like easy contests. If you're looking for more info about SmrtGuard, you can hit up their website for further details. Good luck to all.
With the way SmrtGuard screwed up the deadline date, I'm afraid even if I won I wouldn't get the prize until sometime in 2023 ;)

I don't get it. It says July 22nd, 2011 or 07/22/11. Where are you getting 2023 from?

This contest originally said 7/11/22.

May I ask where was it posted that it ended 7/11/22? The contest ends July 22, 2011 and the winner will be announced here on Android Central on July 31st.

I couldn't find any details on the linked website - is this for US only, or open for everyone?

It's open to anyone! Just as long as your phone has Android OS 2.2 or higher, you can use SmrtGuard and be entered in the contest regardless of what country you're in:)

I want to know if it's limited to some countries too!

Nope not at all! As long as your phone has Android OS 2.2 or higher, what country you're in doesn't matter:)

Would love the Tab, but this app makes my Dinc slow to a crawl when scrolling homescreens and other UI elements. Also eats up an additional 80MB of memory when running. Not something you can afford on a Dinc.

Their website also isn't working for me.. Hope this is just a coincidence.. seems fishy lol

Hmm, the app shouldn't be causing your phone to slow down unless you have other apps installed that are interfering with what our app is trying to work on your phone (we have seen this happen before). If you could please send an email to support@smrtguard.com with exactly what's going on with your phone and the website when you're trying to use them, I'll have my support team work with you to get everything running smoothly. Thanks for voicing you issue.

Their customer service is not very good. Used to have it on my old BB and they overcharged my card. No response from customer service until I had my credit card company reverse the charges. Poor reviews in the Market also.

Sorry about that. Our billing is not handled by us. Instead it is handled through our billing vendors such as PayPal, Digital river, etc. Our paid subscriptions are set up by them to automatically renew your subscription once it expires. So, its not that you were overcharged, its just that your subscription expired and the billing vendor automatically renewed it. We don't control that. Sorry about that misunderstanding.

Done. Gave up Lookout for this program and the hope of winning a free Tablet. WOOO_HOOOOO!!!

Thanks and we hope you like the software! Good luck on the contest:) We will announce the winner right here on Android Central July 31st:)

Its a pretty nice app visually compared to some others i've seen floating around, most of the poor reviews have to do with slowdowns on other devices as well. Sadly not much one can do with performance on older devices, i think using the free version in conjuction with like AVG might work better since both are free and then you cover AV and all plus chance to win a galaxy tab is too much to pass up really hehe.

Thanks dragonherder:) Your input is greatly appreciated:) Thanks for using the software!

Done and done! I have had my eye on the Tab 10.1 for a long time now but I have yet to see one in the store. This is actually a pretty cool app and fills in what Android should have out of the box. I just wonder what the impact will be on the battery.

Thanks for trying our software out:) Don't worry, it won't use up your battery. The only thing that uses alot of battery life is if the "Follow Me" feature is enabled. But you can choose if you want it enabled or not so it's not continuously running.

can i have this and lookout installed at the same time? its the only reason i haven't tried to enter yet. i like lookout, but i also want one of these tabs and buying one now is not an option.

interestingly enough you can... however be aware that it may use up more battery power and all to have both running in the background but as far as my own experience has been the diff things like that dont really seem to interfere with one another on android at all.

As dragonherder mentioned, it may use up a lot of your battery to have two security software apps running at the same time. Also, having both running at the same time may interfere with them working properly. So I wouldn't suggest it. You can check out what all features we have to offer and even try out the free trial version to see if you like what our software has to offer. http://www.smrtguard.com/features/overview/

I am in, regged and awaiting my tablet!
thanks

Great! Thanks for using our software. We'll announce the winner July 31st right here on Android central:)

will not install on Asus Transformer yet I can win a Samsung Tablet if I install......ummm...

As of now, our software is not available for Android tablets. We are currently working on a software release that will be compatible with these tablets and will be released by September.

I downloaded the app yesterday and I must say that I have found my replacement to Lookout. This app has way more for free! It backs up your sms, calls, contacts, spots your phone, has this "follow me" option to retrace steps incase you lose your phone. Another great thing, I havent even noticed it running in the background! Battery still lasts the same and it hasn't crashed on me. I have the Evo 3D and it works great! No, i'm not spamming for the company either, I legitimately like the app, whether I win the Tab or not. :)

Thanks for choosing our product! We're glad to hear you're enjoying it:)

Is it an international giveaway?

Yes! Anyone in any country can use Smrtguard just as long as you're using a device with Android OS 2.2 or higher.

Seems like a really nice app, guys.

When's the winner being announced?

i thought yesterday at some point but i guess they really meant today who knows hehehehe

Sorry for the delay everyone!!! We extended the contest deadline. The winner has been chosen, visit our Facebook page to see the winner. Another post will be made on Android Central of the winner. http://www.facebook.com/SmrtGuard

Where will the winner be posted? Here or Another new post?

Yeah, what up? did they give away one of these things or what?

Why wasn't there an announcement?

yep curious on this one myself honestly

wonder if this was this a ploy to get people more interested in smrtguard or is there going to actually be a tablet winner?

wonder if this was this a ploy to get people more interested in smrtguard or is there going to actually be a tablet winner?

Still no word on this it seems o.o

To see the winner of our Samsung Galaxy Tab giveaway, visit our Facebook page! http://www.facebook.com/SmrtGuard
Android Central Newsletter
Get the best of Android Central in in your inbox, every day!
Thank you for signing up to Android Central. You will receive a verification email shortly.
There was a problem. Please refresh the page and try again.