Best AC Adapter for PlayStation Classic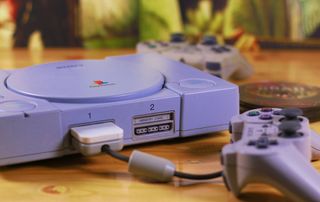 The Anker Dual USB Wall Charger provides not one, but two capable USB ports for powering the PlayStation Classic. That means you can have your game going and maybe even charge your smartphone at the same time.
Anker Dual USB Wall Charger
It'll serve you well in more ways than one.
Who should buy this AC adapter?
Why you can trust Android Central Our expert reviewers spend hours testing and comparing products and services so you can choose the best for you. Find out more about how we test.
The PlayStation Classic doesn't use a traditional AC adapter, and can instead be powered by any USB wall charger outputting 5 volts and 1 amp. That means most USB chargers available will work just fine. You might even already own one, but if not, this is what you want.
Is it a good time to buy this AC adapter?
Anker's latest PowerPort 2 and PowerIQ charging technology are in play here, meaning you are getting the company's latest standard of quality and power. It has everything it needs to power most current devices and likely many others in the future.
Ubiquity makes this a winner
Sony decided to exclude a power solution for the PlayStation Classic as a cost-cutting measure. This would have been an exorbitantly money-hungry gesture had the charging adapter and cable been proprietary, but the PlayStation Classic only needs a standard USB charger to work. That means you might already have what you need, and if you don't, it'll be very affordable to get one.
We suggest starting with Anker's PowerPort 2 USB wall charger. At a paltry $11, this puck has all the makings of a fine USB wall charger. Starting with what you can see, it has two full-fledged USB ports capable of charging and power most compatible devices, including your smartphone, tablet, and — in our case — the PlayStation Classic. Its power plug can be stowed away into its tough outer shell and there's an LED light to indicate when the juices are flowing.
What you can't see is Anker's PowerIQ technology working on the inside. It allows the device to accurately read the exact power needs of whatever's plugged into it and only serves up as much of a surge as that device can handle. It does this independently in each charging port, so your PlayStation Classic, smartphone, or whatever you're charging won't have a chance to compromise each other.
The cherry on top of all this is that Sony does still include a USB cable in the box, so you won't have to supply one of those.
Alternatives to the Anker 2-port USB Wall Charger
There are endless products out there which can power your PlayStation Classic. One alternative is another Anker staple, which is the 4-port version of their wall charger just in case you have way too many devices to charge. You can also find something a bit cheaper than Anker's 2-port charger.
Anker 4-port USB Wall Charger
More ports to charge more of your things.
Two USB charging ports
PowerIQ charging tech ensures save maximum voltages
Pleasant design that looks right at home on the wall
Compact build that fits into any pocket, bag, or purse.
You already own a USB wall charger
You plan to plug it directly into a USB port on your TV
Anker's 4-port USB Wall Charger is a fair bit more expensive, but you'd get double the ports and the same charging and power capabilities. This option is perfect for those who have more than just a couple of devices to hook up on a regular basis.
YUNSONG USB Wall Charger
It's super basic, but it's also super cheap.
YUNSONG's charger has one port, delivers power and charging currents at one rate, and the wall plug can't be stowed away. It's an ugly little thing and the company who makes it probably won't be able to help you if it ever breaks. But it's also only $5.
Bottom line
The Anker 2-port USB Wall Charger is worth paying the extra few dollars for. Anker has our trust for safety, quality, and reliability in all it power-related products, and that doesn't change for the use case of powering a PlayStation Classic. And with this purchase, you can take solace in the fact that it'll eventually be useful for other things, too.
Credits — The team that worked on this guide
Quentyn Kennemer has had a passion for gaming and tech for as long as he can remember. His recommendations are drawn from decades of personal experience in all facets of the two industries.
James Bricknell is the resident UK gamer. When he's not entertaining us with his wit, you can find him using his 3D printers to create miniaturized versions of all his favorite geek things.
Get the Android Central Newsletter
Instant access to breaking news, the hottest reviews, great deals and helpful tips.