While it could be argued that most people have a system for organizing their stuff, that doesn't mean accidents don't happen. For example, a few weeks ago, I was cleaning and I lost my keys. They're inside my house somewhere, but despite searching for them, I have yet to find them. If I had something like this Govee Tracking Kit, my problem would have been solved as soon as it occurred.
Prevent yourself from stepping into my shoes by picking up the kit for only $14.95 when you apply coupon code X7LAGYI5 during checkout at Amazon. It usually costs around $23, which is pretty affordable, but today's deal brings the price so low that it would be silly not to get in on the offer. I've already placed my order, because $15 is a small price to pay for peace of mind. Once I find my keys, I'll hopefully never lose them again.
I Know I Just Had It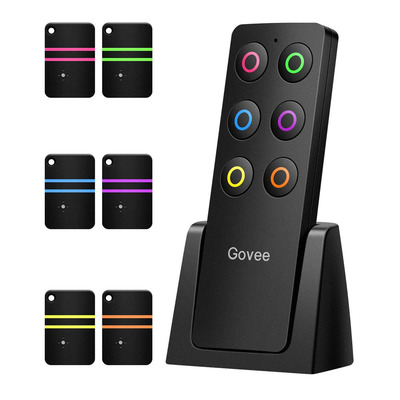 Stop misplacing your keys, wallets, and other items! This kit includes six transmitters that allow you to keep track of the things that are most important to you. It's easy to use, simple to set up, and backed by a year-long warranty.
$14.95 $22.99 $8 off
This kit includes a single remote and six transmitters. Simply attach the six transmitters using either the included key rings or the included 3M adhesive, and you'll be good to go. The remote can contact the transmitters as long as they're within 100 feet. The signal is powerful enough to beam through walls, floors, and couch cushions.
When you press the remote button for the corresponding transmitters, the receiver will both make a beep and flash a light. You'll be able to find lost items easily, even in the dark. Your purchase also includes the batteries needed for use as well as a one-year warranty.
So far, Amazon customers have left 121 customer reviews for this item, resulting in a rating of 4.4 out of 5 stars. Remember to use Amazon Prime or spend at least $25 for free shipping.
Of course, this Govee kit relies on the item that's lost being close enough to track. If you'd rather be able to use a smartphone app to keep track of a misplaced product, Tile trackers might be more up your alley, though they're pricey in comparison.
We may earn a commission for purchases using our links. Learn more.