If you have a relatively new phone, it's probably capable of wireless charging. While Qi chargers used to be super expensive, that's not the case these days. In fact, you can score a well-rated Anker wireless charging pad for only $8.49 at Amazon. That's thanks to a price drop to just $9.99 and code SDSR45HP taking an additional $1.50 off during checkout. We've never seen this charger go this low before, so you really ought to jump on this deal. Even if you already have a wireless charger on your nightstand, this would make a great addition to another area of your home for easy charging.
Lay it down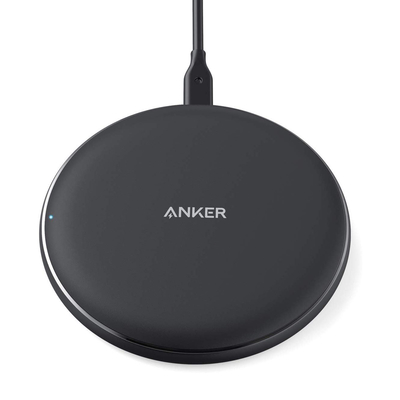 Charge up your Qi-enabled phone at 5W, 7.5W or 10W with Anker's discounted charging pad. It has fallen to $10, which is lower than ever before, and the below code takes another $1.50 off at checkout. It comes with a 4-foot Micro-USB cable.
$8.49 $13.99 $6 off
The Anker PowerWave Max wireless charging pad is actually an upgraded version of a model previously released by Anker. It's faster, safer, and more stable. The pad provides 10W high-speed charging for Samsung Galaxy and similar phones, and it provides a 7.5W fast charge for any iPhone with wireless charging. Other devices that support regular Qi charging will power up at the standard 5W. The LED indicator lets you know the charging status of the device, including whether or not the phone's case is too thick or there's something else between the phone and the charger. Luckily, the pad works with most cases up to 5mm thick. Any metal or cards in the back of the phone will prevent charging. It comes with an 18-month warranty.
It's worth noting that the charger comes with the necessary cable but does not come with a wall adapter, and you'll want one with Quick Charge 3.0 if you plan to use that tech, so it would be wise to pick one up today to ensure you're getting the fastest possible charge.
We may earn a commission for purchases using our links. Learn more.