Gaming PCs are never finished. You might have built it and set up the lighting, but you know you need a new monitor or some more RGB or an a new mouse. There's always room to improve. Today for Cyber Monday you can take up 20% off a selection of PC gaming gear on Amazon that covers all the above and more. All of these accessories and things are down to super low prices, some the lowest prices ever. It's not just about improving your PC, either. You can find gaming laptops on sale and some gear for improving your network so internet is never an issue while playing.
Gamersssss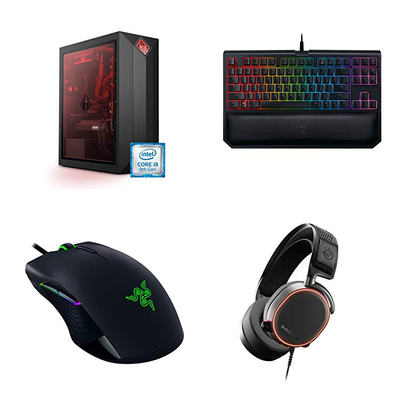 This one-day sale has a variety of different accessories, including keyboards, RAM, headsets, Wi-Fi extenders, monitor mounts, and more. Be sure to check out all the great options now.
Save up to 20%
Just need a straight up gaming computer and don't want to build a desktop PC? Grab the Razer Blade 15 on sale for $2,399.99. That might seem like a lot of money, but this configuration was selling for as much as $2,800 in August. It recently dropped to around $2,700, but that's the lowest it has ever gone before today.
The laptop's specifications include an 8th-gen Intel Core i7 4.1GHz processor, a Nvidia GeForce RTX 2070 graphics card, a 15.6-inch 144Hz display, 16GB RAM, and a 512GB SSD for storage. It has customizable RGB lighting, Thunderbolt 3 ports, and tons of gaming power.
If you already have a PC, upgrade your monitor instead! The Acer Nitro VG271 27-inch gaming monitor is down to $199.99 from a street price around $260. This 1080p IPS monitor has a 144Hz refresh rate and a 1ms response time with Acer's VRB technology. It also uses AMD FreeSync to reduce screen tearing.
You can also grab the SteelSeries Acrtis 3 gaming headset discounted to $39.99 from $60. The headphones work on all platforms through a 3.5mm detachable cable. It's designed with AirWeave performance fabric on the ear cushions that help keep you cool and dry even after long gaming sessions.
We may earn a commission for purchases using our links. Learn more.