Samsung Continuum gets update to Android 2.2.2!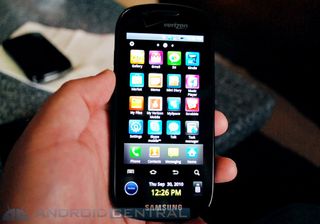 We're sitting here smiling because the Samsung Continuum is in the midst of receiving not one, but two updates that end with the phone being upgraded to Android 2.2. Yes. We're excited about a Froyo update.
The Continuum, as you may recall, was a crazy little phone that came out in late 2010 (we actually got our hands on it a few months before it was announced) that was running Android 2.1 and featured a crazy little secondary display just below the capacitive buttons. It was an interesting idea, but it never really took off and the Continuum was left to wither and die. (Read our full Samsung Continuum review.)
Now here we are in February 2012 -- some three major versions of Android later -- and the Continuum is being updated to Android 2.2 Froyo. It's actually coming in the form of two updates. The first is the Froyo update itself (software version EB01). The second update (software version EC09) brings a bunch of improvements, including the ability to run Adobe Flash Player 10.1, among others. We've got them listed after the break.
So to all you Samsung Continuum owners out there, today we raise our glasses to you. Enjoy.
Source: Verizon Samsung Continuum update (pdf); More: Continuum forums
Thanks, Trailblazer101, for the tip!
Software Update 2 - Enhancements in i400.EC09 Software:
Web Browsing and Data Access
Receive calls with limited interruption.
Device now supports Adobe® Flash® 10.1.
Enhanced browser performance for faster loading of web pages that include JavaScript.
Receive GPS updates when connected over a Wi-Fi network.
Call Features, Email and Messaging
Improved delivery of text messages.
When a text message reaches the 160 character limit, the device will convert the message to a multimedia message and alert you with a notification.
Support for animated GIF files in a multimedia message.
Additional Device Features
Improvements in Over the Air (OTA) functionality to ensure your device can be successfully updated.
Ability to allow automatic application updates in Android Market.™
When using V CAST Apps to download applications, the device will remain active to ensure transfer completion.
Media Hub now comes preloaded.
Improved GPS accuracy when using the VZ Navigator® application.
Enable the auto-refresh setting within the Weatherbug® App to ensure constant updates.
Accurately display the time when using the Weatherbug App.
Easily toggle audio between a connected headset and the phone during Visual Voice Mail playback.
Selecting Voice Mail from within the Buddies Now widget will properly open the message in the Visual Voice Mail application.
Visual Voice Mail displays correct call back number.
Successfully open the Navigation Link from within the car dock screen.
Enhanced stability while playing streamed music using the Google Music application.
Launcher application will no longer experience forced closures when the device is placed in desk mount.
Get the Android Central Newsletter
Instant access to breaking news, the hottest reviews, great deals and helpful tips.