Nook Color dropping to $199; new software update brings Hulu Plus, music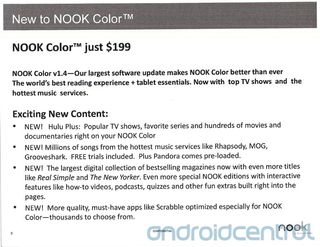 The venerable Barnes & Noble Nook Color hasn't been left out in the cold just because the new Nook Tablet specs and pricing are here. No, the Nook Color's going to find itself with a nice little price drop down to $199. That's only a $50 drop, and for that difference you'll get a pretty big spec boost in the new Nook Tablet, but we'll take what we can get.
And along with the price drop, a new software update is on the way for the New Color. Nook Color v1.4 will bring TV shows, movies and documentaries with Hulu Plus. You'll get music from Rhapsode, MOG and Grooveshark, with free trials. (Pandora is still included.) You'll get even more magazines and special Nook editions, expanding on current content. And more apps are on the way, too.
So, if you're in the market for an e-reader tabelet this holiday season, and don't want to break the $200 mark, the Nook Color is about to become very, very attractive.
Who's proofreading today? A tabelet? Otherwise, pretty cool.

I was pretty sure Barnes and noble was already selling this on Ebay for 179$

Those are refurbished. Still with a 1 year warranty though.

Also keep in mind that most Hulu videos are blocked on mobile devices, even with Hulu Plus.
Android Central Newsletter
Get the best of Android Central in in your inbox, every day!
Thank you for signing up to Android Central. You will receive a verification email shortly.
There was a problem. Please refresh the page and try again.