If you want to add a new Bluetooth speaker to your tech arsenal, it doesn't have to cost a ton of cash. There are plenty of deals on the market that will get you a perfectly capable speaker at a discount. One such deal is on this Vtin Portable Bluetooth Speaker. It usually costs $29, but applying promo code JN67YIYB during checkout at Amazon today will drop your cost to just $17.99. That's one of the better deals we've shared for this model, which has an upgraded battery life and improved water resistance compared to the previous version. You can skip shipping fees by either spending at least $25 or by using Amazon Prime.
Music To My Ears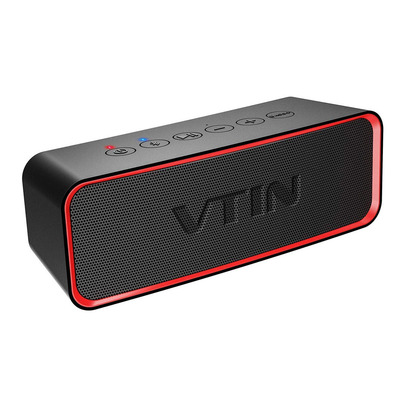 Vtin Portable Bluetooth Speaker
This lightweight Bluetooth speaker is IPX6 water-resistant, plus its battery can last nearly a full day. The 14W drivers and optional Bass Boost mode keep your music sounding great, and the speaker is portable as well.
$17.99 $28.99 $11 off
This ultra-portable Bluetooth speaker has 14W drivers that will make your music sound great on their own. However, for an extra layer of sound, you can amplify the bass using the BASS+ button. Nothing gets a dance floor going like more bass, right?
Additionally, the speaker has an IPX6 water resistance rating. That means you can spray it or splash it and not worry about damage. As long as you aren't fully submerging it, you should be covered. The battery lasts for over 20 hours on a single charge, so the speaker should be ready to party whenever you are. The buttons are easy to use and the housing features shock mounts to ensure stability as well as coverage from bumps and bruises. So far, nearly 2,000 customer reviews have left the speaker with 4.4 out of 5 stars on average. If you want an easy way to tote your new gadget around, this inexpensive carrying case could be of use.
With so many Bluetooth speakers on the market, it can be hard to decide which one is perfect for you. If this discounted option doesn't tick every box, check out our roundup of the best Bluetooth speakers available in 2019 for more inspiration.
We may earn a commission for purchases using our links. Learn more.