Best PlayStation 4 Games under $30 in 2020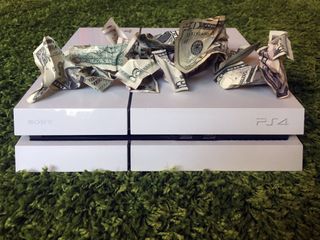 When you're concerned about money, it can be hard to justify paying $60 on a brand new PlayStation 4 game. Luckily the maturity of the console means that there are plenty of excellent older games you can get for half that price. Whatever your preferred genre, this list of games under $30 should provide you with plenty of affordable fun and help you save up for the next big thing.
★ Featured favorite
There have been eight entries into the post-apocalyptic RPG series (including five main ones) since the '90s, but Fallout 4 is the largest, both in terms of map size and content. Step into your cryo chamber and awaken after the Great War to a post-apocalyptic retro-future. Your main objective is to find your son, but you're bound to get into plenty of other adventures along the way.
Buried treasures
Nathan Drake's final chapter is a journey that everyone should experience, and thanks to PlayStation Hits, it's now affordable to almost anyone. If you like story-focused action-adventure games, you're doing yourself a disservice if you don't play this game. Travel across the world in search of pirate Henry Avery's long lost treasure. Just be careful who you trust.
Smash bricks, build bricks
(opens in new tab)
Now here's a popular game with a simple concept. This open-world RPG is nothing but a bunch of blocks that all add up to one thing: potential. Load into the game at a spot in a randomly generated world and get to work collecting materials to build your base, improve your gear, and run away from those pesky Creepers.
May the force be with you
(opens in new tab)
LEGO Star Wars: Force Awakens Deluxe Edition
Everyone needs a good LEGO game in their collection. Not only are they perfect for the whole family, but its always a crazy fun time. Run through all the levels solving puzzles and smashing your enemies into exploding bricks. There's a multiplayer option for those of you with an extra set of hands and a spare controller, so make a night out of it with your friends!
Mechanical dinosaurs
Horizon Zero Dawn: Complete Edition
Introducing a new IP can be risky, but Guerrilla Games struck gold with Horizon Zero Dawn. It's got robotic dinosaurs, compelling characters, satisfying gameplay, and a surprisingly impactful storyline. Discover your past to save the future in its post-apocalyptic world.
AKA Twin Peaks: The game
Want a great independent game to play on your PS4 but don't want to spend an arm and a leg? Check out the fantastic graphic adventure Life is Strange. Take an independent coming of age film, mix in some superpowers and a killer story and you end up with one heck of a game.
They're infected, not zombies
The Last of Us Remastered
If you're looking for some survival horror action at a low, low price, then you can't do much better than the remastered version of The Last of Us. Zombies have overrun the earth, and it's your job as Joel to protect a young girl named Ellie. It's a thrill ride that just so happens to sport a great story.
Fight with style
(opens in new tab)
The latest entry in the classic fighting game series uses a new graphics engine, so the carnage is even more dramatic. Choose from a roster of new and favorite fighters and enjoy incredible customization options that let you tailor your look and move set.
Save a few bucks and spare no fun
Why you can trust Android Central Our expert reviewers spend hours testing and comparing products and services so you can choose the best for you. Find out more about how we test.
All of us want to save a few dollars where we can, but we can never forget that it's still important to have fun. That's why Fallout 4 (opens in new tab) is our featured favorite for games under $30. Not only is the price an absolute steal, but this is definitely a game you'll get lost in for months.
If you're looking for something more contemplative, try Life Is Strange 2, where every decision you make will impact the game's story. Or you can go all-in on action and try to master all the fighters in Mortal Kombat 11 (opens in new tab). These picks will give you plenty of fun without feeling bad about spending too much.