Best Games for PlayStation Now 2022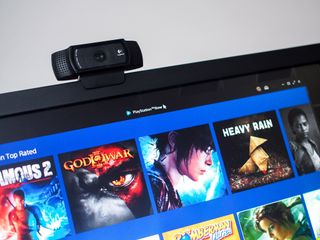 (Image credit: Android Central)
PlayStation Now is a huge service these days, with over 800 games in its library and some only available for a limited time. That's a lot of games to look through to find something you haven't played, or might want to play again. We have distilled that list into our top picks for your PlayStation Now experience, including some of the best PS4 games, you may have overlooked, and more.
Horizon Zero Dawn
Horizon Zero Dawn is one of the best third-person action RPGs of the last generation, telling the story of a distant future where robotic beasts roam the world. You'll take on the role of Aloy, a huntress who explores to figure out not only her own history but also the history of the world itself.
While the world may be pushed back in terms of technological advancements, players still have a wide-range of fun and unique weapons at their disposal, including Aloy's bow and arrow that can be upgraded as you play. With the sequel to Horizon Zero Dawn recently announced, now is the best time to jump into one of the best games available on PlayStation Now.
Horizon Zero Dawn - PlayStation 4
If you want a beautiful looking game with a great story, you should look no further than Horizon: Zero Dawn. It's chock full of gorgeous visuals, and the combat mechanics are intuitive while also managing to be incredibly satisfying.
The Bioshock Series
The entire Bioshock series is available to play on PlayStation Now, including Infinite, meaning players are able to experience the full spectrum of games that helped shape a generation. The first two games tell the story of an underwater, dystopian-esque environment that has been overrun with augmented humans, monsters, and Big Daddys.
Bioshock Infinite, the most recent title, takes the story to the skies, and helps connect the entire series as a whole in a unqiue way. The storyline, gameplay mechanics, and overall vintage/futuristic feel of the environments makes for some of the best games around.
The Bioshock Collection
The entire Bioshock series is available to play on PlayStation Now. The storyline, gameplay mechanics, and overall vintage/futuristic feel of the environments makes for some of the best games around.
Bloodborne
FromSoftware is best known for its work on the Souls franchise, but Bloodborne might just be its best effort. Launching as a PlayStation 4 exclusive, Bloodborne brought the Souls style of combat to a gothic horror setting, which resulted in something truly incredible.
Featuring the same "explore to learn" storytelling that FromSoftware is known for, Bloodborne's combat is also some of the smoothest that the developers have ever made, as attacking and dodging feels precise and rewarding each and every time. If you haven't played the game yet, this is going to be a must-play on the service.
Bloodborne (PS4)
Bloodborne is possibly the best and most complete game that FromSoftware has ever made, and is a must-play for those who love Souls gameplay and the horror genre.
The Last of Us
The Last of Us is a modern video game classic. With a gripping storyline, compelling characters, and excellent voice acting, the game draws you in and emotionally connects you to the people on the screen. You want them to survive, and you will work hard to help them.
Filled with some incredible performances from the likes of Troy Baker and Ashley Johnson, The Last of Us is something you'd be crazy to miss out on. Having this fantastic game available on PlayStation Now makes the service almost worthwhile just on its own.
The Last of Us Remastered Hits - PlayStation 4
Naughty Dog has delivered some of the best gaming experiences of the past two decades to players, but perhaps none are more beloved than The Last of Us.
Control
One of the best games of 2019, Control delivers players a trippy, immersive game that features connections to the likes of Alan Wake. Remedy Entertainment brings us into The Oldest House, where the fundamental rules of nature just don't apply, and otherworldly entities are wreaking havoc.
Control was one of the best games of all last year and has since found a new home on PlayStation Now. If you haven't yet experienced this and have a love for weird horror and supernatural stuff, give this a go. You won't be disappointed.
Control Ultimate Edition
Take Jesse through the Oldest House as she looks to uncover the mysteries of her past and present in one of the best games of 2019.
Batman Arkham Trilogy
PlayStation Now has every Batman: Arkham game available to play as part of the subscription, and they are amazing. Stealthy action, great storylines, and iconic characters all create some of the best third-person action games ever made.
All three games — Arkham Asylum, Arkham City, and Arkham Knight — manage to tell one big story while each having their self-contained moments. If you're only looking for one game to try, or perhaps only have time for one superhero adventure, then definitely check out Arkham Asylum.
Batman Arkham Trilogy
The Batmn Arkham games are some of the finest and most well-done superhero games ever made, and now you can play them all with a PlayStation Now subscription.
The Uncharted Series
Before The Last of Us, Naughty Dog brought the world of Uncharted to players, and it quickly developed into one of the best video game series ever. The story revolves around Nathan Drake and his many adventurers across the country, although things quickly end up spiraling into the world of the supernatural. It's very much a modern take on Indiana Jones, except with more parkour.
While not every Uncharted game is available on PlayStation Now, the first three titles are, and so is Uncharted: The Lost Legacy, a standalone expansion to Uncharted 4 that fleshes out the story of some of the bigger characters from the game.
The Uncharted Collection
The full Uncharted experience isn't available on PlayStation Now, but players can still experience the first three incredible games if they haven't yet.
Vampyr
Dontnod Entertainment is most well-known for Life is Strange, and after the breakout hit the company opted to go in a bit of a different route. Vampyr is an action RPG that many may have overlooked when it first launched. The game, which takes place during the 1918 Spanish Flu pandemic in London, has players take on the role of a vampire who also happens to be a doctor.
While playing through the game, players will have to carefully navigate leveling up their character while also keeping the world around them alive, both due to the pandemic and your own thirst for blood.
Vampyr PS4
Vampyr is a bit of a slow burn, but a game that is deserving of playing nonetheless. Give this one a shot if you're a fan of vampiric lore and the horror genre.
DOOM
Nearly everyone is familiar with the DOOM video game series, but many might not be aware that in 2016, a reboot for the franchise released and quickly became one of the best shooters of all-time. The revival of the iconic franchise features the same demon slaying chaos that fans of the series love, but with updated mechanics, weapons, and much more.
The DOOM reboot is every bit as gruesome as the original series was, and sports an increidble soundtrack to boot. If you somehow missed out on this one a couple of years ago, make sure you check it out now.
DOOM - PlayStation 4
As the last hope of humanity, it's up to you to slay the demons that have broken through Hell. Settle in with an incredible soundtrack and get ready to slay.
Until Dawn
Horror fans got a massive treat in 2015, when Supermassive Games launched Until Dawn. The game features a stellar cast of characters and plays similarly to The Walking Dead series, but is much scarier. While playing, you'll have to make various choices as you play through a story of eight characters who hold a holiday retreat in a snowy cabin but have things go catastrophically wrong.
Thanks to the general simplicity of the controls, players of all experience levels can jump into this, making it a great game for players to try out with a group of friends.
Until Dawn Hits - PlayStation 4
Everyone wants to be the next Super Smash Bros. As impossible as that may be, there are a few games out there that come close to capturing that experience, and one of them is Brawlhalla. Hop online and test your skills in ranked matches to see who can knock the other off of the fighting stage.
What will you play?
There are a lot of fantastic games available on PlayStation Now, of course — this list is nothing but good games — but even if nothing on here catches your eyes, there's bound to be something on the service for you to enjoy. However, if you're looking for some classic PlayStation titles, you can't go wrong with the likes of Bloodborne, Horizon Zero Dawn, or even The Last of Us.
If you're looking for games that are a bit newer, then you can dive into Control or Vampyr and experience some of the best storytelling from video games in recent memory. Of course, there's games like DOOM for fans just looking to sit back and wreak havoc, so make sure to dive into the library and see what fits you best.
Since the days of the HTC Hero James has had two or three Android phones stuffed into pockets. James is always on hand to offer advice on phones, apps and most recently, PlayStation, especially VR, It's now something of an obsession. Find him @keridel wherever Media Socials itself.
Android Central Newsletter
Get the best of Android Central in in your inbox, every day!
Thank you for signing up to Android Central. You will receive a verification email shortly.
There was a problem. Please refresh the page and try again.