Best Stadia games 2022
The best of the best on cloud streaming.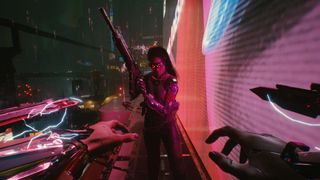 (Image credit: CD Projekt S.A.)
Google has some of the biggest AAA games on its Stadia platform, and the catalog keeps getting better. Thanks to cloud streaming, dozens of games on Stadia are available to play instantly with no downloads, patches, or updates required. Whether you love shooters, RPGs, online multiplayer, platformers, indies, or something in between, there are undoubtedly games for you on Stadia. Here's our list of the best Google Stadia games available to you right now.
Cyberpunk 2077
CD Projekt RED's open-world epic may not be the genre-defining revolution a lot had hoped for, but the Stadia version plays great. After a relatively messy launch that saw both the PS4 and Xbox One versions of the game suffer from horrible performance issues, CD Projekt RED quickly got to work releasing patch after patch on the title, with the game now more or less resembling what the developers intended the game to look like a year after its release.
Thankfully for users who are playing elsewhere, the Stadia version is comparable to playing on a gaming PC and never seemed to suffer much from the type of game crashing and unplayable bugs that its console counterparts did. We enjoyed it quite a lot in our review and are excited to see it get better.
Baldur's Gate 3 (Early Access)
Even though it's still in Early Access, Larian's Baldur's Gate 3 is already shaping up to be another RPG masterpiece from one of the genre's greats. The developers behind the critically-acclaimed Divinity: Original Sin series have taken the reins of the iconic Dungeons & Dragons universe in this amazing feast of turn-based tactics and wonderful storytelling.
It also plays well on Stadia via PC and has surprisingly good controller support. Unfortunately, the Stadia version of Baldur's Gate 3 does remain a bit behind the actual PC version of the game in terms of updates, so players who play on Stadia will have to be comfortable being (as of now) one patch behind the PC version.
Resident Evil Village
Resident Evil Village continues the story of Ethan Winters and his family dealing with the fallout from Resident Evil 7: Biohazard. However, unlike Biohazard, Resident Evil Village focuses much more on the action-horror aspect of the classic franchise.
It gives players incredible moments to play through as they explore a castle filled with terrifying (and tall) vampires, a village overrun by Lycans, and much more. As you make your way out of the castle and into the village, the game dives even more into its roots as a pure horror game, complete with some of the scariest moments in gaming in a long time.
Assassin's Creed Valhalla
There have been many great Assassin's Creed games, and many of them are on Stadia, but the recent Valhalla is excellent in its own right. It's an epic Viking story that puts you in the shoes of Eivor, a Viking warrior hellbent on revenge and conquering the lands of England.
It continues the franchise's diversion into the open-world RPG genre and streamlines many elements to make it one of the best in the entire series. If you sign up for Ubisoft on Stadia, you can play a ton of Assassin's Creed games for one low subscription fee.
Hitman 3
When the Hitman games launched on Stadia, they were among the first titles to employ Google's State Share feature. Even if you don't plan on capturing footage to share with friends, the games themselves are all worth diving into.
Hitman 3 is the latest and best, continuing the story of Agent 47 as he tries to unravel a long and winding mystery behind someone who is constantly out to get him. If you'd rather experience the whole story, Hitman and Hitman 2 are available at no extra cost with a Stadia Pro membership.
Little Nightmares 2
This latest endeavor from Tarsier Studios is a significant improvement over its predecessor and delivers on its promises of a world full of "charming horror" perfectly. Little Nightmares 2 is unsettling, tense, and downright terrifying game at times without ever losing the innocent exterior that draws you in.
It was definitely one of the first must-play games of 2021, and it had the benefit of being included at no extra charge in Stadia Pro for all subscribers. Of course, you do not need to have played the previous game before playing this one, but it will enhance the story's impact.
Sekiro: Shadows Die Twice
Stadia may not have any of the mainline Dark Souls games, but you can enjoy From Software's Sekiro, which refined the formula to a sharp edge and provided players with some of the most satisfying moments in their long history of game making.
This game really pushes Stadia to its limits as a platform due to how demanding the split-second timing requirements are for parrying and attacking. It's a great game, but not if your internet connection is anything but rock-solid.
Red Dead Redemption 2
The long-awaited sequel to 2010's Red Red Redemption acts as a prequel to the game, telling the story of the outlaw Arthur Morgan in the late 1890s. Just like the original, though, the game manages to throw players into an almost life-like world complete with tons of places to explore, a gripping story, and more.
Better yet, Red Dead Redemption 2 is also like getting two games in one, thanks to Red Dead Online's massive success and popularity, and the fact that Rockstar Games continues to keep players busy with things to do thanks to their consistent updates to the online game mode.
DOOM Eternal
When id Software's Doom landed in 2016, it quickly became a smash hit due to its chaotic and satisfying gameplay, incredible soundtrack, and its return to the roots of the Doom franchise. While Doom Eternal may not be able to capture the full magic of the first game, it's still an incredible sequel that does allow you to dive right back into the world of demon fighting.
Fight off demons with a shoulder-mounted flamethrower, retractable wrist-mounted blade, and other ridiculous weaponry in the latest version of the first-person shooter. You can also test your PvP skills by taking on two friends who play as some demons.
Life is Strange Remastered Collection
Life is Strange was originally released in 2015 to massive fanfare, and quickly became a hit for Dontnod Entertainment. After spawning an entire franchise, the game received a prequel, Life is Strange: Before the Storm, in 2017, giving players the chance to focus on a younger Chloe Price and her growing relationships.
The Life is Strange Remastered Collection bundles together Life is Strange and Life is Strange: Before the Storm in remastered form, complete with all previously released content with new visuals, environments, and improved character animations thanks to the use of full facial motion capture.
Jackbox Party Packs
There are several Jackbox Party Packs available on Google Stadia, and all of them are filled with some incredibly fun games for those looking to be the life of the party. Jackbox is perhaps best known for its games like You Don't Know Jack, Fibbage, and Quiplash, but each new pack introduces a few new games that are sure to keep your party or gaming session filled with laughs.
The latest Jackbox Party Pack is the eighth entry, and includes Drawful: Animate, The Wheel of Enormous Proportions, Job Job, The Poll Mine, and Weapons Drawn, all of which are brand new games to the series and available to play with either two or upwards of eight people each.
Madden NFL 22
The Madden series continues to provide the most realistic football gameplay that fans can find. While we are closer to a new title coming later this year, fans looking to quench their thirst ahead of a new game and football season can do so with Madden NFL 22, which provides some great changes to the animations found in the game, along with fresh updates to the presentation and feel.
Whether you want to just jump into a simple exhibition game, go through an entire decade of seasons in Franchise mode, or just maybe take control of one single player and take them through a career, Madden NFL 22 has something for everyone, including its extremely popular Ultimate Team mode, which makes another strong return.
FIFA 22
While American fans may care more about football, the other type of football is still the world's most popular sport, and FIFA 22 continues to be the biggest soccer game on the planet. With EA and FIFA now seemingly breaking up for good, FIFA 22 might be the last chance for players to get their hands on an EA game featuring the organizations' likenesses.
FIFA 22 doesn't deviate too much from the formula, bringing with it a variety of game modes (including the extremely popular FIFA Ultimate Team mode), as well as a ton of representation in the form of various soccer leagues and teams.
Saints Row IV: Re-Elected
After releasing in 2013, Saints Row IV got the port treatment in 2021 with Saints Row IV: Re-Elected. Included here is Saints Row IV, as well as all of its downloadable content, and the 2015 game Saints Row: Gat Out of Hell, a title that acted as a standalone expansion.
While it might not be as well polished or updated as some other remakes, Saints Row IV: Re-Elected still includes two incredibly fun action-adventure titles to check out. At the very least, you'll be able to spend a couple of hours causing chaos in the city for you and your rival gangs.
Tom Clancy's Rainbow Six Extraction
In this cooperative multiplayer game, players will have to infiltrate an alien-infested location and complete various objectives before either extracting themselves or heading deeper into each level. Along the way, you'll have to battle against monsters who look to capture players, forcing them to go "missing in action" as their teammates have to extract or keep exploring.
While it is a big departure from the original Rainbow Six formula, Extraction does retain most of the Tom Clancy's playstyle, including more tactical play, making sure your teamwork is on top of its game, and more.
Terraria
At first glance, it's pretty easy to write off Terraria as just another Minecraft clone, but with 2D pixel art visuals. While true on the surface, there is much more to Terraria than initially meets the eye.
The Stadia version is a perfect port of the excellent sandbox survival game with zero compromises versus its dedicated console counterparts. But it still may not be suitable for you if you're not into extremely open-ended crafting games.
Stream on!
Since Stadia launched, Google has gone to work bringing some of the best games out there to its platform. Every month users see a wide range of new releases from AAA classics to smaller indie games and everything in between. No matter what type of games you're into, you're bound to find something great on Stadia. At the top of that list is absolutely Cyberpunk 2077, which defies logic and plays best on Stadia compared to most other options.
Other massive open-world games like Assassin's Creed Valhalla and Red Dead Redemption 2 are also on Stadia. Baldur's Gate 3, even in Early Access, is shaping up to be one of the RPG greats, and is also available.
Whether you're playing on your smartphone, TV, or a web browser, Stadia has dozens of great games for you to explore right now. So, instead of trying to find something worth playing like in Stadia's first few months, now the question is, how do you find the time to play all of these great games? Also, what do you play with? There are plenty of great wireless game controllers for Stadia to get you started.
Be an expert in 5 minutes
Get the latest news from Android Central, your trusted companion in the world of Android
Anthony Nash has been writing about games and the gaming industry for nearly a decade. When he's not writing about games, he's usually playing them. You can find him on Twitter talking about games or sports at @_anthonynash.